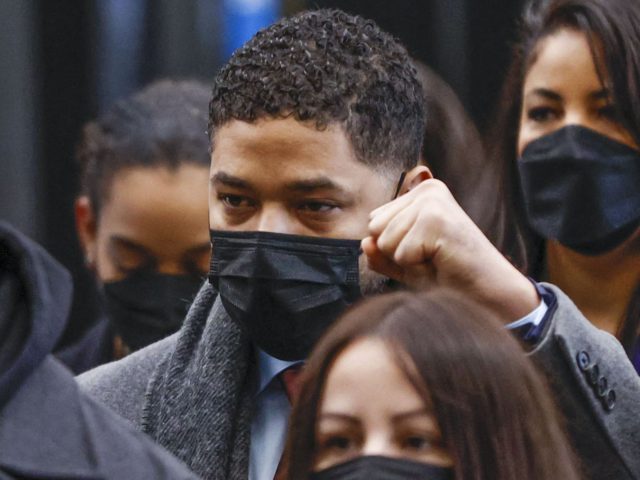 by JOEL B. POLLAK – Dec 9, 2021 – for Breitbart.news
My cmnt: When we have a muslim blowing up Boston marathon runners or gunning down nightclub patrons or killing our unarmed service men and women on our own military base or a black man mowing down dozens of people with his vehicle, etc., we are sternly warned to "not rush to judgment" by the democrat-media complex – even if we have clear photographic evidence.
My cmnt: But when various loony leftist of color falsely claim victimhood at the hands of some phantom white man we have the usual mob of democrat defenders rushing to judgment – including two presidents of the United States (that would be B.O. and Joe)!
Jussie Smollett was convicted of five counts of felony disorderly misconduct on Thursday in Chicago for faking a hate crime in January 2019 — when Democratic presidential contenders rushed to declare their sympathy for him as a purported victim.
As Washington Post correspondent Dave Weigel pointed out earlier Thursday, in advance of the verdict, "every major 2020 Dem (not Buttigieg) rushed to comment, credulously, on the Jussie Smollett hoax."
Some examples were as follows:
The media rushed to portray Smollett as the victim of a hate crime perpetrated by MAGA-hat-wearing Trump supporters in Chicago who happened to be strolling by in the wee hours of one of the coldest nights in living memory.
Because Smollett blamed Trump supporters as the perpetrators, his story was all too readily believed by the same press that eagerly promoted a variety of anti-Trump hoaxes, most notably the "Russia collusion" hoax, which would fall apart upon actual investigation.
Joel B. Pollak is Senior Editor-at-Large at Breitbart News and the host of Breitbart News Sunday on Sirius XM Patriot on Sunday evenings from 7 p.m. to 10 p.m. ET (4 p.m. to 7 p.m. PT). He is the author of the recent e-book, Neither Free nor Fair: The 2020 U.S. Presidential Election. His recent book, RED NOVEMBER, tells the story of the 2020 Democratic presidential primary from a conservative perspective. He is a winner of the 2018 Robert Novak Journalism Alumni Fellowship. Follow him on Twitter at @joelpollak.