Self-professed 'drag queen' and 'jazz hands enthusiast' apologized to JK Rowling 'for causing potential upset'
By Alexander Hall | Fox News – Feb 14, 2023 – for Fox news
"Harry Potter" author J.K. Rowling appears to have successfully used the legal baton to force a critic who called her a "Nazi" to apologize.
J.K. Rowling has faced fierce backlash from former fans because of her views and statements about transgender individuals and biological sex. Rowling first made headlines in June 2020 after sharing a series of tweets on her thoughts regarding the concept of sex.
"If sex isn't real, there's no same-sex attraction. If sex isn't real, the lived reality of women globally is erased," she tweeted at the time. "I know and love trans people, but erasing the concept of sex removes the ability of many to meaningfully discuss their lives. It isn't hate to speak the truth."
This began an avalanche of criticism and name-calling aimed at Rowling.
In December 2022, Rowling responded to one of her detractors: "The thing about the solicitors game is everyone can play, JJ. I ignored your 'hyperbolic metaphor' about burning me to death in 2020, but I'm starting to think that was a mistake. What's your solicitor's view on this Nazi accusation? Would they advise you to defend it in court?"
One Twitter user named JJ Welles posted a now-deleted tweet that said Rowling was "a nazi or at least has views that align with them."
Rowling responded with a threat of legal action in December, "Okey dokey, JJ, we'll play it your way. Give my regards to your solicitor!"
On Monday, two months after the Nazi accusation, Welles issued a retraction.
"I would like to publicly apologise for a previous Twitter thread where I interacted with JK Rowling on matters relating to the transgender community. I have now removed these tweets and would like to apologise to JK Rowling directly for causing potential upset," he wrote.
Whoops! We couldn't access this Tweet.
In a later tweet, he added, "I would also like to retract my likening to JK Rowling to any far right or Nazi organisation and emphasise I do not wish any individual, inclusive of JK Rowling, to come to any harm."
The original dust jacket design for J.K. Rowling's "Harry Potter" series is shown. (Pathik Oza/O3 Books)
"JK Rowling is on an absolute tear, suing Twitter Wokeys that say she's a Nazi. UK libel laws are robust, they are now issuing beautiful, groveling apologies," commentator Maxwell Meyer reacted to the news. "Something tells me JJ did not expect to be dominated by a woman in 2023. Well done @jk_rowling."
Adam Smith Institute fellow Preston Byrne tweeted a joke about the situation, "Piles of cash generated by millennials buying boy wizard novels and watching films are now being applied in vast quantities to threaten those same millennials with defamation lawsuits. The circle of life."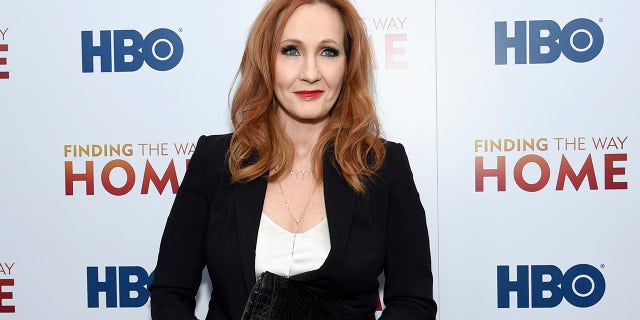 BuzzFeed lumped "Harry Potter" author J.K. Rowling in with "major villains" such as cult leader Jim Jones, infamous traitor Benedict Arnold and even O.J. Simpson because of her stance on transgenderism. (Evan Agostini/Invision/AP/File)
Rowling is set to release a podcast series titled "The Witch Trials of J.K. Rowling," which is scheduled to premiere Feb. 21. In the podcast, Rowling talks "about the controversies surrounding her – from book bans to debates on gender and sex."
Alexander Hall is an associate editor for Fox News Digital. Story tips can be sent to Alexander.hall@fox.com.
Readers' comments:
Two made-up worlds colliding: One by J.K. Rowling created through her imagination and shared with those who want to visit it and, the other, made-up by those with personal issues and forcing it on everyone. I prefer the world where I can visit when I want and not be coerced or threatened if I choose not to be a part.
It's a parable of destruction of many marginalized groups. They all seem to follow the same pattern: persecution, recognition and acceptance and then attempted dominance. It repeats itself over and over again, ultimately eroding all previous gains.
The sad thing is that it is easier to believe one day broom sticks will fly than there are more than 2 sexes!
Every human being alive today was created only one way: The union of a male and female of our species in some form or fashion. To deny the reality of that is clearly an emotional or mental illness. We are all either a male or female. Denial, clothing or even surgery does not change our genetics.
Not only that, but to call "up" as "down" is iniquitous. "Respecting preferred pronouns" when a male insists on being called a "she," falls under that category.
My admiration for J.K. Rowling has grown over the years, first because she wrote a wonderful series of books that caused my children to fall in love with reading more than anything any of their teachers ever managed. Second, because she did this without "talking down" to children or writing books that ignore difficult choices and dark subjects, even including death. Third, because she states her opinions eloquently, and does not cave in to the legions of societal critics who would force conformity on all of us. And most recently, she demonstrated that she will, when pushed far enough, fight back. That is a priceless lesson for all of us regarding today's self-appointed censors. I wish you nothing but happiness in the future. You are the most influential writer of perhaps the last hundred years. Your work has touched millions in the most positive way. Thank you
Per the article: "Rowling has faced fierce backlash from former fans because of her views and statements about transgender [issues]."
— This "take" is inaccurate. She has faced focused, manufactured backlash by some perpetually offended Twitter noisemakers, who represent a fraction of a percentage of her fan base.
JK is a world treasure and her works have inspired and entertained countless millions of young people to be more than just ordinary and the profits from those works have been graciously shared by Rowling with those most in need of her support.
When an argument is won on one particular side or by an individual and the opposing side has little to nothing to offer as a rebuttal, we often see name calling and thoughtless emotional outbursts similar to children as they can't control their words, thoughts or actions. This is exactly what we see from the left and it's "groups". They have nothing of substance to offer so they have to result to name calling and a breakdown of personal decorum.
When one has to resort to name calling and slander in an attempt to win a debate, it's proof of a weak argument and an even weaker mind.
Good for her. It's not often people can get away with speaking the truth these days.
I say RIGHT ON. Go after these Twitter Trolls whose numbers are small, but they force so many to bend the knee because the Hack Media elevates their voices. You would think the way the Hack Media portrays it, there are hundreds of thousands pushing to cancel Rowling for logical points, but look at the sales of the game, which are in the millions.
Exactly, they hear boycott and surrender to the mentally ill, when in reality the game sales were strong.
They pander to a "woke minority" rather than appealing to the average American who buys their products