By PAUL BOIS – 8 Jan 2022 – for Breitbart.news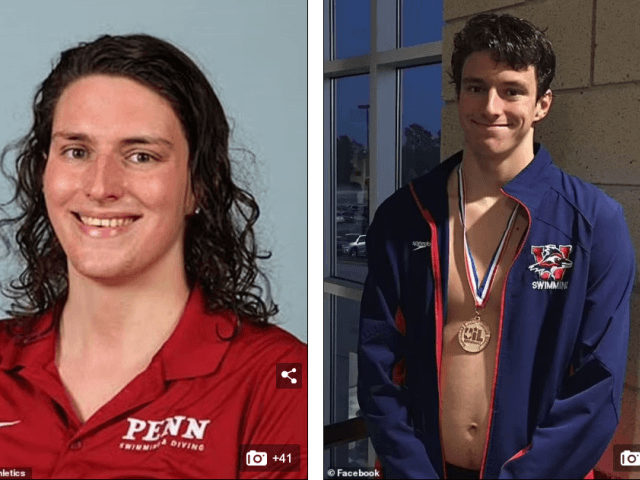 My cmnt: File this under "you can't make this shit up".
Transgender UPenn swimmer Lia Thomas recently lost a 100-yard freestyle race to a transgender male swimmer after a string of nearly unopposed victories.
My cmnt: I need to be clear here. An adult man or woman who wants to present as the opposite gender is their business and no one else's. As of yet we live in a free country and if you want to present as a dolphin that is your right. That said transgenderism, like homosexuality, is a mental illness. Prior to pressure put upon them from the Left in the 1970s even professionals stated as much. Enabling mentally ill persons to persist in their delusions is neither kind nor medically sound.
My cmnt: My first objection to the whole Leftist-trans movement is demanding that the rest of us pretend along with the trans individual that he or she is really someone else. My second objection to transgenderism is the harm it does to the society when the rest of us are forced by the State to believe a lie. This includes the whole biological evolutionary scheme of lies which we are being forced to accept as scientific when they are no such thing. It also includes global warming alarmism and Fraud Fauci and the CDC spreading lies about Covid-19 and killing people and harming our country in the process.
My cmnt: My third objection is allowing biological men to use their physical advantage over biological women to compete with them in sports. This is plainly absurd and needs to stop. This blog contains two examples of such absurdity. Other equally egregious examples are also on this website. Ironically one example is a woman transitioning to a man (and claims to not be using hormones) continuing to compete against other women, including a man transitioning to a woman, and soundly beating them all.
My cmnt: And my fourth objection to this nonsense is removing age-old safe places for real girls and women by allowing some nut-job who claims to be a woman into them. Unless as a male you have totally transitioned to female (in looks only, actually becoming a female is impossible) you should never be allowed to enter women's safe places (i.e., restrooms, locker rooms, prisons, schools, etc.)
Thomas is a man presenting himself as a woman while his opponent, Iszac Henig, is a woman transitioning to become a man. His loss occurred at UPenn's tri-meet with the Yale and Dartmouth swim teams, where he won both the 200-year and 500-yard freestyle while scoring fifth in the 100-yard, according to the Daily Mail.
"Stunned parents at the meet held at UPenn's pool in Philadelphia gasped as Yale swimmer Iszac Henig easily beat out [her] opponents in the women's 100-yard freestyle with a time of 49.57 seconds," noted the Mail. "Thomas finished fifth with a time of 52.84 seconds."
Though Henig had her breasts removed, she reportedly delayed hormone treatments to compete in women's swimming.
"As a student-athlete, coming out as a trans guy put me in a weird position. I could start hormones to align more with myself, or wait, transition socially and keep competing on a women's swim team. I decided on the latter," Henig wrote in the New York Times last June.
"I value my contributions to the team and recognize that my boyhood doesn't hinge on whether there's more or less testosterone running through my veins," Henig continued. "At least, that's what I'll try to remember when I put on the women's swimsuit for the competition and am reminded of a self I no longer feel attached to."
Henig hails from Palo Alto, California, and has been competing with the Yale swim team since 2018, where her specialty has been freestyle and butterfly. Spectators of the race told the Daily Mail they were stunned by her victory over Thomas.
"I wasn't prepared for that. Everything is messed up. I can't wrap my head around this. The NCAA needs to do something about this. They need to put science into the decision and discussion," one UPenn parent told the Mail.
Lia Thomas, who previously competed for the UPenn men's team for three seasons as Will Thomas, became a controversial figure late last year when he dominated the competition at the Akron Zippy Invitational, smashing university records and pool records when he won the 1650 race by a whopping 38 seconds over his teammate.
Some female swimmers lamented that Thomas began boasting about the ease of his victory following the competition.
"That was so easy, I was cruising," a female swimmer reported Thomas as saying. "At least I'm still No. 1 in the country."
Parents and several athletes protested that Lia Thomas had an unfair advantage and demanded that the NCAA put a stop to it. Late last month, one swimming official even publicly quit in protest. Despite the outrage, both the Ivy League and the NCAA have pledged support to Lia Thomas.
"Over the past several years, Lia and the University of Pennsylvania worked with the NCAA to follow all of the appropriate protocols in order to comply with the NCAA policy on transgender athlete participation and compete on the Penn women's swimming and diving team. The Ivy League has adopted and applies the same NCAA policy," the conference said this past Thursday.
Penn Athletics echoed the league's sentiment. "Penn Athletics is committed to being a welcoming and inclusive environment for all our student-athletes, coaches, and staff, and we hold true to that commitment today and in the future," it said.
Readers' Comments:
A fake-man bests a fake-woman in a swimming competition…This one belongs entirely to the loony libs. May the best set of mutilated genitalia win!
This insanity marks the decline of a once great nation. For years the left has undermined American values and culture. We are circling the drain toward the dystopia portrayed in the great novel Fateful Destiny: An Epic Struggle to Change the Course of American History. It may seem like a bad dream, but even Republicans embrace policies and positions that were fringe left views just a decade ago. We must restore order and sanity.
Our most prestigious universities are at the core of this clown world. Our youth are being indoctrinated into this clown world.
Where in the swimsuit does the fake woman hide the weener?
Boys have a penis. Girls have a vagina. – The kid from Kindergarten Cop
Maybe these two could swap them.
Sad to say, but we haven't come close to reaching the bottom of the gutter . . . It will take a truly twisted mind to figure out how low we will go, before we regain our senses as a nation (what is left of it).
When you have no moral compass, sexual deviancy runs amok. Next they will try to normalize pedophilia, mark my words.
Correct, when they embrace kids transgendering at a young age the game plan is simple. If a kid can consent to hormone treatments and mutilated genitals at an early age, then Dems will argue that a kid can consent to having sex with a Democrat too. It's absolutely horrific.
So let me get this straight. A female swimmer at Yale, de Wanna Wanga, is seeking to undergo an AdaDicToMe, while a male swimmer at Penn, NoGottaHooch, is seeking to lose his?