By THE EDITORS – Nov 19, 2021 – National Review
My cmnt: Anyone paying attention knows we have devolved into two Americas. Most of this involves a culture war that has been on going since at least Darwin and came to be politicized with the rise of communism in Russia. Darwinism is a colossal hoax of pseudo-scientific dogma that purports to explain the origin and subsequent diversity of biological life on planet earth. Communism is the pseudo-scientific political-economic system that purports to be able to create wealth and equality through the collective that can replace the unjust economic system of individualism and capitalism. Both are the sworn enemies of Christianity and the truth.
My cmnt: Both belief systems (communism and Darwinism) can only be implemented through violence and propaganda. Hence the Left has been using the Wuhan Covid plague and the BLM riots for the better part of two years in an attempt to bring "social justice" and "economic equality" to an America they believe is sorely lacking in both.
My cmnt: So when an armed citizen (Mr. Rittenhouse) – courageously stands up to a Marxist-BLM mob which is being allowed by the authorities to burn, murder, create mayhem, riot and violently attack the citizenry – we have a situation that the Left can simply not allow to continue. Mob violence and anarchy are the weapons of democrats and all Leftists. These are tools that must not be taken out of their bloody hands.
My cmnt: Hence they will lie, cheat, steal and murder to implement their idea of social justice. Murdering Mr. Rittenhouse, and anyone else who got in their way, was what was on the minds of the criminals that attacked him on that fateful evening. The poacher of course never counts on the game firing back.
Kyle Rittenhouse was acquitted on all charges in connection with his shooting of three men, two of them fatally, in Kenosha, Wis., last August. The jury properly found that Rittenhouse acted in self-defense.
This case should never have been brought, and reeked of political pandering. Rittenhouse was on the streets of Kenosha, where he worked and his father lived, on the third night of riots following the police shooting of Jacob Blake. The multi-day riots themselves were the end of a chain of bad decisions by Wisconsin governor Tony Evers, who fanned the flames of misinformed outrage at the Blake shooting and then resisted calls to put an adequate number of National Guard members on the streets to restore order.
Rittenhouse was 17 at the time and — whatever his reasons for being in Kenosha in the first place — he clearly wasn't the aggressor in the confrontations that night. He was attacked in sequence by three men, one of whom clubbed him over the head with a skateboard, and another of whom admitted on the stand that Rittenhouse fired only when he pointed a gun at Rittenhouse. He shot all three, killing the first two.
Every American has a fundamental right to self-defense. That right has been recognized in the law since ancient times. As Andy McCarthy has detailed, the Rittenhouse prosecution tried to criminalize that right by arguing that defending himself against his first attacker made him fair game for the next two. The prosecution also rested a good deal of its case on a dubious charge that Rittenhouse's carrying of a rifle was illegal, a strained reading of Wisconsin law that was rightly rejected by the trial judge.
You would never know any of this from listening to hysterical media reports obsessing over the fact that Rittenhouse crossed state lines to be in Kenosha and baselessly calling Rittenhouse a "white supremacist," a charge shamefully repeated by President Biden and other Democratic politicians — never mind that all three of the men he shot were white. The same media are now stoking misplaced anger at the verdict, practically begging for more riots. Biden, to his belated credit, now says that the verdict should be respected.
The trial was conducted in a shameful circus atmosphere, in which national journalists demonized the trial judge (a Democrat with decades of experience on the bench and a reputation for favoring criminal defendants), the prosecutor pointed a rifle at the jury with his finger on the trigger, and MSNBC ended up getting kicked out of the courtroom after a stringer was caught following the bus carrying the jurors. It is to the jury's credit that they did not crack under the pressure to throw the defendant to the wolves.
More judges should reconsider cameras in their courtrooms after this fiasco, but at least their presence showed the country the utter meltdown of the prosecution's case. Would that more of the commentators had noticed.
Criminal cases are often messy. Trials regularly reveal that the people involved are more complex than efforts to turn them into heroes, villains, or stand-ins for their entire race. The important thing is that Kyle Rittenhouse received due process of law and a fair trial before a jury of his peers. Any one of us might depend upon that some day.
DEMOCRATS, PUNDITS DECLARE RITTENHOUSE VERDICT 'MISCARRIAGE OF JUSTICE'
By CAROLINE DOWNEY November 19, 2021 2:40 PM – for National Review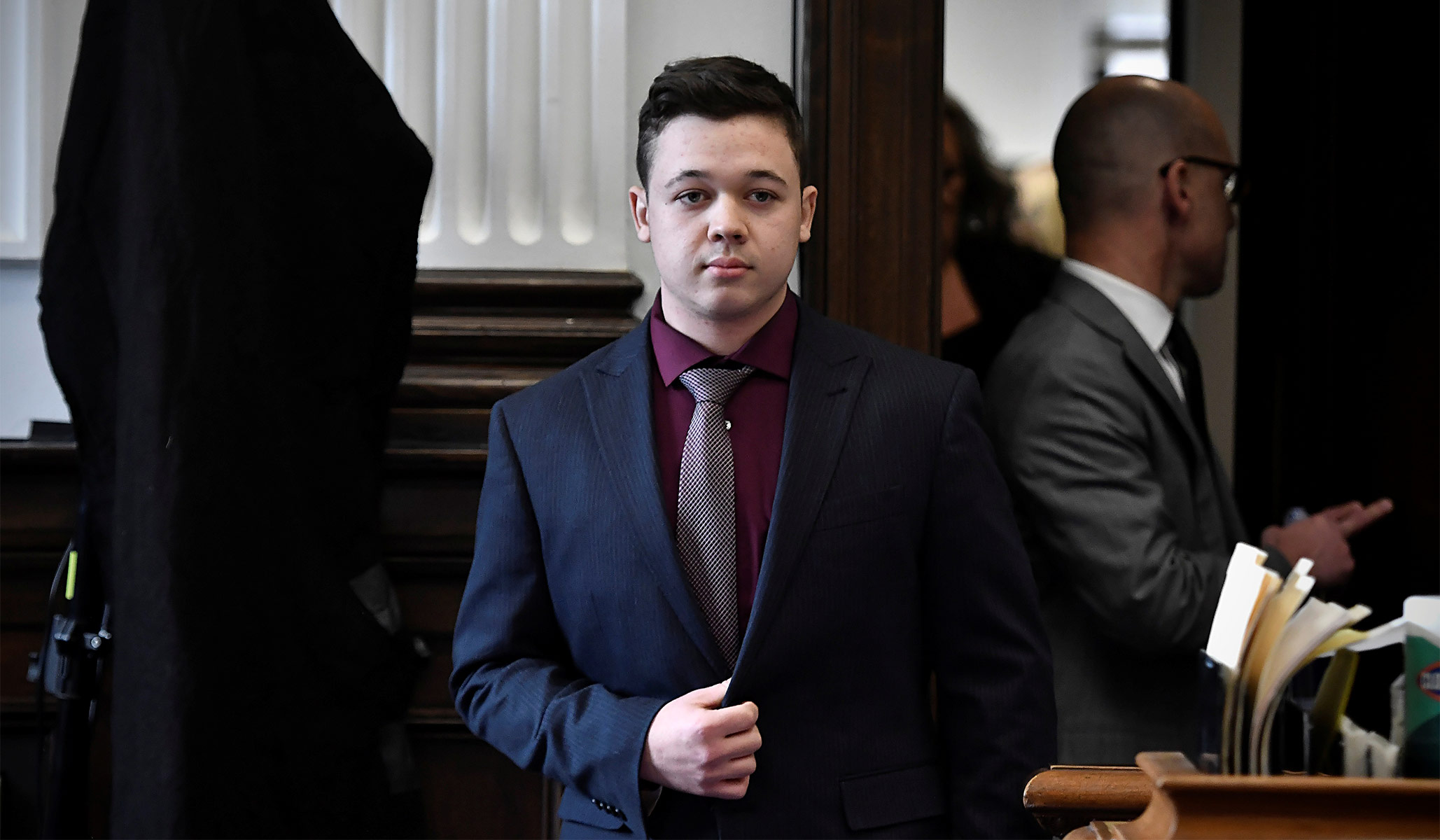 After the jury in the Kyle Rittenhouse trial returned a verdict of "not guilty," Democratic politicians and pundits reacted in outrage, alleging that the U.S. justice system is hopelessly compromised by racial bias.
My cmnt: The following statements and beliefs of these crazed democrats are truly disgusting. Armed self-defense is at the base of all of our freedoms. The world, Rush often reminded us, is ruled by the active use of force. Our freedoms are guaranteed by nothing else. Our civilization rests on the people believing in the Bill of Rights.
My cmnt: When the powers that shape the next generation (i.e., the public schools, the colleges and universities, the press, Hollywood, the entertainment industrial complex, the social networks and large corporations, unjust court rulings like abortion hiding in a penumbra of an amendment and porn being a form of freedom of speech, etc.) have become totally corrupt and despise the Constitution we are sliding down the slippery slope towards oppression.
My cmnt: Hence their great need to persecute and imprison Mr. Rittenhouse for the crime, in their twisted minds, of defending himself against mob violence.
Nikole Hannah Jones, the mastermind behind the New York Times' "1619" project, which was designed to inculcate in students a revisionist American history teaching that slavery is intrinsic to the country's national fabric, said that the dismissal of Rittenhouse's charges proves that systemic racism is alive and well in the U.S.
"In this country, you can even kill white people and get away with it if those white people are fighting for Black lives. This is the legacy of 1619," she tweeted.
New York City mayor Bill de Blasio slammed the decision, insisting that the men Rittenhouse fatally shot are "victims," despite the jury arriving at the conclusion that he acted in self-defense.
"Anthony Huber and Joseph Rosenbaum are victims. They should be alive today. The only reason they're not is because a violent, dangerous man chose to take a gun across state lines and start shooting people. To call this a miscarriage of justice is an understatement," he tweeted Friday following the ruling.
Joy Reid, liberal host of MSNBC's The Reid Out, suggested that Rittenhouse would have been pronounced guilty if he was a black man who similarly fired his weapon in self-defense.
"We knew, but it's sometimes helpful to remind ourselves how America was designed to work. It continues to work as designed. We have learned again what is considered legal for *some* people to do in America. It's helpful to know where you stand in your country. Be safe out there," she tweeted.
New York Attorney General Letitia James, who facilitated the sexual harassment case against former Democratic Governor Andrew Cuomo, also condemned the verdict and called for an overhaul of the justice system because of it.
"This is a dark day for our justice system. As a lawyer, I respect jury verdicts. But this is yet another reminder that our system needs to be uprooted and reformed," she said.
Cuomo also weighed in on the news, repeating the idea that the verdict perpetuates white supremacy.
"Today's verdict is a stain on the soul of America, & sends a dangerous message about who & what values our justice system was designed to protect," he said.
We must stand unified in rejecting supremacist vigilantism & with one voice say: this is not who we are
MSNBC pundit Ben Rhodes implied that Rittenhouse's acquittal would empower other aspiring private individuals with superhero complexes to intervene on behalf of law enforcement and escalate situations that otherwise might have been peaceful.
"A very dark message sent to all the other heavily armed would-be vigilantes out there," he wrote.
Representative Carolyn Bourdeaux (D., Ga.), disappointed with the ruling, said that the legal definition of self-defense should be re-evaluated.
"The acquittal of Kyle Rittenhouse is an example of why the nation must re-examine self-defense laws in our justice system. When you seek out violence wielding a dangerous weapon, there should be accountability for deadly results," she said.
Anti-Second Amendment advocacy group March for Our Lives released a statement in the aftermath of the verdict, claiming that "young people are enraged watching this trial, and this will not be our normal." The statement asserted that Rittenhouse was motivated to engage in the Kenosha unrest because "our leaders stoke white supremacy." All three of the men Rittenhouse shot were white. The organization also blamed the lack of gun restrictions for the incident, arguing that "it's easier to get a gun than to get a driver's license."