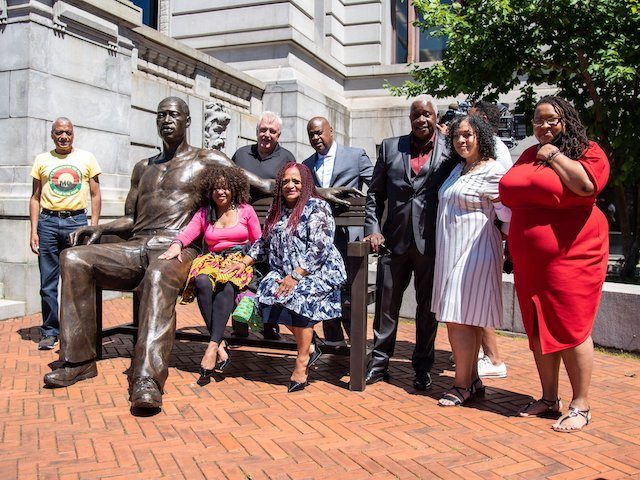 By AMY FURR – 18 Jun 2021 – for Breitbart.news
My cmnt: George Floyd was a drug addicted criminal with a history of violence resisting arrest for passing counterfeit currency. He was the furthest thing from a hero. So, like Che Guevara, the Left have once again picked the worst examples of human behavior to idolize.
A New Jersey city offered a tribute to George Floyd Wednesday by unveiling a 700-pound bronze statue of him outside Newark's City Hall.
Mayor Ras Baraka and other officials attended the ceremony where it was presented, WPIX reported.
"Hopefully it inspires those who walk by to be more active, take part in activism," Baraka commented.
Actor and filmmaker Leon Pickney commissioned the statue that was sculpted by artist Stanley Watts. The piece was donated to the city and will be on display for at least one year, the WPIX report said.
Pix 11 shared video footage of the unveiling ceremony, showing attendees pulling a tarp off the statue:
"The world needed a peaceful George. The world needed him relaxed and chilling, on a bench, and that's what we produced," Watts said.
In May, Lakers star LeBron James added his voice to others in the NBA who urged Congress to pass the George Floyd Justice in Policing Act, describing Floyd as a man who "literally changed the world." Breitbart News reported:
Following Tuesday's playoff game between the Lakers and the Phoenix Suns, James was asked about his impression of the police reform bill being pushed by the Democrats in Washington. In reply, James said the bill has his "full support" and that he feels it would change "the landscape of how policing is modified, how policing is looked at."

If enacted into law, the bill would prohibit racial profiling, chokeholds, carotid holds, no-knock warrants at the federal level, and would weaken the legal shields for police officers leaving them open for waves of lawsuits and prosecutions.
Sen. Tim Scott (R-SC) criticized House Democrats in March over their bill, the George Floyd Justice in Policing Act, after Senate Democrats filibustered his JUSTICE Act in 2020, despite it having bipartisan support.
"Scott had spent years working on criminal justice reform — long before the Black Lives Matter protests and riots in 2020," according to Breitbart News.