Riley Johnson Nov 23, 2020 Updated Dec 29, 2020 – for The Lincoln Journal Star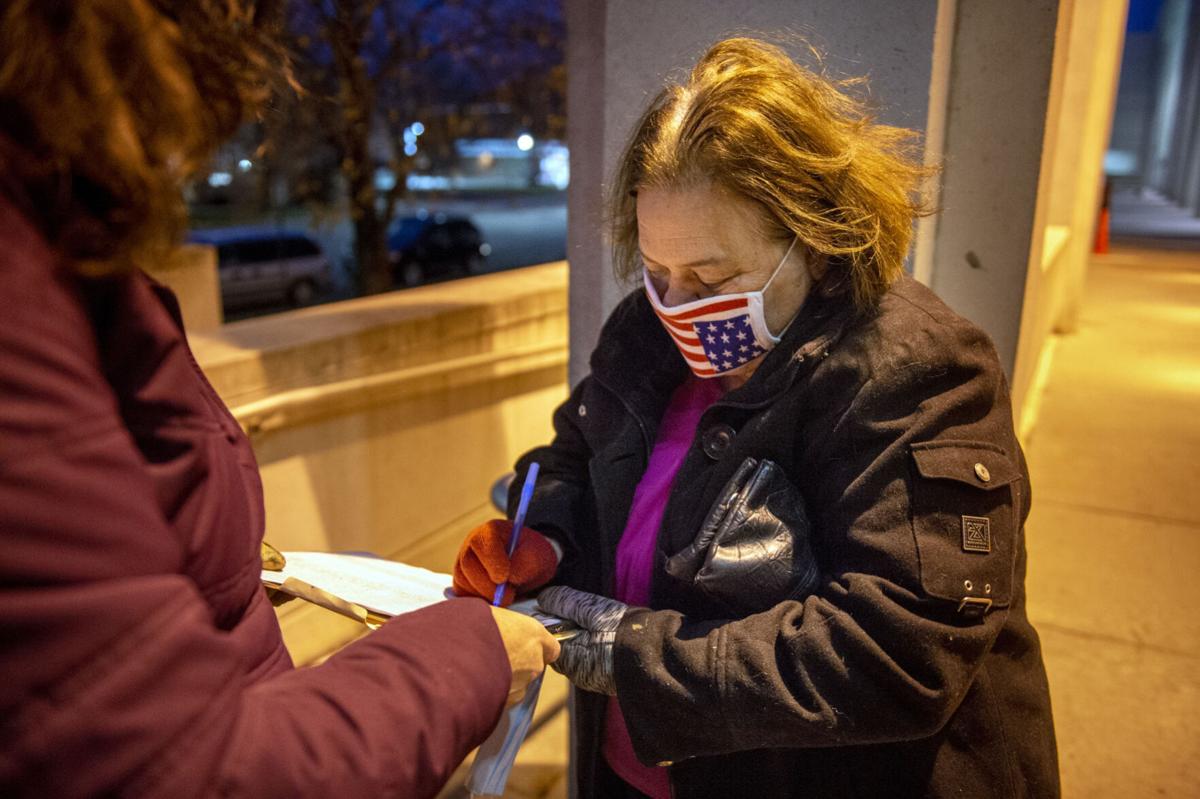 The effort to recall Lincoln's mayor and a majority of the City Council because of their actions during the pandemic officially launched Monday outside City Hall, the site of an August hearing that galvanized recall organizers to seek the ousters.
LNK Recall organizers took their newly printed recall petitions to the County-City Building on Monday as the City Council held its last meeting of the month.
As several dozen people waited near the entrance doors to sign the petitions, a counter protester stood at the bottom of the building's steps chanting "My daughter's a nurse. Don't make it worse. Wear a mask."
LNK Recall circulators want to remove Mayor Leirion Gaylor Baird for allegedly seeking authoritarian control and attacking the liberty of Lincoln citizens, and they want to remove City Council members James Michael Bowers, Richard Meginnis, Jane Raybould and Tammy Ward over their hastened vote to appoint Lincoln-Lancaster County Health Department Director Pat Lopez in August.
The county's mask mandate isn't mentioned in any of the petitions, though some of the organizers personally oppose the mandate, which ultimately prompted the hearing and vote on Lopez's appointment.
Andrew Strasburg, a northwest Lincoln resident, said his decision to sign the petition wasn't about the mask mandate, noting he wears masks and had on a neck gaiter.
But he has felt the series of directed health measures the mayor authorized have been heavy-handed and have hamstrung struggling local businesses, including the restaurant owned by members of his family, he said. 
"I think she's using her authority out of the scope of what a mayor should do," Strasburg said.
Cyndi Lamm, a former city councilwoman who lost the mayoral election to Gaylor Baird last year, said she came out to sign the mayoral recall petition, show support for the civic effort, adding that the government actions during the pandemic have left a host of people feeling their voices were not heard.
"Her (Gaylor Baird's) actions have stood right alongside the actions of (California) Gov. Gavin Newsom," Lamm said, noting that Newsom has also been targeted for recall during the pandemic.  
Circulators will have until Dec. 23 to collect the necessary signatures on each official's petition and return them to the Election Commissioner's Office, at which point Lancaster County Election Commissioner Dave Shively's staff will begin verify signatures.
Decline to Sign, a group opposing the recall effort and billing itself as a "concerned group of Lincolnites," issued a news release Monday calling the effort a misguided, divisive move to hold an unnecessary election that ultimately "does nothing to help our community."
"This pandemic has put our community's health care system in crisis, and a small group of anti-mask, pandemic-deniers want Lincoln residents to recall their elected officials instead of focusing on public health," the group's treasurer, Justin Carlson, said in the release. "We encourage citizens to decline to sign the recall petition if approached by a circulator."
Carlson previously served as the campaign treasurer for Gaylor Baird's 2019 mayoral campaign.
Decline to Sign decried the cost to taxpayers if the petitions succeed.
Shively estimated the cost of holding a special recall election for all five officials would between $275,000 and $325,000.
Organizers would need at least 21,652 valid signatures to trigger a recall election for Gaylor Baird, 4,864 signatures for Bowers, 8,009 for Meginnis, 5,362 for Raybould and 2,495 for Ward, according to Shively.
Signature gathering within the 30-day window marks the largest challenge for the organizers, who plan to host signature signing events at supportive local businesses.
The last successful recall effort in Lancaster County came in 2000 when controversy on the now-defunct Rokeby School Board led to the recall of a board member.
If the LNK Recall petitions have sufficient legal signatures, the City Council would set a special election date within 80 days of Shively's notification of the petitions' validity, Shively said.
And ultimately, if voters removed four City Council members and the mayor, the council wouldn't have a quorum to conduct business.
That, under Nebraska law, would trigger another special election and come as the remaining at-large council members face election in the scheduled 2021 primary.
A recall could upend city government, Carlson said, and as such, it should only be reserved for egregious violations of public trust, not squabbles over governing strategies.
"This is a policy disagreement, and it should not rise to the level of a recall," Carlson said.