Much of this nonsense was started on university campuses of course
By JAN MOIR FOR THE DAILY MAIL
PUBLISHED: 20:38 EDT, 3 December 2015 | UPDATED: 10:00 EDT, 29 December 2015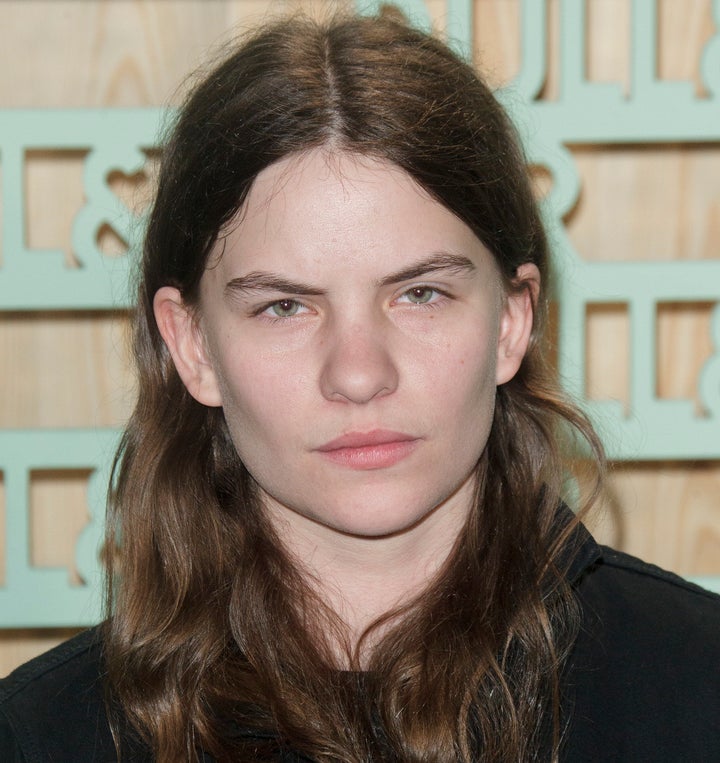 Modern sexuality is in a state of flux. Well, it has been since forever, at least since Marlene Dietrich put on a smoking jacket and Mick Jagger climbed into a ruffled blouse — but now it is more fluxed up than ever.
More and more fashionable young women — and they mostly are women, but you can't call them women any more, please read on — are declaring themselves gender fluid.
To be gender fluid is to refuse to be constrained by the restrictive labels of the past, these labels being the hugely oppressive 'Male' and 'Female'.
Take for example Sting's daughter Coco who has just announced that she is gender fluid and to this end isn't called Coco any more, which she has been professionally and personally all her life, she has now reverted to her birth name of Elliot, if you don't mind.
The 25-year-old musician is also in a long-term relationship with a model called Lucie Von Alten. Eliot said that everyone was aware that she was gay, so she never really had to come out. 'My parents always knew and I always knew.'
So far, so good — although personal sexuality does not define gender fluidity. The important point here is that Eliot/Coco further defines herself by not defining herself.
Like thousands of others, she does not particularly identify with either gender, and sees herself as a 'musician' rather than a man or woman. 'I don't believe in any specifications. I think forever I was trying to figure out maybe… what I am,' she said. 'But I don't think anyone should feel pressured to have any kind of label or tag on them.'
Pressure! It's everywhere, darlings. The pop star Miley Cyrus and the model Cara Delevingne are among the fashionable young who see the very notion of being male or female as too constrictive. They prefer to float between male and female personas in a way that they perhaps hope makes them seem more interesting.
Of course, few from either camp are actually transitioning, meaning making chemical or surgical efforts to change the physical characteristics of their sex and go down the transgender route.
This is unlike Jack Monroe, the thrifty author who wrote the austerity cookbook A Girl Called Jack.
Today, Jack does not want to be seen as a girl any more — but does not want to be a boy, either. Jack has declared her-him-self non-binary transgender and is taking testosterone and preparing for breast removal surgery.
Clearly, she is serious about her difficult journey to get where she needs to be. However, what is really confusing is the modish cocktail party pose that everyone else affects.
This bubbling brew of socialite mores, campus concerns and fashionable gender disruptions emanates from girls who want to be thought of as special, different and sexually provoking — but will probably grow out of it and marry a banker who looks like Daddy, while people like Jack are still painfully transitioning.
Meanwhile, on the social media site Facebook, potential members are given more than 70 options to describe their gender status. These include agender, gender queer, bi-gender, trans friend, intersexual, cissexual and cisgender.
For those who like to take liberalism to painful excess, gender is now seen as a social construct. It has nothing to do with the sex you were born or what is between your legs, it is only a means of personal classification.
For example, a person who is cissexual 'identifies' with the sex they were 'assigned' at birth (unlike a transsexual) and the same premise applies to the cisgender /transgender axis. What in God's name am I talking about?
Much of this nonsense was started on university campuses of course, hot housed in the hideous, febrile contemporary atmosphere where overprivileged students are now encouraged to find new ways to nurse grievances, store up petty hurts and see themselves as victims.
They must be given special status, they must ensure that everyone else meets their demands, they must suffer and be seen to suffer.
Students were once concerned with big issues, such as banning the bomb and free abortion on demand. Now they are dispiritingly obsessed only with themselves, their personal rights, their 'safe spaces' being violated by anyone whose views differ from their own.
This rebellion against the 'rigidity' of traditional gender roles has spread across society, becoming a new frontier in a narcissistic age where every individual must be exceptional and no one must ever, ever suffer in silence.
For kids today can't just be confused, worried, and anxious like we were. They can't just work their way through it. They can't just go through a tomboy phase without it being turned into a gender-maggedon with permanent, life-changing consequences.
Coco, Eliot, Cara and a million others. I don't doubt some of them do have real gender issues and not everyone sits happily at either end of the spectrum.
There is a middle ground, of course there is — and that is not always a happy place to be. But is such widespread gender fluidity the way forward in gender politics?
Or, in ten years' time, are we going to look back and laugh at the pretentious sexual posturing of a generation who found it too boring to be like everyone else?