By AWR HAWKINS – 21 Dec 2020 – for Breitbart.news
In Chicago, 4,005 people have been shot this year. That is 1,400 more than 2019.
My cmnt: Trolls like to make a big deal about a misleading statistic. They point out that the shootings or murders per 1000 people makes Chicago relatively safer than many other cities with higher rates. That would be true if the shooting/murders were spread evenly across the entire city but they are not. They are concentrated in the ghettos and occur among mostly people of color (i.e., blacks shooting blacks). This is what Mayor Lightfoot is culpable for. Guilty, white, democrats vote for this woman because she is black. They are doing no favors for black people. They are guilty of maintaining this atrocity even as they comfort themselves and virtue-signal by voting for a black, lesbian woman.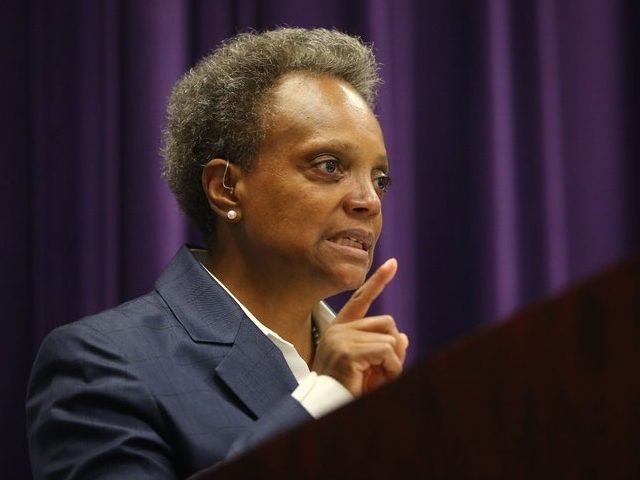 Over 4,000 people were shot in Mayor Lori Lightfoot's (D) Chicago starting January 1, 2020, through to December 16, 2020.
The Chicago Tribune reports the exact figure at 4,005 shooting victims, fatal and non-fatal shootings combined.
A separate body of data from the Tribune lists homicides, noting 744 people were killed January 1, 2020, through December 16, 2020.
Breitbart News reported that 11 people were shot, one fatality, Friday into Saturday morning alone. By Monday morning, ABC 7 / Chicago Sun Times put forward numbers for the entire weekend showing 36 people were shot, six fatality, in Mayor Lightfoot's Chicago.
The first fatality of the weekend occurred about 3 a.m. Saturday, when a 47-year-old man was chased down on foot "in the 1300-block of West 87th Street" and shot in the head.
At 1:20 a.m. Saturday a man and woman with gunshot wounds were discovered in a vehicle "in the 3200-block of West 64th Street." Both were pronounced dead at the scene.
At 3:40 p.m. Saturday 23-year-old David Green, Jr., was "on the street" when a someone opened fire from inside a vehicle, striking him numerous times. He was transported to a hospital and pronounced dead.
A 19-year-old was sitting in a vehicle "in the 1200-block of South Washtenaw Avenue" around 5:30 p.m. Saturday when someone pulled up and opened fire. The man was transported to a hospital with multiple gunshot wounds and pronounced dead.
The final fatality of the weekend was that of a 71-year-old woman who was shot and killed at 7:40 p.m. Sunday while inside a residence "in the 10800-block of South Morgan Street." The shooting occurred when "two males" from outside the residence opened fire, striking the elderly woman numerous times.
AWR Hawkins is an award-winning Second Amendment columnist for Breitbart News and the writer/curator of Down Range with AWR Hawkins, a weekly newsletter focused on all things Second Amendment, also for Breitbart News. He is the political analyst for Armed American Radio. Follow him on Twitter: @AWRHawkins. Reach him at awrhawkins@breitbart.com. You can sign up to get Down Range at breitbart.com/downrange.