By 10/11 NOW and Abbie Petersen Published: Oct. 26, 2020 at 3:31 PM CDT
My cmnt: Here's their post on Facebook: LNK Recall. This post has a nice graphic showing where they are in the recall process. As of today it will be about 25 days before signatures can be submitted.
LINCOLN, Neb. (KOLN) – Multiple affidavits have been filed with the Lancaster County Election Commissioner in an attempt to recall the Lincoln mayor and the four district city council members.
The group LNK recall is behind the effort to recall the multiple city officials. The group describes themselves as a "non-partisan, grassroots movement led by Lincoln business owners and citizens."
Lancaster County Election Commissioner Dave Shively will notify the elected officials of the recall and then they have 20 days to respond with a defense statement.
After the Election Office receives their defense statements, Shively will have five days to prepare the petitions.
"The goal of the recall is to hold our leaders accountable for ethical, transparent, and cooperative leadership that listens to the citizens of Lincoln," said one spokesperson for the recall group.
To move forward, the petitions would need the following number of signatures:
Mayor Leirion Gaylor Baird 21,652
NE District 1 James Michael Bowers 4,864
SE District 2 Richard Meginnis 8,009
SW District 3 Jane Raybould 5,362
NW District 4 Tammy Ward 2,495
These numbers represent 35 percent of the total votes cast for that office in the last general election.
At a press conference on Monday night, the group pointed to an August 17th meeting as a reason.
"The city council suspends their rules to silence the voices in Lincoln, they've dropped the veil of even pretending to listen," said LNK Recall Samuel Lyon.
At that meeting, the city council appointed Pat Lopez as the Director of the Lincoln-Lancaster County Health Department and voted to fast track the approval, rather than wait the typical two weeks to allow public comment and a final vote.
"Wait one week to have other people input. Here are 243 other signatures of people who would like to speak with you.. and they said, 'too bad let's move on,' and that's why their name is on the list," said Lyon.
The city says the mayor and the council have the authority to suspend rules in special circumstances.
"Mayor Baird exploited the very loose language of the emergency powers and communicable disease management provisions in our laws to define a pandemic into existence in Lincoln and Lancaster County," said Robert Borer.
"Mayor Baird sought out and obtained open ended authoritarian control and used it to attack our liberty, usurp legislative authority, silence our voices, misuse our police, destroy our small businesses, sow discord in our community and allowed vandalism in our city.
On August 17th, Mayor Baird asked City Council to suspend city charter rules in order to immediately confirm Pat Lopez as health director. Many citizens testified warning of the danger of suspending rules. [The city council members] ignored them and voted to suspend councils own rules anyway, canceling the remaining required hearing to vote immediately, silencing the vote of Lincoln citizens."
LNK Recall statement on Recall Petition Form
Mayor Leirion Gaylor Baird released a statement on the recall:
"I am focused every minute on doing the job that the people of Lincoln elected me to do. Right now, that includes working with the City Council and our Health Department to lead the city through an unprecedented global pandemic. I am not going to be distracted by a small group of people who want to divide our community."Mayor Leirion Gaylor Baird
Copyright 2020 KOLN. All rights reserved.
Group files to recall Lincoln mayor, 4 City Council members over health director appointment
Riley Johnson Oct 26, 2020 – for the Lincoln Journal Star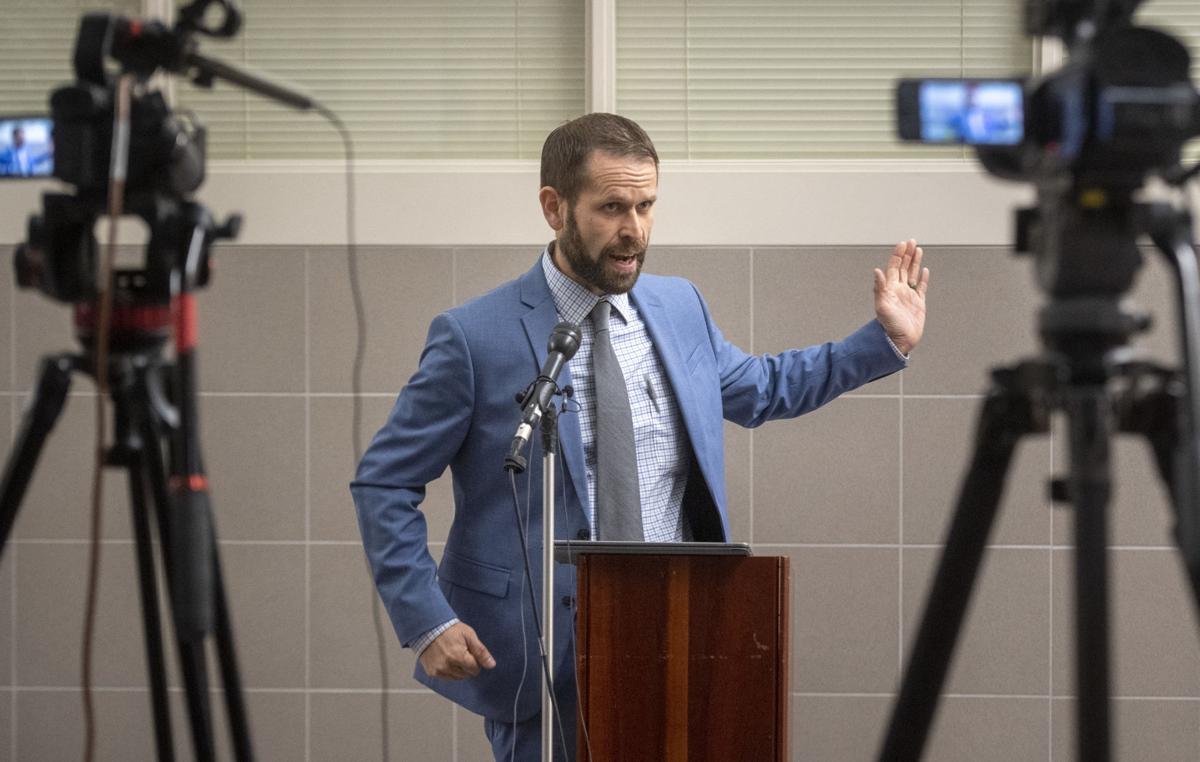 A group upset with Lincoln Mayor Leirion Gaylor Baird and members of the Lincoln City Council over the mask mandate, directed health measures and the appointment of the local health director will seek their recalls.
Lancaster County Election Commissioner Dave Shively on Monday said recall affidavits have been filed for Gaylor Baird, and council members James Michael Bowers (District 1), Richard Meginnis (District 2), Jane Raybould (District 3) and Tammy Ward (District 4).
Voters elected all five to their positions in 2019.
At a news conference inside the County-City Building on Monday, two of the five petition circulators, who have named their effort LNK Recall, said their effort seeks to give voice to residents and businesses who do not feel city leaders are listening to them.
Their effort is bipartisan and grassroots, LNK Recall leaders said.
Samuel Lyon, a real estate agent who is the principal circulator for the Gaylor Baird recall, said the mayor has sowed discord and turned neighbors against one another and pitted proprietors against their patrons when she implemented Nebraska's first mask mandate.
He decried her pandemic actions, including the mask mandate and emergency declaration for the pandemic, as an "assault on the citizens and good life of Lincoln."
Specifically, the recall affidavit alleges Gaylor Baird obtained open-ended authoritarian control, usurped legislative authority, misused the police and destroyed small businesses.
"We need unity," Lyon said.
In a statement responding to the recall initiative, Gaylor Baird said she's focused on doing the job she was elected to do.
"Right now, that includes working with the City Council and our Health Department to lead the city through an unprecedented global pandemic," Gaylor Baird said. "I am not going to be distracted by a small group of people who want to divide our community."
Each of the affidavits to recall council members attacks them for allegedly silencing the voices of Lincoln citizens when the council decided to expedite its vote to confirm Lincoln-Lancaster County Health Department Director Pat Lopez.
The City Council suspended its rules at an August meeting and rather than waiting to vote a week after its hearing, immediately confirmed Lopez to the position she had occupied as interim director.
Raybould and Ward each said Monday they stood by that vote.
"We understand that these individuals have a right to mount a recall, but I firmly believe in and will stand in 100% defense of Pat Lopez," Raybould said.
Ward said that vote was the right thing to do.
Asked to comment on the recall, Ward said her focus is "getting people healthy again, getting the doctors and the hospitals the help they need and getting people back to work."
Meginnis declined to comment because he had not seen the affidavit seeking his recall, and Bowers didn't respond to a request for comment.
Madsen's Bowling & Billiards Center general manager Ben Madsen, whose business defied a Health Department order to close after it flouted the mask mandate, warned City Council members of the recall last week.
He had said earlier Monday that he would attend the news conference, which coincided with the start of the City Council meeting, but he did not.
"We have his support, but you should know that this is more than a Ben Madsen movement," said Robert Borer, a retired Lincoln Fire and Rescue fire captain and another recall principal circulator.
The elected officials named will be notified of the recall affidavit filings and given a chance to include their formal responses with the recall petitions before they are printed and circulation begins, Shively said.
LNK Recall officials said they will rely on businesses to host the petitions to help collect signatures and will likely not go door-to-door, and the recall campaign's website allows supporters to donate to the effort.
Recalls of elected officials in Lancaster County are rare, in part because of the signature threshold and time crunch to be successful.
Once the petitions are issued, petitioners need to collect 21,652 signatures of eligible Lincoln voters within 30 days to trigger a recall election of Gaylor Baird, Shively said.
Smaller numbers of voter signatures would be needed to trigger a recall of council members representing the four geographic council districts.
Lyon said the group would have attempted to recall all seven City Council members if they could.
The three at-large council members, Roy Christensen, Bennie Shobe and Sändra Washington, cannot be recalled because it is too close to the 2021 city election.
Madsen has said he plans to run for one of those at-large seats.
He continues to challenge the city in court over the legality of the city directed health measures. He is seeking to make it a class-action lawsuit. After Lancaster County's district judges recused themselves, Cass County District Judge Michael A. Smith was appointed.
In a motion to dismiss the case, Lincoln City Attorney Yohance Christie said the actions fall within the city's exercise of its police power to protect public health, granted to cities and city officials under both the U.S. and Nebraska constitutions.
He said the mayor and health director are entitled to immunity from such lawsuits.
A hearing on the motion has been set for Wednesday.
Five criminal citations connected to Madsen's are working their way through the courts. A hearing had been set Monday on a motion challenging the charges alleging procedural error.
Madsen's attorneys had sought to subpoena the mayor and health director for Monday's hearing.
The city argued against it, saying a constitutional challenge such as this one is done by reviewing the record alone; and Lancaster County Judge Timothy Phillips quashed the subpoenas.
Now, Madsen is appealing that decision, which put the criminal cases on hold.