Paul Hammel Omaha World-Herald Oct 20, 2020 Updated 8 hrs ago – reported in Lincoln Journal Star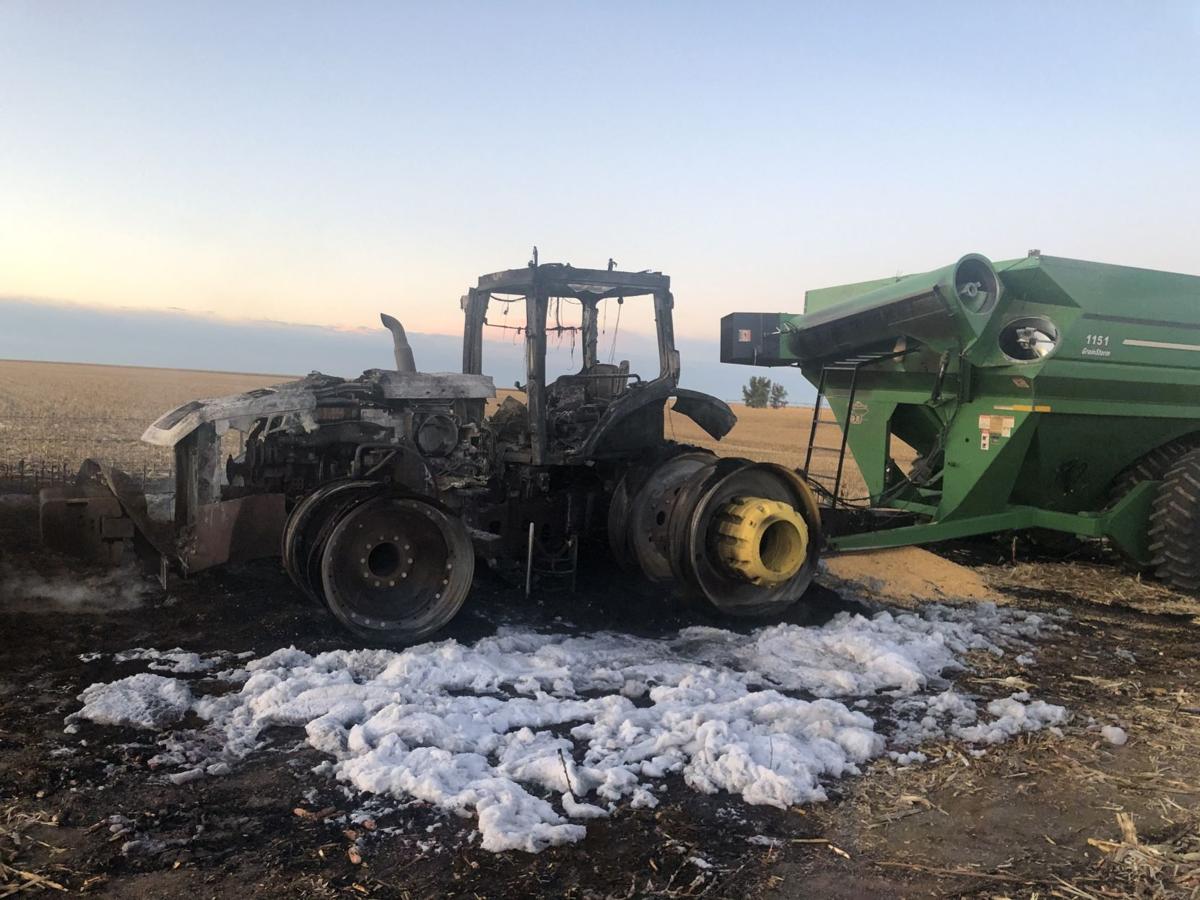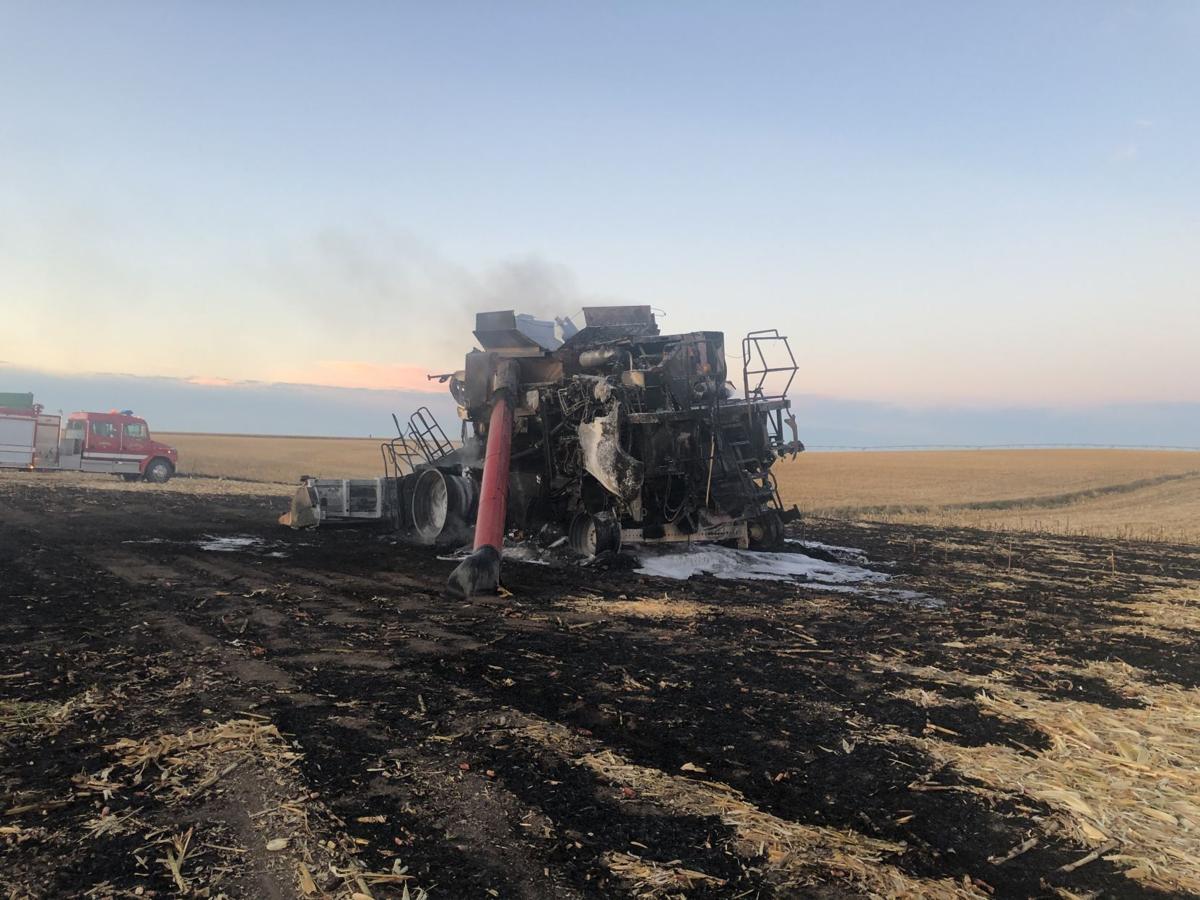 My cmnt: Sure looks like political arson to me. Some Biden voters didn't like this man's visible support for our great President Trump. Portland and Minneapolis were torched by Biden voters earlier this summer and Omaha had non-peaceful demonstrations with widespread property damage and many arrests and some violence. Now this blue-state/blue city carnage has come to the heartland. Biden voters burn things down. Trump voters repair the damage and build things back up. Never, ever vote democrat.
Neighbors and strangers are rallying to help a farmer from Henderson who lost an estimated $300,000 to $400,000 worth of harvesting equipment in a suspicious fire.
Jonathan Rempel, a fourth-generation farmer, said Tuesday that he's hearing from farmers from as far away as Kansas and North Dakota who are planning to participate in a harvesting bee this weekend to bring in his crops.
Henderson is about 20 miles southwest of York.
"God is good," Rempel said. "The American people are great. So often, we're focused on the 1% who are bad."
The State Fire Marshal's Office is investigating the cause of a Thursday morning fire that destroyed a combine, two semis and a tractor attached to a grain cart. Rempel had parked all of them in a remote field.
In a Facebook post, Rempel said he had parked the equipment "at a safe distance from each other," yet all burned. The odds of someone finding the remote field where the equipment was parked, he said Tuesday, were "about none."
The combine had two Trump flags on it, but Rempel declined to say if that was a factor and declined to speculate whether the fire was intentionally set.
"You tell me," he said of any political motivation, adding that he's letting investigators determine what happened.
Monday, Gov. Pete Ricketts mentioned the investigation into the fire when asked at a news conference about vandalism being done to Trump flags and other political signs.
Ricketts called for civility in respecting people's political views. He said those who vandalize political signs were "anti-American" and "people who hate our country."
"We've got to remember, we've got to live together here," the Republican governor said.
Jacob Zlatkovsky, an assistant investigator with the Fire Marshal's Office, declined to comment on the ongoing investigation and the "immense" news media interest.
Rempel said he expects six to 10 combines to arrive Saturday morning to help him bring in his crops. Tuesday morning, he was driving a borrowed combine to harvest a cornfield.
More than 500 donors had responded to a GoFundMe page by early afternoon Tuesday, donating more than $42,000 to help Rempel replace his equipment.
'I feel like the luckiest man alive' — Henderson farmer gets help with harvest after equipment burned
Natalie Saenz Oct 25, 2020 Updated 33 min ago – Lincoln Journal Star
When Jonathan Rempel received the call that his farm equipment was in flames on Oct. 15, he was unsure how he would harvest the remaining acres of corn he had left. But a week later, neighbors and friends came together with their combines, semis and families to help the Rempels complete their harvest.
"Nobody gets to see people love people like this. That's rare," Rempel said. "My heart is full and God is good."
More than 80 farmers and their families helped Rempel complete his harvest this weekend. He said people from around the area and even some from other states met up early Friday morning and started working.
They worked from 7:30 a.m-9 p.m. on Friday and finished the job by noon Saturday. That amount of work would have normally taken him about 12 days, he said.
"I feel like the luckiest man alive," Rempel said. "These people sacrificed time with their families, they brought their machines, they risked their wealth for a guy who just had his burned. They all did it out of love. They're the best people."
Rempel is a fourth-generation farmer in Henderson that was helping his pregnant wife, Abbie, get their two children ready for school when he received the heart-wrenching call from the Sutton volunteer fire department.
The fire destroyed a combine, two semis and a tractor attached to a grain cart. Most of the equipment was filled with corn and Rempel estimates about 3,500 bushels of corn were lost.
Rempel immediately started thinking about all the work still left to do.
"I had half the crop to bring in and I've got a baby due in 14 days, and how on earth am I going to do this all?" he remembers thinking. "I literally didn't know what I was going to do and, then people were raised up by God to say 'It's not your problem.'"
Although the fire is still under investigation, Rempel said he and his family feel blessed by the support and help they've received from farmers and Nebraskans across the state.
Rempel's sister set-up a GoFundMe page and over $104,000 has been raised for the family. Rempel said he is going to use a portion of the money to cover insurance deductibles on the damaged equipment and the other portion will go to local volunteer fire departments for their help.
"I have more respect for volunteer fire departments than I ever did before," Rempel said. "They're fantastic. Some of the best people that sacrificed time, money and they risked their lives to accomplish a task that most people don't care enough about."
When it was all said and done Saturday afternoon, Rempel said everyone was meeting at a local church to "gather and celebrate the harvest."