Chicago is one of many US cities overwhelmed with illegal migrants crossing the southern border
By Kyle Morris | Fox News – May 12, 2023 – Fox
My cmnt: The delicious irony of this protest is like hemlock to the Left. They need these undocumented democrat voters and so can hardly call the black protesters racists though by Liberal standards they clearly are. Yet by normal, rational, logical Republican standards these protesters are 100% correct. These illegal immigrants from a third world country who do not speak English are mostly unattached young males with little to no job skills and very likely to end up in prisons already overcrowded with Biden voters. They are a completely unnecessary burden to our already overburdened social welfare systems, schools, hospitals, housing and prisons due entirely to democrat policies over the past 60 years.
Residents of Chicago's south side continue to protest a plan to house illegal immigrants in an abandoned high school in the neighborhood, insisting that it would endanger Black residents already struggling.
Though only one bus of migrants has arrived in Chicago this week from border states, leaders expect more and plan to house hundreds at Windy City at a South Shore High School, Chicago's Fox 32 reported.
Many of those who live in the area and are concerned about the decision's impact on the community, with several Black members from the area protesting the move outside the school on Thursday.
"Why would any leader put our Black communities already riddled with crime, at further risk by placing unvetted, non-taxpayers steps away from our seniors, our children, and our homes we've worked so hard on our own to secure," said J. Darnell Jones, a resident of South Shore.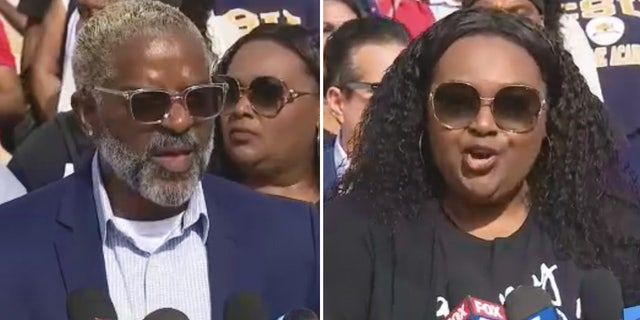 J. Darnell Jones, left, and Natasha Dunn, right, were two South Shore residents who spoke out Thursday against a decision by local leaders to house migrants at a nearby, vacant school. (Fox 32 Chicago)
Echoing Jones' concerns about safety, South Shore community advocate Natasha Dunn insisted that those who have "been dumped" in the neighborhood lack long-term supervision and housing.
"Our specific frustration lies in the continuous and blatant disregard for the safety and overall quality of life for Black residents, as many of these migrants have been dumped in our neighborhoods without a plan in place to monitor and house them long-term," Dunn said.
Should the decision become finalized, Fox 32 reported that several hundred illegal immigrants located throughout the city could have temporary access to the vacant school facility to sleep, eat, and shower.
Dunn said members of the Black Community Collaborative South Shore, constituents and stakeholders are "extremely dismayed by the city of Chicago's inability to control and develop safe parameters around housing migrants" that were relocated to the city.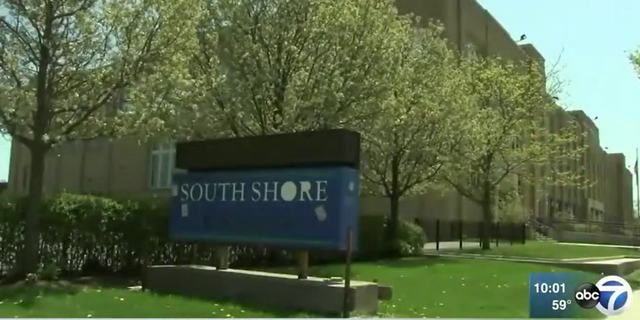 South Shore public officials plan to use this shuttered high school as a facility to house migrants. (ABC7 News)
"They have intentionally created barriers to impede participation in a decision-making process around the public school buildings we pay taxes to maintain," Dunn said of local leadership.
The decision to potentially house migrants at the closed school building, Dunn said, impacts "the value of our land, safety and peace."
"We have been redlined, Jim Crowed, pushed out," Dunn exclaimed. "Enough!"
Other residents made clear that those arriving in the city will receive better treatment, all at the taxpayer's expense.
"They will be fully taken care of, yet here in our community, we aren't taken care of," said Linda Cohran, who also lives in South Shore.
Earlier this week, outgoing Chicago Mayor Lori Lightfoot declared a state of emergency as the city continues to struggle with the migrant crisis.
"The City of Chicago is in the midst of a national humanitarian crisis, and through a unified effort in accordance with its values as a welcoming city, Chicago is doing everything it can to respond to the urgency of this matter," Lightfoot's office said. "The City has continued to call on federal and state governments to support the new arrival mission with much-needed additional funding and resources for emergency shelter and resettlement, as there are not enough resources currently to meet the need."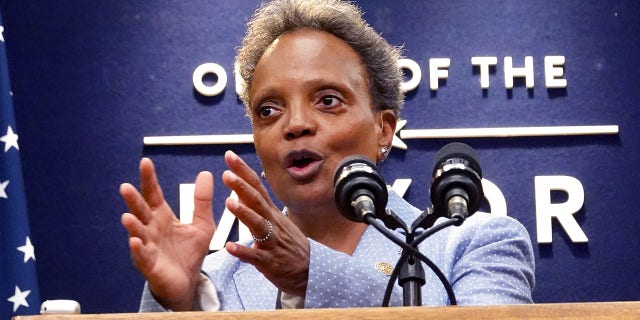 Chicago Mayor Lori Lightfoot announced that she declared a state of emergency to help deal with an influx of migrants during a press conference on May 09, 2023, in Chicago, Illinois. (Scott Olson/Getty Images)
During his comments to reporters, Jones also pointed out the significance in there being immigration advocates and left leaning politicians around the country who support the notion that noncitizens should be allowed to take part in local elections.
"What if that happened here," Jones asked. "That would change the mindset of what we, as a Black community, needs to thrive here in Chicago. That's a concern of ours."
Jones said the move from local leadership is an "effort to destroy our neighborhoods and silence our voices further."
During a May 4 community meeting at South Shore International College Preparatory High School, local residents also expressed their outrage at the proposal of housing hundreds of migrants in an already struggling area.
Chicago is one of many cities overwhelmed by illegal immigrants seeking asylum amid the crisis at America's southern border.
Fox News' Alexander Hall contributed to this article.