Reese helped guide LSU to a national championship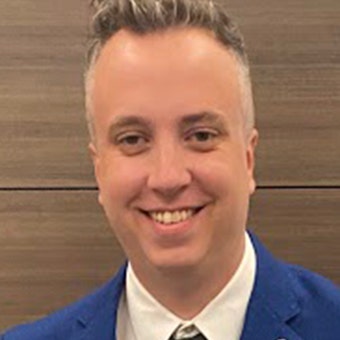 By Ryan Gaydos | Fox News – Published April 25, 2023 6:00am EDT – Fox news
My cmnt: See my other post here on Reese vs Clark. What the Libs have their panties all in a wad about is the very fact that a white woman from Iowa (of all white places) is the best college basketball player – male or female – of the year and one of the best for three years running! Caitlin Clark is the Pistol Pete Maravich of our generation. Clark literally carried a good, not great, team on her shoulders while Reese is simply another good player on a great team.
My cmnt: No one in the Lib-Left democrat-media industrial complex bats an eye about the obvious racial overload of black players in men's college and professional basketball. By their standards that situation is ipso facto racist and needs to have the federal government step in and create racial parity. But if a white team from Iowa were to win a college basketball championship they would go out of their collective minds like a monkey on a cupcake.
LSU star Angel Reese revealed she had to call Shaquille O'Neal and ask him to tone down the superlatives the former NBA star was giving her after the Tigers won the national championship.
In the aftermath of the national title game and all the controversy that came with it, O'Neal dubbed her the greatest Tigers athlete ever. O'Neal put her over himself, Joe Burrow, Lolo Jones and Pete Maravich. However, Reese appeared on "The Breakfast Club" in New York City and said she talked to O'Neal about the remarks.
"I called him after that and I was like, 'You know how much pressure you just put on me? You know how much?'" she said.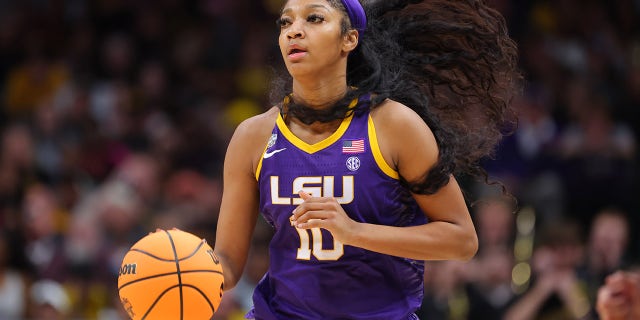 Angel Reese, #10 of the LSU Lady Tigers, handles the ball against the Iowa Hawkeyes during the 2023 NCAA Women's Basketball Tournament National Championship at American Airlines Center on April 2, 2023 in Dallas. (C. Morgan Engel/NCAA Photos via Getty Images)
Reese said O'Neal told her, "I don't give a f—."
"I feel like I haven't done nothing yet, so I told him, 'Don't even say that yet," she added. "I won a championship, but I just don't feel like I've done enough. I don't think I've done enough."
Reese transferred to LSU from Maryland and led the Tigers to the championship over Iowa earlier his month. Through the adversity of facing the National Player of the Year and going through the backlash she received for giving Caitlin Clark the business on the court, O'Neal put her in the upper echelon of LSU sports.
"She's probably the greatest athlete to ever come out of LSU sports. You heard it here first. Man and female," O'Neal said on the latest episode of "The Big Podcast with Shaq."
"Because, guess what? She delivered. She delivered that package. See, a lot of us got the package, and we still got the package in our truck. She delivered that package. So, you know, there's a lot of names you could throw around — men and women — but she's probably the greatest athlete.
"Some people are going to exclude it to women athletes. I'm not doing that. She's the greatest athlete to ever come out of LSU."
Reese was named the Most Outstanding Player of the tournament.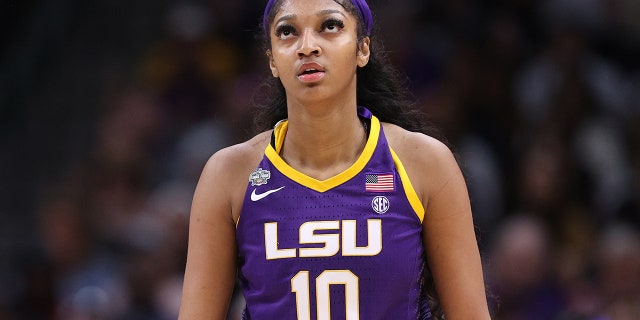 Angel Reese, #10 of the LSU Lady Tigers, looks on during the first half against the Virginia Tech Hokies during the 2023 NCAA Women's Basketball Tournament Final Four semifinal game at American Airlines Center on March 31, 2023 in Dallas. (Maddie Meyer/Getty Images)
She finished the 2022-23 season averaging 23 points, 15.4 rebounds, 1.3 assists, 1.8 steals and 1.6 blocks per game.
Ryan Gaydos is a senior editor for Fox News Digital.
Readers' comments
Everybody and I mean an overwhelming majority of everybody knows Kaitlin Clark was the tournament MVP. Her numbers alone were off the record charts. Reese was part of a better team that beat an inferior team and righteously deserved to win the team game. But Reese is not even close to the tournament mvp when KC is in the gym.
True the MVP never goes to a player on the losing team.
Put a dude in there like Britney Griner and Iowa could have been champ.
Too bad Reese does not have the grace of a good winner – poor sportsmanship is her achilles heal. That said, the women' basketball final was an amazing game – amazing. Both teams played an outstanding game and LSU won decisively. Too bad Reese spoiled it with her behavior after the win.
The game could have even been better except for the referees. Many incorrectly claimed the foul totals were close (at the end of the game) but calling ticky tacky fouls on Iowa at the beginning of the game where their better players had to sit & be less aggressive is not the same when the refs made makeup calls near the end of the half. Also, I can't believe the refs called a technical when Clark rolled the ball instead of throwing it to the referees.
Reese averaged 23 points a game for the season for LSU. For Caitlin Clark that would be a bad game.
Reese actually had teammates who were also capable of scoring
Those stats for one season pale in comparison to the three years "Pistol Pete" Maravich record numbers over 83 games, including averaging 44.2 PPG, 5.1 assists, 17 made FG, and 44.0% FG made, and all pre-three point shot . Plus, All-American all three years, SEC Player of the Year all three years, twice National Player of the Year before entering the NBA. Reece the "GOAT"? One and done! Additionally, LSU has had several football players and track performers who far exceeded her stats and abilities – Billy Cannon comes to mind.
All this time I thought Shaquille was a smart guy. He can support her if he wants but to claim she's the best Athlete ever at LSU? She wasn't even the best player in that game!
Shaq doesn't even know basic grammar…"man or female"????
Joe Burrow is just getting started!
I saw 2 other players in that same game that did better than she did.
More than two. Reese didn't have that great of a game. Jasmine's 21 points in the 2nd quarter is what won that game for LSU. Period.
Agree. Reese spent most of the first half of the game on the bench in foul trouble.
HER words to Shaq, "Don't even say that yet," she added. ""I won a championship,". I guess she was the only one on her team on the court that day. SMH 🤦‍♂️
That is all these people think about is their self.
I will give her an added difficulty bonus for playing in those eyelashes.
"I won a championship" there is no "I" in team.
It's not her fault she probably doesn't know the meaning of singular and plural. That is not taught in the predominantly black schools. Now replacing all words starting with the Letter "T" with the letter "D" is widely taught!
I dunno. We ARE talking LSU here.
SHE won? I bet her teammates would love to hear this. She should work on speaking proper English so when she does an interview she doesn't sound like she just walked out of the hood. It's not professional or attractive. Put your education to work.
Haha that's funny but don't they all with apparently going to college wink wink of course some Asians probably helped them with the test since junior high school .
Reese wasn't even the most outstanding player for her own team in the championship game and no one on her team outplayed Clark in that game or for the tournament. We could suggest some reasons why Reese was given the award, but it's too bad she didn't accept her victory with the same grace and class that Clark accepted her loss (and exceedingly poor foul calls.)
Stop it Shaq! She doesn't come close to any of the athletes mentioned above. She does have the biggest mouth though.
Reese has an obvious future entertaining the DOZENS UPON DOZENS of fans that support the WNBA.