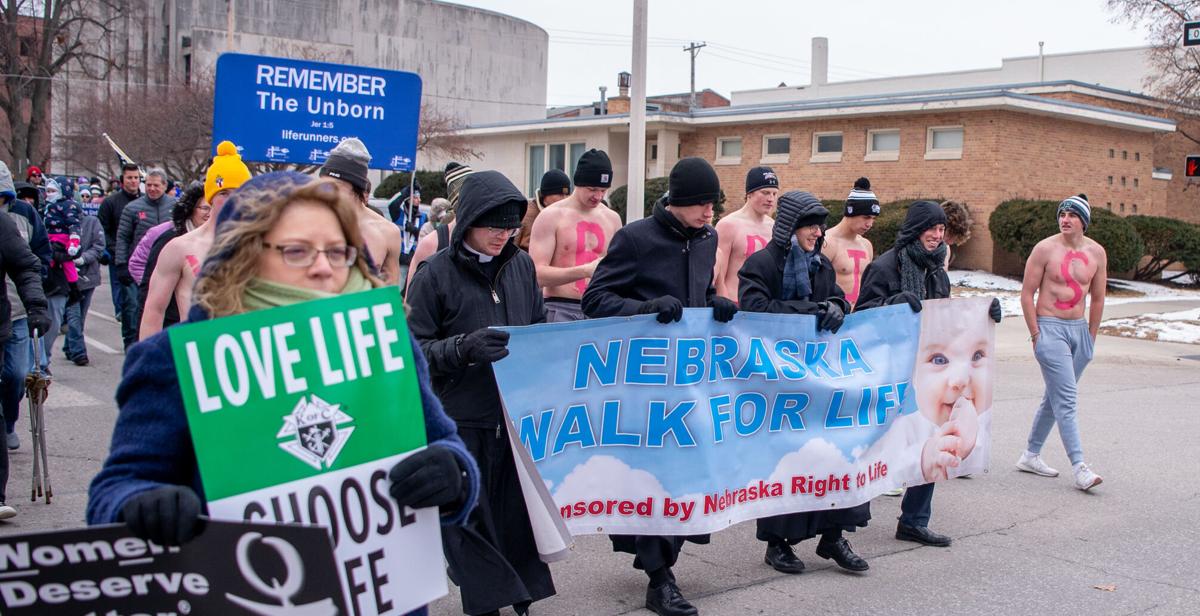 Walk for Life participants march from the state Capitol to the Nebraska Union on Saturday. LARRY ROBINSON Journal Star
Thousands of Nebraskans braved freezing temperatures Saturday to attend the 49th annual Walk for Life organized by Nebraska Right to Life.
Local and state officials, including Gov. Jim Pillen, Sens. Deb Fischer and Pete Ricketts, and Reps. Don Bacon and Mike Flood, spoke at the event. They shared excitement over the overturning of Roe v. Wade last summer.
In June 2022, the U.S. Supreme Court ruled in the case of Dobbs v. Jackson Women's Health Organization that abortion is not a constitutional right, leaving the legality of abortion to individual states to decide.
"Dobbs was a tremendous victory," Fischer said. "It was the result of hard work, heart and commitment to a noble movement."
The annual rally came just weeks after state Sen. Joni Albrecht of Thurston proposed a bill that would ban abortions in Nebraska after six weeks. In response, Sen. Megan Hunt of Omaha has introduced two bills that would expand abortion access in the state.
"If it has a heartbeat, it's not going to be aborted in Nebraska," Albrecht told the crowd.
Participants marched from the Capitol to the Nebraska Union, where speaker Dr. John Bruchalski greeted them.
Bruchalski is an OB-GYN who once performed abortions, but now leads Tepeyac OB-GYN, one of the largest pro-life medical practices in the nation.
"It was your prayer, it was your witness, that helped me change my heart on performing abortions to converting to life- affirming medicine," Bruchalski told the crowd.
Bruchalski grew up in a Catholic home before graduating from the South Alabama College of Medicine. He spoke about how during his residency, he was attending church, and performing abortions during his on-call hours.
He told the story of how a fellow doctor told him to treat a case as two patients, instead of just one, after an unsuccessful abortion.
"I had to call in a neonatologist. An abortion, a baby, a fetus, ended up squeaking and crying in my hands."
The neonatologist explained to Bruchalski how he had treated the baby like something to be gotten rid of, not a person needing taken care of.
After that experience, Bruchalski says his eyes were opened, and that experience is what prompted his memoir "Two Patients: My Conversion from Abortion to Life-Affirming Medicine."
Walk for Life participants gather at the state Capitol on Saturday before marching to the Nebraska Union. LARRY ROBINSON, Journal Star
Bruchalski also called the younger members of the crowd to action.
"You are the future," he said. "All these young men and women in the high schools and the colleges, it's you."
Before his closing remarks, Bruchalski heralded how Nebraska was fighting against abortion and thanked the march participants.
"Your walk today mattered. Your presence today mattered."
A group of counterprotesters gathered outside the Nebraska Union.
Among them was Maghie Miller-Jenkins, who said she was offended that the Walk for Life rally took place a day after body camera footage was released of Tyre Nichols' death at the hands of the Memphis Police.
"I don't like calling it pro-choice, because, when they hijack pro-life, I'm actually pro-lives, actual lives," Miller-Jenkins said. "I think it is horrifically disrespectful that they are out here the day after the video of Tyre Nichols, fighting for lives while we're dying in the streets."
Patrick Mediner (from left), Ben Haus, JP Mattern, Ben Maly, Thomas West, Keaton Weiman, Ajay Sealock, Morgan Armagost and Mason Beck stand shirtless with painted chests at the Walk for Life on Saturday. LARRY ROBINSON, Journal Star
Sen. Pete Ricketts talks with supporters in front of the Nebraska State Capitol prior to the Walk for Life rally in downtown Lincoln on Saturday. LARRY ROBINSON Journal Star
Walk for Life participant Mirna Rodriguez-Interiano holds up an anti-abortion sign downtown Lincoln on Saturday. LARRY ROBINSON Journal Star
Walk for Life participant Cora Weis holds up an anti-abortion sign in downtown Lincoln on Saturday. LARRY ROBINSON Journal Star
Walk for Life participants gather at the state Capitol on Saturday before marching to the Nebraska Union. LARRY ROBINSON, Journal Star
Walk for Life participants march to the Nebraska Union on Saturday. LARRY ROBINSON Journal Star
Counterprotestor Jayla Rehan holds up a pro-choice sign during the Walk for Life on Saturday. LARRY ROBINSON Journal Star
Pink and blue balloons are sent to the sky before the 49th annual Walk for Life rally in downtown Lincoln on Saturday. LARRY ROBINSON Journal Star
Walk for Life participant Mirna Rodriguez-Interiano holds up a sign opposing abortion in downtown Lincoln on Saturday. LARRY ROBINSON Journal Star
A sign for the Nebraska Walk for Life sits on front of the Nebraska state Capitol on Saturday. LARRY ROBINSON Journal Star
A counter-protestor argues with a Walk for Life participant in downtown Lincoln on Saturday. LARRY ROBINSON Journal Star
Walk for Life participants march from the state Capitol to the Nebraska Union on Saturday. LARRY ROBINSON Journal Star
Walk for Life participants hold up flags in downtown Lincoln on Saturday. LARRY ROBINSON Journal Star
A counterprotestor argues with Walk for Life participant David McPhillips in downtown Lincoln on Saturday. LARRY ROBINSON Journal Star
Lenny Kuszak (middle) holds up a flag during the Walk for Life rally in downtown Lincoln on Saturday. LARRY ROBINSON Journal Star
Walk for Life participants hold up anti-abortion signs in downtown Lincoln on Saturday. LARRY ROBINSON Journal Star
Walk for Life participants hold up anti-abortion signs in downtown Lincoln on Saturday. LARRY ROBINSON
Journal Star
Walk for Life participants hold up anti-abortion signs in downtown Lincoln on Saturday. LARRY ROBINSON Journal Star
Walk for Life participants holds up a sign opposing abortion in downtown Lincoln on Saturday. LARRY ROBINSON Journal Star
A counterprotestor holds up a sign supporting abortion in downtown Lincoln on Saturday. LARRY ROBINSON Journal Star
Walk for Life participants listen to the national anthem before the start of the march to the Nebraska Union in downtown Lincoln on Saturday. LARRY ROBINSON Journal Star
Walk for Life participants hold up signs opposing abortion at the Walk for Life rally in downtown Lincoln on Saturday. LARRY ROBINSON Journal Star
Rebecca Schwend holds up a sign opposing abortion during the Walk for Life rally in downtown Lincoln on Saturday. LARRY ROBINSON Journal Star
Walk for Life participants hold up a banner in downtown Lincoln on Saturday. LARRY ROBINSON Journal Star
Walk for Life participants hold up a sign opposing abortion in downtown Lincoln on Saturday. LARRY ROBINSON Journal Star
Lenny Kuszak (middle) holds up a flag during the Walk for Life rally in downtown Lincoln on Saturday. LARRY ROBINSON Journal Star