Madonna reportedly purchased the Jérôme-Martin Langlois painting for $1.3 million at a 1989 auction in New York
By Jeff Zymeri | Fox News – Jan. 18, 2023 – for Fox News
My cmnt: I post this mostly for the hilarious reader comments that follow. I really can't add any more than that.
Despite the distinction of being Emmanuel Macron's birthplace, Mayor Brigitte Fouré doubts that Madonna has heard of Amiens, a city in the north of France halfway between Paris and Lille. However, on Monday, Fouré revealed a connection and asked the singer to consider loaning the city a painting it lost during World War One as it attempts to become a 2028 European Capital of Culture.
The work – "Diana and Endymion" by French Neoclassical painter Jérôme-Martin Langlois – depicts the Roman goddess of the hunt enamored with a shepherd of unsurpassed beauty. It also has no ordinary history.
Completed in 1822, it was commissioned by Louis XVIII for the Salon of Diane at the Palace of Versailles. Acquired by the French Republic in 1873, the painting hung in a museum in Amiens until 1918, when the Germans heavily bombed the city.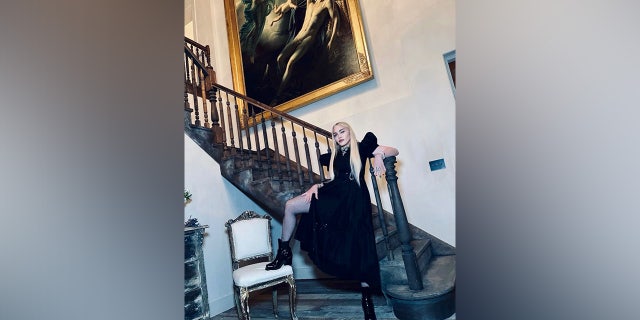 Madonna poses in front of what is believed to be Langlois' Diana and Endymion.  (Madonna via Instagram)
At that point, the painting vanished and was feared to be destroyed.
French daily Le Figaro reported Monday that the painting, or a nearly identical one, reappeared and went on sale at an auction in New York in 1989 where Madonna paid $1.3 million for it.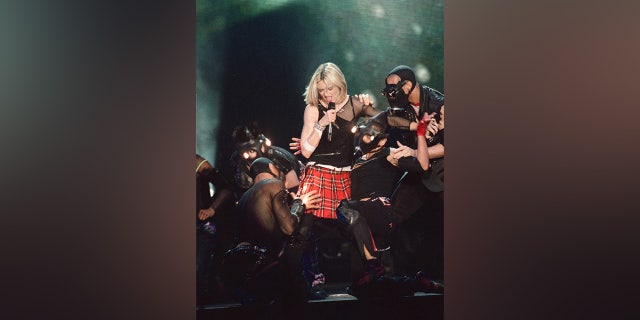 Pop star Madonna performs on stage during a concert on June 26, 2001, in Paris, France. (Patrick Davy/Prestige)
A curator from Amiens only noticed it in 2015 in the background of a photo of Madonna in her home that was published in Paris Match magazine, according to the Guardian.
"This painting is probably a painting that had been lent by the Louvre to the museum in Amiens before the First World War and of which we had then lost track," Fouré explained.
Since the painting is 3 cm smaller than the artwork which disappeared in 1918, there are some doubts as to whether it is the original. However, experts have hypothesized that the discrepancy in size is due to the signature and date on the painting being removed.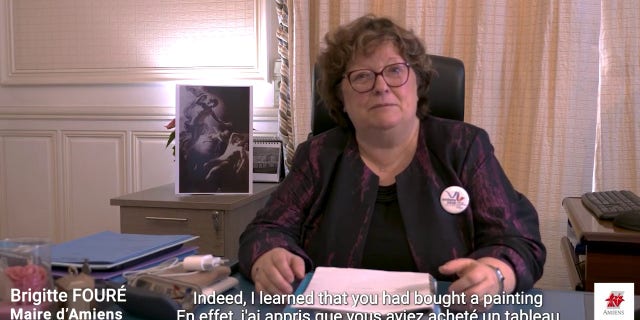 Mayor Brigitte Fouré urged residents of Amiens to share her message to Madonna. (Brigitte Fouré via Facebook)
The museum in Amiens has lodged a legal complaint of theft against persons unknown, but according to Fouré, this shouldn't concern Madonna.
"We won't dispute in any way the legal acquisition that you made of this work. But be aware that we are candidates to be the European Capital of Culture in 2028. So, I would like, if on this occasion, in 2028, you could lend us your painting so that the inhabitants can rediscover this work and enjoy it," Fouré said.
The European Union will announce the 2028 European capital of culture this year. The initiative allows cities selected to receive EU support in organizing a yearlong celebration of art and culture. It has been known to help cities develop in a number of ways, economic or otherwise.
Madonna has yet to respond to the request. Tuesday, the singer announced plans for a worldwide tour which would celebrate the entirety of her career. 2023 marks the 40th anniversary of the release of the singer's first studio album, "Madonna."
Jeff Zymeri is a Digital Production Assistant for Fox News and Fox Business. Find him on Twitter @jeffzymeri
Readers' comments
There is a law for retrieving stolen property. If you can prove ownership you don't have to ask for it back, they have to give it up legally whether they bought it from someone else or not.
Please loan us the painting, and don't expect us to ever give it back.
$1.3 million is a drop in the bucket to someone like Madonna. She should do what's right and return the painting to its rightful owner. She's a Democrat and they always claim to do what's right and to be moral, then she should put her money where her mouth and prove it.
i could actually see her "loaning" it back to them, and then leaving it to them in her will.
maybe not.. they don't call her the material girl for nothing..
$1.3 million is also a drop in the bucket for France. I find it hard to believe no one in France knew this was up for auction. Buy it back for fair market value France.
First of all, what kind of 'legal" auction it was that nobody heard about it ? Second of all, every reputable auction house or gallery, knows what was stolen and when. If such an art appears, they DON'T simply auction it.
It was sold as a copy, due to the size discrepancy, as painted by another famous individual. This painting has actually been floating around for over 60 years, despite the story saying it popped back up in 1989. The claim that it is the original and not a copy started popping up around that timeframe as there isn't even a clean "picture" of it to make a comparison to. And the artist isn't so distinguished that his technique was unique enough to eliminate copies/originals. It relies on the signature/mark to prove.
As to "nobody" hearing about the art auction, it happens all the time. There are 30 "famous" art auctions worldwide where major pieces are auctioned off, but there are tons that happen weekly that you'll never hear about.
It was held at Hunter Adolph Biden's house, also known as The Big Guy's Cave.
Madonna was there to purchase it when it was painted.
Hunter helped paint it , we all know how artsy he is
Dogs playing poker. Now that's REAL art.
Animals playing poker with human heads mounted on the wall around them. That's even better art.
Forget the painting. I'm begging Madonna to stay clothed.
agreed…i've always said that she's a dog, with a David Bowie body
Why does Madonna get such special consideration? In the ordinary course of business wartime stolen artwork is stolen artwork and belongs to its original owners. She may not be held accountable for its theft, that's reasonable, but the artwork belongs to those it was stolen from. The involvement of Madonna doesn't change that. If I buy a stolen car and the owner discovers it, I'm the loser, period, even if I was convinced it was a legitimate buy, the car goes back to its original owner and the owner owes me nothing. For my reimbursement I must go to my seller.
If you bought a car that the original owner lost all records over 100 years ago and never reported it as stolen until now, the case would be very very weak indeed
The auction house is responsible for vetting the painting. If it is stolen they should return her money and the painting to its rightful place.
One of the questions here is, who is the legal owner of the painting? The painting was originally commissioned, and owned, by the French monarchy, which was replaced by the First French Republic during the reign of terror. Which was replaced by the 2nd French Republic after the February Revolution which replaced the Orleans Monarchy which replaced the First Republic ( I think, it gets very confusing with French governments). According to the article, the painting was acquired by the Third Republic, which replaced the 2nd Empire and continued until the surrender of France and the Vichy government in the 1940s. If the painting disappeared during the First World War, it's provenance is fairly murky unless is was mentioned in the Treaty of Versailles that ended the First World War. As a point of reference, France is currently under the Fifth Republic, at least for the moment.
Can you imagine if this painting was found in Trump's possession? Madonna would be the first one on the view to call him a war profiteer.
They also requested a loan of several original Hunter Biden finger paintings from the Chinese Government.
France often talks about its national treasures, but the fact of the matter is many of those treasures were looted from other nations during the invasions of Europe by Napoleon and his pillaging troops.
If it's real she has no viable claim to it. She should return it and the auction house should refund her payment plus interest for selling stolen property. Whoever arranged the acquisition and sale by the auction house should be prosecuted under any/all applicable laws.
They have done more work to restore her looks than the painting.
I don't know that I'd trust ANY government with my personal property.
Far to easy for some self righteous socialist to decide to nationalize your stuff once it's in their hands.
Any chance France can keep her too?
It's the original. No one pays $1.3 million for a painting from an unknown and unsigned with no provenance. She should sell it back to France or gift it back. The auctioneer had to have known and sold the painting on it's true merits.
Why not just ask Hunter Biden to paint one for them?
I think if Madonna "loaned" the painting to the village, she would never get it back. The French will claim that it was stolen and it belongs to them. Possession is 9/10ths of the law!
If they get the painting back they'll have to disinfect it.
As a US citizen, I am begging France to please take Madonna. You can have the painting too. (ErectionDenier)
Sadly many works of art are damaged, destroyed, or disappear without trace during war. Just look at how many beautiful and important statues are in danger or have been totally destroyed by the left's current war on American history, heritage, and culture.
If Trump owned this painting, Madonna would demand the return.
Okay, Wokey McFukkpig. Let's see where your principals are. Will you do the right thing and GIVE the painting back to its rightful owners? (Joe'sLiverspot)
I don't know about the painting but someone needs to tell Madonna that she isn't 20 anymore.
Madonna has already stated many times that " the spoils of war are of little concern to her and the painting in question is simply an extension of her own creative self and has evolved to her rightful ownership"
I'm not a fan of Madonna or France. The main accomplishment of both is spreading STD's like nobody's business.
The French; They lost their flag factory. All the white bed sheets burnt down. We should hire the French, just in case we need to know how to surrender. Many French rifles for sale, never fired, only dropped once… French invented the command; "To the rear, MARCH!"
Madonna is the material girl. She's not going to lend her property to Amiens. She doesn't care about them. She only cares about herself and trying to look young. She's 64 by the way. Reply
Well give her credit…she looks only 156 in dog years.
There are some female musicians who age normally without fillers, Botox and plastic surgery. They get a little rough looking but you're still like that's a cool rock n roll chick in a gristled sort of way. They have the look of yeah I partied hard, played hard and lived the rock n roll lifestyle. I can admire that. Cool. Madonna ruined herself and looks bizarre, alien like and acting like a teenager makes her really pathetic in my book. Very uncool. (Lookyloo)
"Madonna reportedly purchased the Jérôme-Martin Langlois painting for $1.3 million at a 1989 auction in New York." Sure it wasn't from a garage sale in Wilmington, DE? Seriously, it would be nice if she returned it if it's a national treasure. It's not like she can't afford it plus it would make her look better in the eyes of others . . . if that's possible.
hunter byden said he would loan them one of his $500K paintings.
After close inspection, I believe this is a Hunter Biden original. If you look closely at the lighter areas, you can see the numbers for the paint color. The value has yet to be established but the "Big Guy" will get 10%.
"…of which we had then lost track," – ? Wait a minute… the French museum curators are not following the major art auctions? The NY is not Southbend, the galleries there are publishing auctioned lots and it's pretty easy to follow what's sold on them. Sounds a bit strange to me.
Gee, Madonna world tour, I would love to attend, but I gotta go to the bathroom!…
One would assume she had the painting authenticated before paying $1.3 million for it, so she knows about its history and still chose to buy and display the stolen artwork. So much for her virtue signaling.
Tomorrow, I am certain I shall look back upon this day as if it was only yesterday!