New report argues 'murder isn't a nationwide problem,' it's a problem in 'small set of urban areas'
By Emma Colton | Fox News – for Fox News
My cmnt: Large, democrat-run (for 100 years) urban centers produce most of the crime and murders in the country along with most of the welfare life style and drug addiction. Any normal, sane people would be ashamed if their policies caused this much damage to the public. From welfare to illegal immigration to failing public schools to crime to record inflation to energy shortages to supply chain disasters to lack of food to the love of and spread of communism – democrats make the world more dangerous and poorer and less free.
Murders in the U.S. are becoming increasingly concentrated in densely populated urban centers in just a handful of counties, according to a newly released report.
Some 73% of all murders in the U.S. took place in just 5% of counties while 52% of all counties reported no murders at all, according to a Crime Prevention Research Center study published this week and provided to Fox News Digital.
"Murders in the United States occur in very small areas, and that concentration has increased since 2014," the study stated. "The concentration in 2020 is now greater than in 2010."
The report comes as a violent crime wave that ballooned in 2020 still rages in some parts of the country.
"Murder isn't a nationwide problem," the study found. "It's a problem in a small set of urban areas and even in those counties murders are concentrated in small areas inside them, and any solution must reduce those murders."
MASSIVE INCREASE IN BLACK AMERICANS MURDERED WAS RESULT OF DEFUND POLICE MOVEMENT: EXPERTS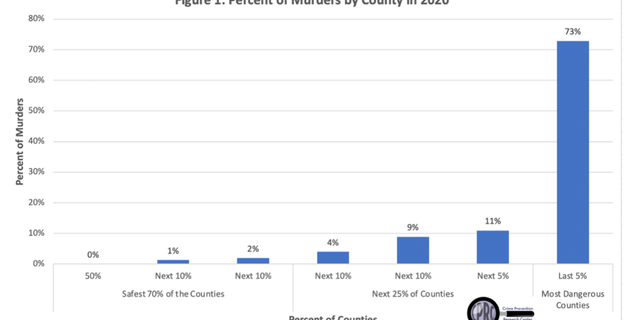 A graph created by the Crime Prevention Research Center shows "how few counties have a significant number of murders." (Crime Prevention Research Center)
Murders spiked in 2020 as COVID-19 lockdowns upended daily life and protests and riots swept the nation following the killing of George Floyd during an interaction with Minneapolis police. Murders increased by nearly 30% in 2020 compared to the prior year, marking the largest single-year increase in killings since the FBI began tracking such crimes.
The center, led by founder John Lott, divided counties into three different groups based on the amount of murders recorded: a majority of counties that experience no murder; a smaller group of counties that see low murder rates; and a "tiny set of counties where murders are very common."
The 52% of counties with no reported murders covered 10% of the population, the study said. Some 68% of counties did not exceed one murder in 2020, which accounts for 2.6% of all murders in 2020, according to the report.
Most murders took place in the "worst" 5% of counties that year while the worst 1% — only 31 counties — recorded 42% of the murders in 2020, the study said. That area is where 21% of the entire U.S. population lives.
"The worst 2% of counties (62 counties) contain 31% of the population and 56% of the murders. The worst 5% of counties contain 47% of the population and account for 73% of murders. But even within those counties, the murders are very heavily concentrated in small areas," the report continued.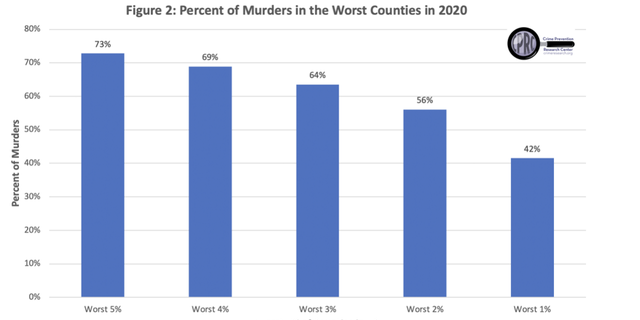 A graph created by the Crime Prevention Research Center shows the percentage of murders in the "worst" U.S. counties in 2020. (Crime Prevention Research Center)
Illinois' Cook County, home to Chicago and about 40% of the state's population, had the highest amount of recorded murders of any location in 2020 with a whopping 775, according to the report.
ONE OUT OF EVERY 179 AMERICANS WILL EVENTUALLY BE MURDERED IF CRIME RATE CONTINUES, STUDY FINDS
Cook County was followed by:
Los Angeles County, 691 murders
Harris County, Texas, 537 murders
Philadelphia County, 495 murders
New York City's five counties, a combined 465 murders
Wayne County, Michigan, 379 murders
Shelby County, Tennessee, 311 murders
Maricopa County, Arizona, 299 murders
Baltimore City county, 291 murders
Dallas County, 281 murders
Marion County, Indiana, 234 murders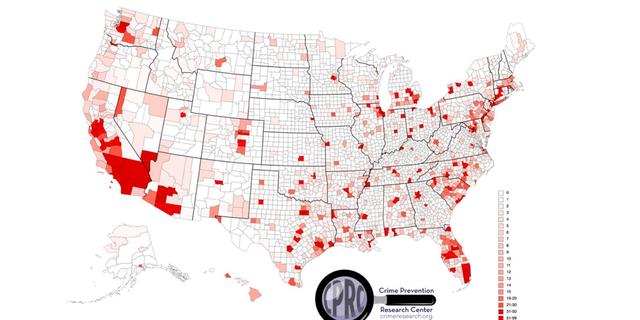 Map created by the Crime Prevention Research Center shows where murders are concentrated in the U.S. (Crime Prevention Research Center)
The data was compiled through the FBI's 2020 Supplementary Homicide Report, according to the center. Though not all states reported such data that year, or underreported data, researchers also used states' open crime data as a substitution.
The study found that within the counties themselves, murders and other violent crimes are also concentrated in certain areas, and the study pointed to Los Angeles County zip codes as examples.
In L.A. County, the worst 10% of zip codes reported 41% of the murders, the worst 20% of zip codes accounted for 67% of the murders, and the worst 30% at 82% of murders.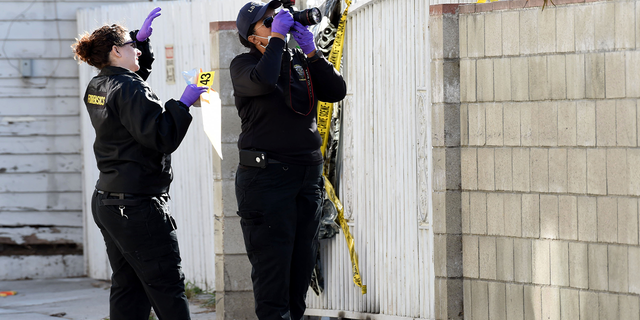 Members of the forensics team gather evidence at the scene of a fatal shooting in Long Beach, California. (Brittany Murray/MediaNews Group/Long Beach Press-Telegram via Getty Images/File)
US MURDER RATE CONTINUED GRIM CLIMB IN 2021, NEW FBI ESTIMATES SHOW
The data show murders have become more concentrated since 2010. The country's most dangerous 5% of counties accounted for 71% of U.S. murders in 2010, which fell to 69% in 2014 but jumped to 73% in 2020.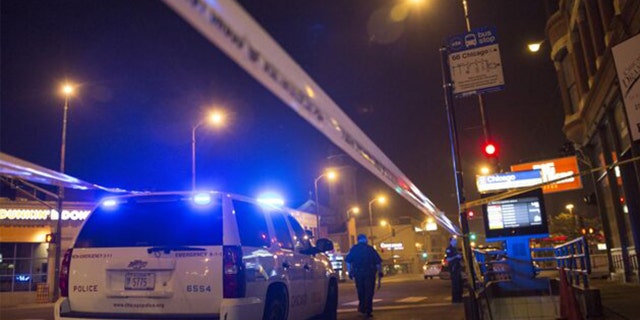 Chicago police officer investigates a crime scene of a gunshot victim in Chicago. (Reuters/File)
"Between 2010 and 2014, the percentage of murders in the worst 5% of the counties fell from 71% to 69%," the report found.
"But between 2014 and 2020, they had consistently climbed back by four percentage points, so murders were even more concentrated than in 2010," it said. "The one percent of worst counties drove that increase. The share of murders in these worst counties rose over this period, but there was no change in these counties' populations."
AFTER 2020'S RECORD BLOODY YEAR, LARGE CITIES ACROSS THE NATION STILL FACE SKY-HIGH MURDER RATES 2 YEARS LATER
The murder spike of 2020 has been attributed to a handful of variables, according to experts who previously spoke to Fox News Digital, including: anti-police rhetoric voiced by Black Lives Matter and defund the police proponents; the pandemic; a culture of lawlessness promoted by liberal district attorneys; and the "Ferguson effect" — when police pull back, violent crimes spike.
Some urban areas across the country have continued seeing violent crime spikes, including New Orleans, Philadelphia, Milwaukee and Portland.