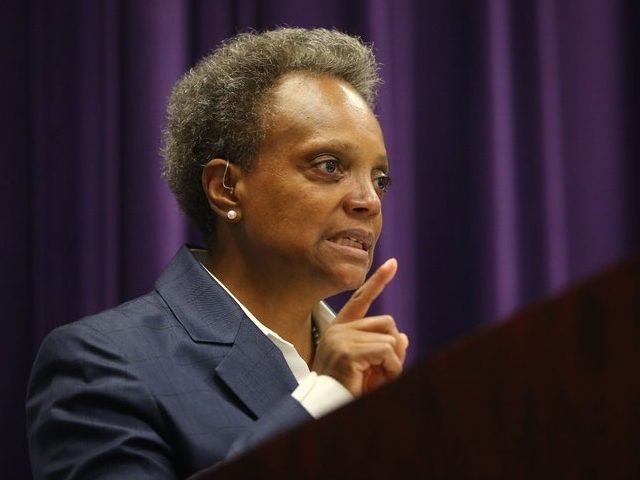 AWR HAWKINS – 16 Jan 20233 – for Breitbart.news
At least 21 people were shot, four of them fatally, during the weekend in Mayor Lori Lightfoot's (D) Chicago.
ABC 7 / Chicago Sun-Times reports the weekend's first fatal shooting occurred shortly before noon Saturday, when a 29-year-old man "in the South Austin neighborhood's 5600-block of West Lake Street" was approached by three men, one of whom opened fire.
The victim was shot twice and pronounced dead after being taken to the hospital.
The weekend's second fatal shooting was discovered about 11:40 a.m. Sunday, when officers found an unresponsive man with multiple gunshot wounds "in the 400-block of East 82nd Street."
The man was transported to a hospital and pronounced dead.
The third fatal shooting took place at 5:30 p.m. Sunday, when a 41-year-old woman was shot "in the 6200-block of South Michigan Avenue." The woman was shot in chest and the neck. She was taken to a hospital, where she died.
A 25-year-old man was shot and killed just minutes before that on Sunday. The man was in a car "in the 2600-block of West Fitch Avenue" when someone in a black vehicle opened fire.
The 25-year-old was shot twice and taken to a hospital, where he was pronounced dead.
The Sun-Times notes that 23 people were killed in Chicago during the first 15 days of 2023.
AWR Hawkins is an award-winning Second Amendment columnist for Breitbart News and the writer/curator of Down Range with AWR Hawkins, a weekly newsletter focused on all things Second Amendment, also for Breitbart News. He is the political analyst for Armed American Radio and a Turning Point USA Ambassador. AWR Hawkins holds a Ph.D. in Military History, with a focus on the Vietnam War (brown water navy), U.S. Navy since Inception, the Civil War, and Early Modern Europe. Follow him on Instagram: @awr_hawkins. You can sign up to get Down Range at breitbart.com/downrange. Reach him directly at awrhawkins@breitbart.com.