Christopher Tremoglie – Oct 11, 2021 – Microsoft news
My cmnt: We need to be reminded that when the democrats were still worried that their scheme to cheat President Trump out of his second term might not work – Nasty Pelosi and all of the democrat-media establishment made it known loud and clear that the vaccines they now push indiscriminately upon children and young people (who do not need nor should take them) were Trump's Vaccines and therefore terrible and dangerous and they personally would not ever take them!!!
According to Johns Hopkins University's data on COVID-19 deaths, since Jan. 1, 2021, there have been approximately 353,000 deaths from the pandemic. This is about a thousand more COVID-19 deaths than in all of 2020.
That is to say, more people have died from COVID-19 under President Joe Biden than under former President Donald Trump.
There are some important details to take into account, however. Trump lacked the benefit of vaccinations until the last month of his presidency, whereas Biden had them from day one. Biden, on the other hand, has had to deal with the surge of the delta variant, which spread throughout the country, even among the vaccinated.
Then again, under Biden, the COVID-19 seven-day fatality rate in September was higher than last September.
"The coronavirus doesn't really know what year it is," noted Dr. David Dowdy, an associate professor of epidemiology at the Johns Hopkins Bloomberg School of Public Health. "And the death has largely come in waves."
In reality, these numbers should not be surprising. The history of pandemics shows that there are multiple waves and variants that frequently lead to a lot of people being infected and dying. Biden never had any business promising he could beat the virus.
It is amusing how, in year one of the pandemic, every story about the virus was a "blame Trump" story. Absolutely nothing Biden has done is working, yet Biden really never gets blamed for anything.
My cmnt: It needs to be remembered – vividly – that old Joe emphatically stated that when he's president he will defeat Covid-19 by following the "science". Old Blow Hole Joe also told us that any president that allowed hundreds of thousands of deaths from Covid under his watch should be removed from office. Well, as we have seen with over 500,000 deaths in a just a little over one year under O'Biden's ineptitude he has not, nor has any democrat, called for his removal from office. Curious. Lying hypocrisy anyone?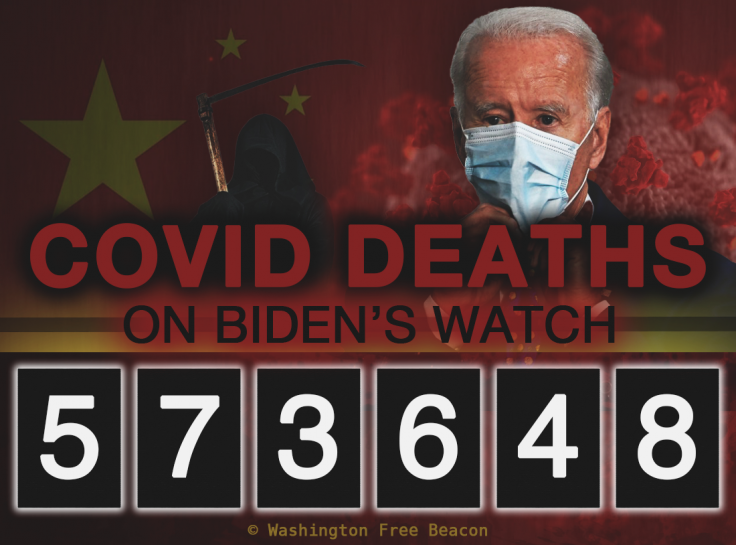 Washington Free Beacon Staff • January 20, 2021 12:06 pm
CNN will likely stop counting, so the Free Beacon is picking up the slack.
573,648 Americans have died from COVID-19 since President Joe Biden took office. He promised the American people he would "shut down the virus." (Fact check: He has not.)
Updated April 6, 2022 at 9:00 a.m.
Covid-19 Deaths under Biden Surpass Deaths during Trump Administration
By KYLE SMITH – December 16, 2021 10:56 AM – for National Review
Strange how the media is almost totally silent about the fact that more than 400,000 Americans have died of Covid-19 since Joe Biden was sworn in January 20, with more than 1,000 deaths a day adding to the toll. As you'll recall, there was a full-blown national day of mourning on January 19, Trump's last full day in office, which was the day deaths hit 400,000. The New York Times has the current death count at 801,037. It seems likely that at least another 100,000 will die as the winter storms in. It's not hard to imagine that there could be twice as many Covid deaths on Biden's watch as on Trump's. But what was Trump's fault under Trump is America's fault under Biden.
It turns out that Joe Biden's Secret Plan to End Covid worked about as well as when he promised to "cure cancer." Thanks in pertinent part to Trump's Operation Warp Speed, Biden was able to take office with the vaccination effort already well underway, and he declared victory over the virus in an Independence Day speech. At that point, 200,000 Americans had died of Covid on his watch, and since then, another 200,000 have perished.
Remember all the pundits and Democrats proclaiming that Trump had "killed" 400,000 Americans? Will Chris Hayes and Kamala Harris blame Biden for "mass slaughter" now that he has presided over even more deaths? Or even the 200,000 since Biden's "Mission Accomplished" speech? Failing that, will they at least acknowledge they were wrong to blame Trump for America's suffering much the same fate as comparable nations? Will they at least say, "I'm sorry"?
ANALYSIS: Nancy Pelosi's High-Risk COVID Infection Could Wreak Havoc on Democratic Leadership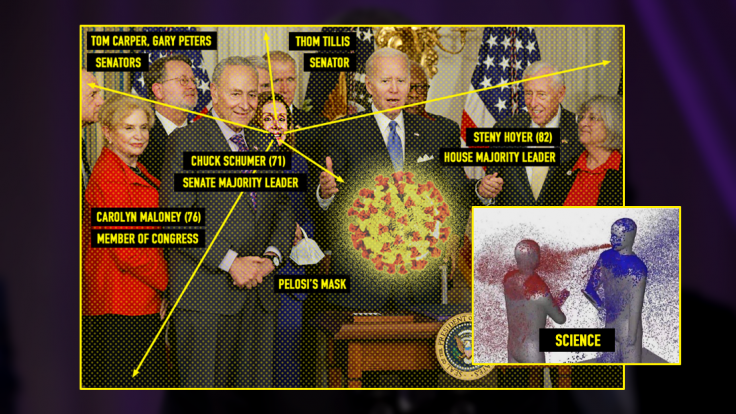 Andrew Stiles • April 8, 2022 4:58 am – a little fun from the Washington Free Beacon
House Speaker Nancy Pelosi (D., Calif.) has tested positive for COVID-19, her office announced Thursday. Pelosi, who recently celebrated her 82nd birthday, is far more likely to be killed by the virus than a younger person, according to science. A Washington Free Beacon contact-tracing analysis of Pelosi's public appearances over the past 72 hours suggests that her irresponsible behavior could threaten the lives of the Democratic Party's senior leaders, most of whom are also elderly.
On Wednesday, for example, Pelosi and other senior Democrats were at the White House to observe President Joe Biden, 79, sign into law legislation reforming the U.S. Postal Service. Senate Majority Leader Chuck Schumer (D., N.Y.) was there, along with House Majority Leader Steny Hoyer (D., Md.), who will turn 83 in June, and House Majority Whip Jim Clyburn (D., S.C.), who will turn 82 in July.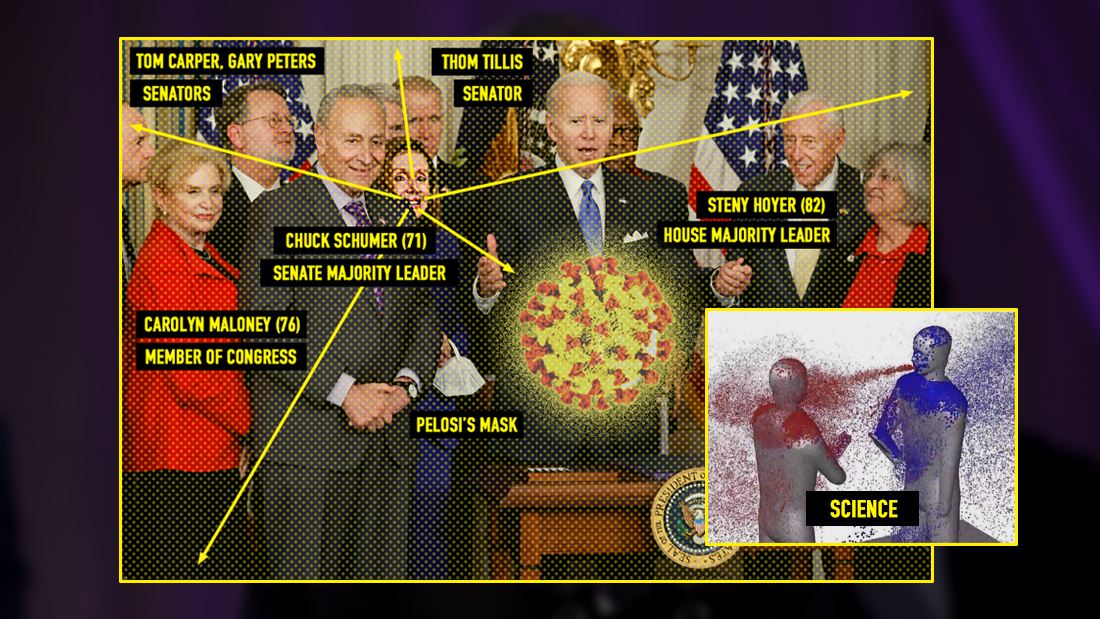 Earlier this week, prominent Netflix producer Barack Obama joined Pelosi at the White House to celebrate the 12th anniversary of the so-called Affordable Care Act. Vice President Kamala Harris, who is "one heartbeat away" from the presidency, wore a brown suit that reminded many observers of a UPS uniform.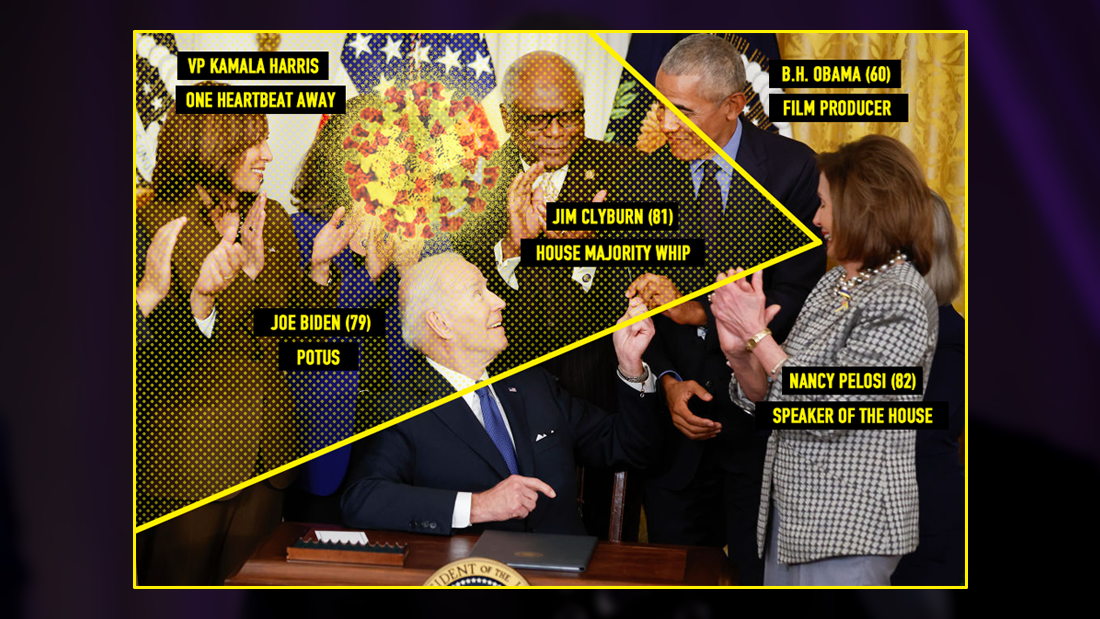 Pelosi embraced Biden at the event, spreading her COVID germs all over his face. Gross.
We are literally shaking right now.