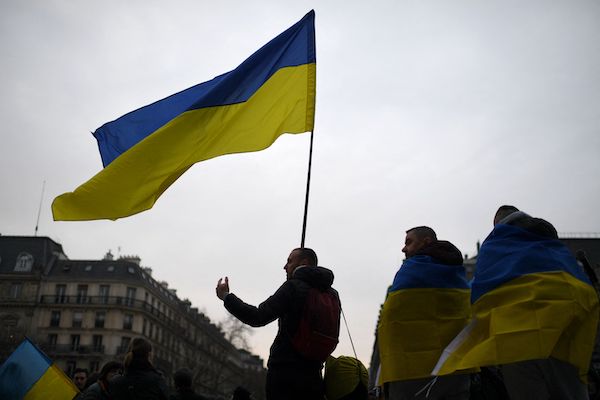 My cmnt: From the Daily Wire 03/18/22. These are two good news stories that I just had to pass on. With all the blockhead evil coming from the democrats and O'Biden (Ukraine has been invaded by Putin because of B.O.'s and Joe's incompetency and laziness – and abortion has plagued America since 1973 because of the evil worldview of democrats) it is nice to report that there are still hopeful signs on the horizon.
1. Ukraine Stops Russia in Its Tracks
The Topline: Three weeks into the Russian invasion of Ukraine, Ukrainian forces have surprised the world with the effectiveness of their resistance against the Russian military.
Russia
The Russian military has struggled to make the kind of progress they had expected when they launched their invasion on February 24th.
According to British military intelligence, Russia's invasion is now largely stalled on all fronts, suffering heavy losses and making minimal gains on land, sea, or in the air.
The British Ministry of Defense said, "Ukrainian resistance remains staunch and well-coordinated," adding that, "The vast majority of Ukrainian territory, including all major cities, remains in Ukrainian hands."
The Pentagon has said Russian troops are still roughly ten miles away from the center of Ukraine's capital, Kyiv, and that even though Russian forces have launched almost one thousand missiles since the start of the invasion, Ukraine's airspace is still being contested.
Some are arguing that ineptitude is at the center of the Russian military failure. Others are saying that their entire strategy relied on the assumption of a blitzkrieg style attack in which they took the capital city, Kyiv, in 48 hours.
There are also indications that Putin misread the general morale in Ukraine, with reports saying Russian forces are often surprised that they are met with violence rather than being welcomed as liberators from fascism, let alone the fact that many Russian troops appear to have been misled about the mission itself.
But… Russia has a vastly more powerful military, and has historically been willing to shed large amounts of its own forces' blood to achieve victory.
Ukraine's Success
The Ukrainian forces were prepared. The last time Putin invaded Ukraine was in 2014 under the Obama administration, when Russian forces annexed Crimea with effectively no resistance.
Eight years later, the Ukrainian military is completely different. Ukraine spent 3.4% of its GDP on defense in 2019, which is up from 2.2% in 2014 when they were invaded. It had over a quarter of a million active military personnel, with almost a million in reserve, and many troops had military experience after years of lower-level war.
There's also the widespread civilian effort, with many people volunteering to defend their homeland.
Tom Williams/CQ-Roll Call, Inc via Getty Images
2. Idaho Passes Pro-Life Law Similar To Texas Ban
The Topline: On Monday, the Idaho House of Representatives passed a pro-life law similar to the Texas legislation that bans abortions after cardiac activity at about six weeks of pregnancy.
The Bill
SB 1309 passed the Idaho House in a 51-14 vote. It had already been approved in the Idaho Senate and now goes to Republican Governor Brad Little's desk to be signed into law. Much like the Texas bill, the Idaho version prohibits abortion once a fetal heartbeat has been detected. It appears the law will go into effect thirty days after it is signed.
The bill makes exceptions for abortions in the case of a medical emergency, rape, or incest, whereas the Texas law does not make exceptions for rape or incest.
The Texas law allows private citizens to sue anyone who performs an abortion, or anyone who aids or abets an abortion in violation of the law, but the Idaho law limits the people allowed to sue to family members only. The mother, father, grandparent, sibling, or aunt or uncle of the unborn child could sue for a minimum of $20,000.
It also only allows the "medical professionals who knowingly or recklessly attempted, performed, or induced the abortion" in violation of the law to be sued.

But… It doesn't allow a father to sue if the pregnancy was a result of rape or incest.
Other States
There's still some debate whether the Texas pro-life law will stand long term, but for now it's the law of the land in Texas.
The new legal pathway of using civil lawsuits to curb abortion seems to be gaining ground. Other states are taking notice. Tennessee just introduced a similar pro-life law this week, but the legal loophole of civil lawsuits might be unnecessary in the long run.

Big Picture: Americans are waiting to see what the U.S. Supreme Court decides on a law out of Mississippi that bans abortion after 15 weeks. If the court sides with Mississippi, they could strike down Roe v. Wade. If Roe falls, then states will once again be able to write their own laws on abortion and they won't need these loopholes.