BY JOHN FENG ON 2/9/22 – for Newsweek.com
My cmnt: I've read elsewhere that Gu is being allowed to maintain her dual citizenship which is unheard of in communist China. That shows you how much they covet her as a valuable propaganda piece for the CCP. Communist China has already bought the loyalty of top American athletes like LeBron James and the entire NBA along with top companies like Apple and Sony and of course Hollywood. Top democrat politicians like the Clintons and Joe Biden (and his son Hunter) have also sold out to the Red Chinese. See the book Red-Handed.
Breakout Olympian Eileen Gu has described her great honor in representing China at the games in her "homeland," in an interview with the Chinese Communist Party's top anti-corruption agency published after her gold-medal event on Tuesday.
Already the country's poster child for the Beijing 2022 Winter Olympics, Gu has risen to icon status and is being presented as a model personality across Chinese society and government. In its exclusive interview with the 18-year-old, also known by her Chinese name Ailing, the party's Central Commission for Discipline Inspection (CCDI) called Gu one of China's favorite athletes.
Born and raised in California by a Chinese mother and American father, Gu embraces her dual identity and announced her choice to compete for China in 2019. Her decision drew attention in the buildup to the games when corporate sponsor Red Bull wrote, and then deleted, a paragraph about the skier having renounced her U.S. citizenship in order to compete for China, which doesn't recognize dual citizenship.
After claiming her first Olympic gold in the women's freeski big air this week, Gu refused to answer directly at least half a dozen questions about her citizenship and described skeptics as "uneducated" and lacking empathy for scrutinizing her motives. China celebrated her victory as well as her response.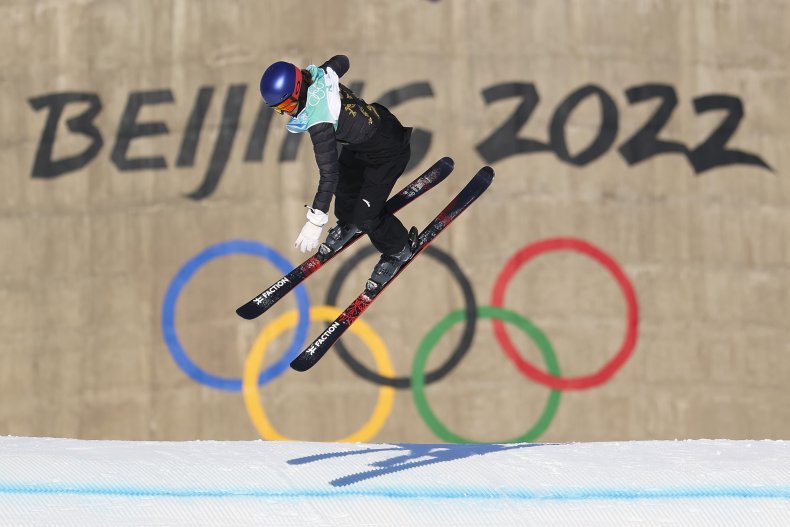 Gu's interview with the CCP's anti-graft body was conducted before the event but published after her win. In it, she told the CCDI about her dream of competing at Beijing 2022, while the agency—responsible for enforcing loyalty, ethics and lifestyle choices in all party members—highlighted the discipline Gu had displayed in order to achieve her goals and improve upon past performances.
"It is a great honor for me to represent Team China," she said. The Chinese capital, which becomes the first city to host both the summer and winter events, "has always been one of my homes," said Gu in fluent, Beijing-accented Mandarin Chinese. "So, it feels like coming home; it feels like everyone here is my family."
"When I was young, I returned to Beijing every summer," she said, before describing how she had watched the 3,000-meter steeplechase in the city's "Bird's Nest" National Stadium during the 2008 Summer Games, when she was five.
"I am very happy to be competing in my homeland," Gu said
Gu is due at Stanford University this fall, but she'll be remembered in China long after the Olympics have concluded, according to Tuesday's profile by Jing Daily, a publication tracking luxury consumer trends in China. The online paper called her a "marketer's dream" and suggested the athlete could become the country's ideal brand ambassador—for both government and fashion.
Having already appeared for Louis Vuitton and Victoria's Secret, Gu will now be courted by a number of Chinese businesses hoping to capitalize on her popularity, it predicted.
"Considering the crackdown on celebrity culture in China, it is not too far of a stretch to see Gu as the 'savior' of the celebrity branding trend," Jing declared. "Luxury brands that found themselves in hot water because of celebrity scandals can easily avoid future offenses by partnering with Gu."
In this sense, the involvement of the CCP's discipline watchdog is telling. In December 2021, the CCDI used as an example the headline-grabbing celebrity scandal of Taiwanese-American pop star Wang Leehom, whose estranged ex-wife had accused him of compulsive cheating.
"The recent case of the collapse of a celebrity's image has once again proven that the words and actions of public figures receive a lot of attention and their actions make an impact on society," the agency said, reported Hong Kong's South China Morning Post.
"If these stars do not discipline themselves, they will not be respected by others. They will eventually pay for their evildoings," it said.
My cmnt: Note that the communist Chinese are very socially conservative. They know that Liberal social mores lead to the disintegration of the society and culture, hence they prohibit them. Can you even imagine the same response from Hollywood over some cheating spouse?
But for China's American-born skier, whom the public now calls the "snow princess," her prospects appear good. "Undoubtedly, Gu will earn millions if she continues to avoid controversies and win gold medals at the upcoming Olympic games," Jing wrote.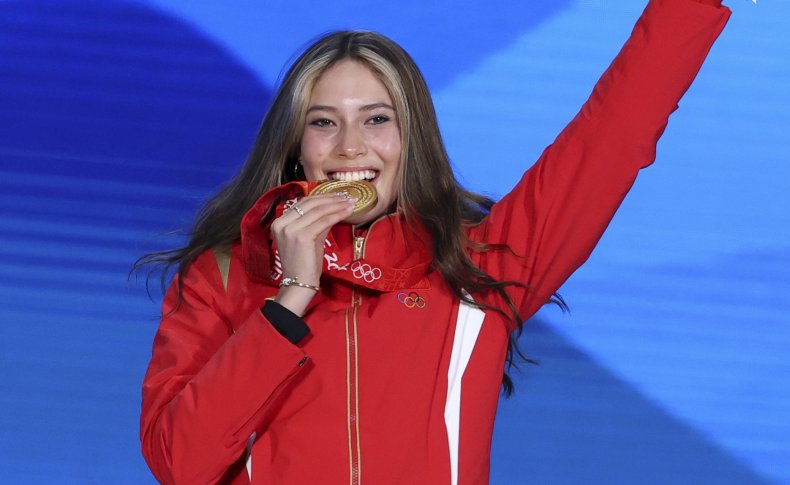 Following her medal-winning performance on the ski run on the outskirts of Beijing, Gu told reporters she was comfortable and confident in her choice to compete for China and ignore her doubters.
"I know that I have a good heart, and I know my reasons for making the decisions I do are based on a greater common interest and something I feel is for the greater good," she said. "If other people don't really believe that that's where I'm coming from, then that just reflects that they do not have the empathy to empathize with a good heart, perhaps because they don't share the same kind of morals that I do."
"In that sense, I'm not going to waste my time trying to placate people who are, one, uneducated and, two, probably never going to experience the kind of joy and gratitude and love that I have the great fortune to experience on a daily basis," Gu said. "If people don't like me, that's their loss. They're never going to win the Olympics."
My cmnt: Wow! Take that you naysayers!
Conversations:
VVuong
She should be allowed to stay in China for turning her back to her Birth country. Let her live and experience the difference. The social media should never waver in criticizing her stance for China calling it her motherland. Her mother who chose to live here and become a citizen knows very well the humongous difference between life in communist and autocratic China and the land of the free, the G.O.A.T USA, She should be punished for openly showing disrespect and telling the whole world how she preferred to represent the Chinese people vs the citizen of our great nation, it may sound harsh and cruel, but she cannot have it both ways as she is now telling the world just because she was born a talented athlete, many Americans has the same great ability and deserve to be treated better with respect and dignity.
GGus1
And yet she is coming back to San Francisco AFTER the winning the sport for Communist China.  I have one message for this traitor, Americans do understand you completely. By switching and embracing the Communist Party, you validated and embrace the CCP's unrelenting human rights abuse of the Uyghur and Tibetan minorities, you validated and embraced the destruction of freedom and democracy in Hong Kong, for that please stay home in China …   How long can one stay in a country that banned Youtube, Facebook, Twitter and other freedom loving social media, a country where you CANNOT say what you want, a country where you are constantly watched by government's watch dogs secret police and thousands of secret state facial recognition cameras?  It's a bad move on your part and you and your mother did it for the money and you both sold your soul to the devil (a brutal and repressive regime). Please stay there do not come back to freedom loving America!
Foday Sankoh
She can feel free to compete for whoever she wishes. I think she'll soon realize that the grass may not always be greener on the other side.
Moogoo Gaipan
Way to pull the elitist card for excusing your traitorous activity against your country OF BIRTH. We know your motivations you CCP robot ($$$) Happy they are using you for propaganda. You are going to be hounded when you return, even at safe Stanford.
John Doeman1
You're either an American or something else.
VSveena seth
Such a traitor. She should stay in China and not return here. CCP! Ugh