This was a surprise to me so I'm passing it onto my readers. I had thought that in these gay marriages there was supposed to be this absolute equality. Two men marry and they are total equals in the relationship, as both are men. Same for two women marrying. But as it turns out even in these gay marriages one person is the man and one person is the woman.
The power imbalance still goes on and not by accident. Ellen and Pete are the husbands while Portia and Chas-Ten are the wives. Human nature and dynamics go on even in something as ridiculous as gay marriage. The person with the fame, fortune and power is still the man and the one who seeks protection and safety is still the woman.
Now if a homosexual man is uncomfortable taking on the role of a man he can marry a man who will do it. And if a lesbian woman is uncomfortable taking on the role of a woman she can marry a woman who will do it. The power dynamic of the man providing and protecting the woman and her children is the natural structure of marriage as we see here with Ellen and Pete.
US actress Portia de Rossi has officially taken the last name of her wife, Ellen DeGeneres. A Los Angeles Superior Court judge granted the former Arrested Development star's request to change her name to that of the chat show host. The 37-year-old will now legally be known as Portia Lee James DeGeneres. BBC News Sep 24, 2010
US actress Portia de Rossi has officially taken the last name of her wife, Ellen DeGeneres.
A Los Angeles Superior Court judge granted the former Arrested Development star's request to change her name to that of the chat show host. The 37-year-old will now legally be known as Portia Lee James DeGeneres.
The couple, who began dating in 2004, married in August 2008 during a five-month window in which gay marriage was legal in California.
"I am thrilled to legally adopt my wife's name. I will continue to use Portia de Rossi for professional purposes," the new Mrs DeGeneres said in a statement.The Australian-born actress asked for the name change last month. Neither woman attended the court hearing.
On Thursday, Ellen DeGeneres joked on Twitter: "The court granted Portia's name change. She's now officially Portia Winfrey."
—————————————————
Chasten James Glezman is now a Buttigieg.
His last name is tricky, but if you're just reading it and not hearing it, his first name may throw a few people off as well. Thankfully, his Twitter handle (@Chas10Buttigieg) also serves as a pronunciation guide.
His first name is pronounced "Chas-Ten," and his last name is pronounced "Boot-Edge-Edge."
Before marrying his husband, he was Chasten Glezman.
For Chasten Buttigieg, it was a "culmination of experiences" that led him to fall for Pete Buttigieg, the mayor of South Bend, Indiana, in 2015. Unbeknownst to him at the time, his future husband would become a top-tier presidential candidate for the Democratic Party.
"He made me feel so loved right away," Chasten Buttigieg, 30, told ABC News' Linsey Davis as part of the ABC News Live series "Running Mates."
He said that it was Pete Buttigieg's heart that made him fall "hard and fast."
The two met on the dating app Hinge in the summer of 2015, Chasten Buttigieg said, before revealing what initially caught his attention on his husband's profile.
"I won't lie, it was the picture of him in the military," Chasten Buttigieg said with a smile and a laugh. "I'll tell the truth."
During a town hall in Sacramento, California, on Valentine's Day last week, Pete Buttigieg spoke openly about what made him fall in love with Chasten.
"First, I just saw these eyes, this smile, [that] I just had to see in person," Pete Buttigieg said. He recalled their first date in South Bend, during which the two first met for a beer. Then, it turned into dinner and eventually a baseball game and walk around town, he said.
"I didn't want it to end. And what I saw was somebody who is so alive to the way in which we can lift one another up, and you got to understand, I had been avoiding, I mean, actively avoiding love for a very long time," Pete Buttigieg said. "And [I] tiptoed out to see what it would be like, and met this extraordinary person who let me know what it meant to care about somebody else and lift them up, too, and reminds me every day of the opportunity by holding office even just by being a candidate to make sure others feel seen, and to make sure others know that they're important."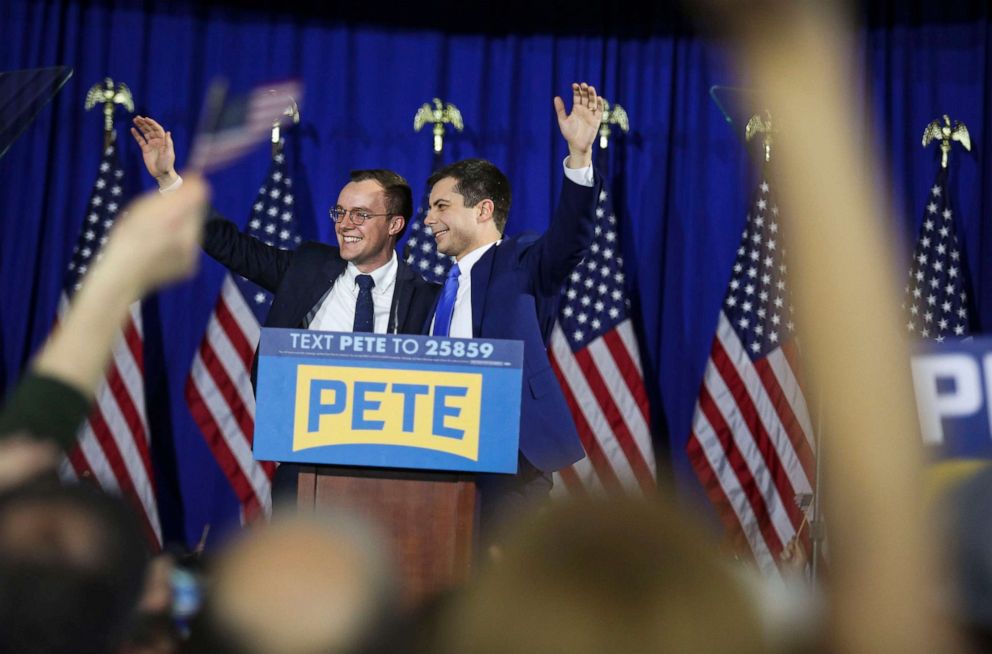 The two married three years after meeting at the then-Mayor's hometown. Chasten Buttigieg explained why he decided to take his husband's last name.
"I just want our kids to have the same last name, and this is probably going to sound really funny, but I really like the name Buttigieg," he said.
They were married for less than a year before Pete Buttigieg decided to run for president. As newlyweds, Chasten Buttigieg admits "there's no denying" their time apart has been hard on their marriage.
"But it is a sacrifice that's worth making because I have seen Peter go out there and change people's lives, saved people's lives because of the visibility of this campaign and because of the message that he's offering the American people. A message of hope and inclusion and belonging. … So I'm very proud to share him with the rest of the country," Chasten Buttigieg said.
Chasten Buttigieg was a middle school drama teacher before he decided to join his husband on the campaign trail full-time. He's now become a powerhouse player for the campaign, holding fundraisers of his own and amassing hundreds of thousands of followers on Instagram and Twitter in an effort to support his husband.
"I can connect with people," Chasten Buttigieg said. "As a person who came out in a country that made LGBTQ Americans feel disgusting and unwanted and unloved, I know what it's like to feel like this country doesn't stand for you."
My cmnt: The previous three paragraphs are the whinings of a baby. That Mayor Pete might make less than 1% of the population feel a little better is fine but it hardly makes any difference in the lives of millions and millions of the rest of Americans. A very large percentage of teenagers in high school who are neither gay nor lesbian feel disgusting, unwanted and unloved by their peers. All of us, men and women, have to move on from adolescence and fear and not pretend our low self-esteem is someone else's fault.