MATT HAYES DECEMBER 20, 2017 – for Bleacher Report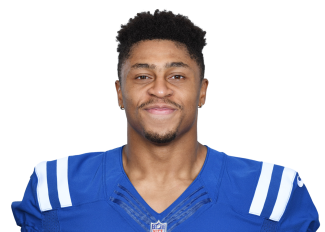 Nothing could have prepared Jonathan Taylor for what he would experience on this college football recruiting trip. Not those college-level International Baccalaureate classes he was taking in high school, and certainly not the mean streets of Salem, New Jersey, where the greatest education of all was learned by steering clear of all that could go wrong.
"I'm walking through Harvard; you know, Harvard! And I'm thinking about what my dad and mom told me over and over while I was growing up," Taylor says. "You can be anything you want if you work hard. Don't ever let anyone tell you any different."
Wisconsin's star freshman tailback is soaking in that moment as he speaks, looking into the distance on a cold day in Madison with a smile as wide as Lake Mendota. The larger meaning of that moment remains with Taylor to this day.
"Here I am, a young black man," he continues, "and these guys are talking to me about going to Harvard. They don't have scholarships, but they said they have endowments, and they would pay me to go to school. All I'd have to do is play football. Who wouldn't do that?"
Taylor wouldn't—but, boy, did they make it hard to say no.
He could've fed his love of astrophysics at Harvard, even though the more prudent path to the NFL is through Wisconsin. He could've strengthened his academic resume there and finally answered the question that occurred to him when he first began following famed astrophysicist Neil deGrasse Tyson.
"You rarely look at the sky," Taylor says. "[But when you do] you start to wonder what's out there? How does it work?"
This is your second-team AP All-American, the guy who is 79 yards from setting the NCAA record for rushing yards by a freshman and will lead his one-loss Badgers against Miami in the Orange Bowl. He finished sixth in the voting for Heisman Trophy for his performance on the field and continues to push himself to dream and think big off it.
A few weeks into his first semester at Wisconsin, annually ranked as one of the nation's top public universities—a factor that softened the blow of not going to Harvard—Taylor figured a way to get an astrophysics major from the university that doesn't offer one.
He'd have to get a double major in astronomy and physics.
"Meeting with my counselor about it," Taylor says.
Can you handle that load and play football, he is asked.
"Sure, why not?" he says.
Don't think he won't reach that goal, too.
This is what happens when a young man refuses to buckle. To statistics and stereotypes, to odds and inevitabilities.
"Once you meet [Taylor] and hear his story and talk to him, nothing will surprise you," Wisconsin coach Paul Chryst says. "You don't meet many people—not football players, people—like him."
Elizabeth Taylor and Jonathan James never married and live in separate homes (James is married). But their son, Jonathan, was their bond. They knew the staggering number of black men in prison who grew up with a single parent and knew that a similar fate could await their son.
As they saw it, there was only one way to stop it. "Sometimes I ask God: was I too strict with Jonathan?" Elizabeth asks.
The rules were simple: Don't lie, don't swear and don't cheat. Go to school, do your homework and enrich your mind. Go to church every Sunday and enrich your soul.
Veer off course from any of those rules, and there's hell to pay. Mistakes are simply excuses for those who don't follow the rules.
You're not hanging around that boy. I don't know him. I don't know his parents. I don't know what kind of lifestyle they live.
You're not staying out late. If I'm working the 11-7 shift at the hospital, you're in the house an hour before I leave and not a minute later.
You're not playing football if you're not following the rules.
Jonathan heard those admonishments from his mother more times than he can count. James can't remember how many times he had to go back to that midget football field and plead with his son's coach after Elizabeth had punished him by removing him from the team. His mother doesn't suffer fools, he'd say, and Jonathan broke the rules.
How about another chance?
Finally, James figured out a different plan to keep Jonathan on the field. He knew his son was a unique player in the fifth grade, when he cordoned off an area of his backyard and told Jonathan to try to get by him with the football.
"He made a move on me that about broke my ankle," James says. "I was walking around on crutches for three days."
James didn't want to take football from his son, so he came up with a viable alternative: take away the Xbox.
"I begged Liz, please, take away his Xbox, that will hurt him more than anything," James says. "Once we figured that out, we got into a little groove and he understood what had to be done."
That's why the call from his teacher at school one day was so bizarre. Jonathan was acting up, they said. He was disturbing the class and would soon be removed if he didn't stop.
Come to find out Jonathan was disrupting class for a reason: He was bored. His teachers would hand out assignments, he'd finish them first (correctly) and have nothing to do.
Soon he was given work a grade or two above his level, and he polished that off like the rest. His insatiable curiosity grew year after year until he was taking those International Baccalaureate classes as a high school senior.
He couldn't graduate early, enroll at Wisconsin and participate in spring practice because he had to finish classes that would eventually transfer for credit to Wisconsin.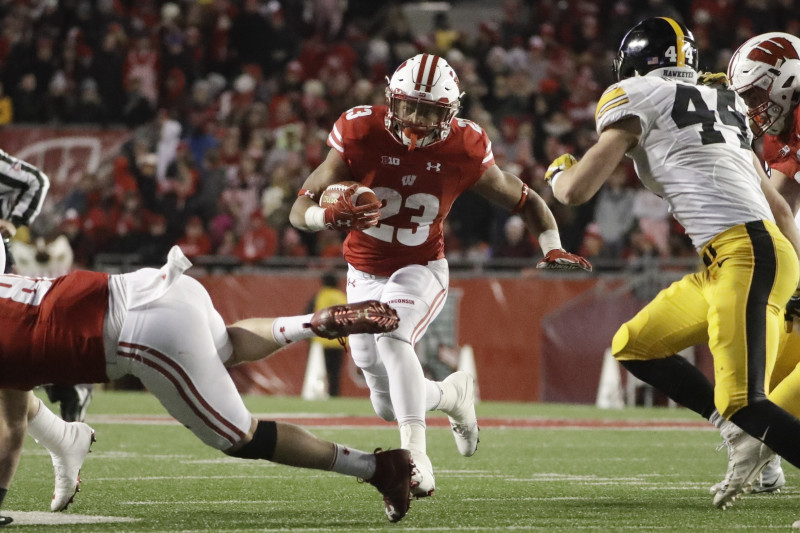 When Taylor first arrived at Wisconsin, the plan was to do just what he had done all those years under Elizabeth's roof: listen and follow the rules.
He was fifth on the depth chart when fall camp began. But less than two weeks into practice, Taylor made it clear he wasn't long for that role.
In the second scrimmage, while running with the second and third team against the first-team defense, Taylor broke off a 60-yard touchdown run in which he broke five tackles and ran away from the secondary over the last 30 yards.
"That was one of those 'holy crap' moments," Wisconsin tight end Troy Fumagalli says. "I've seen a lot of great running backs come through here in the last five years, and it took, what, two weeks to see he has the potential to be as good as any of them."
Or even better.
He finished the regular season with 1,847 rushing yards, averaging 6.8 yards per carry and scoring 13 touchdowns. Not bad for a player who didn't think he was any good until his junior season of high school.
In fact, the only reason he played football was so he could spend time with his cousin, Amani Justice. When they were in fifth grade, Taylor told his mother he wanted to play football, and she told him no.
It's too dangerous. There are too many risks. She didn't know who or what he'd get involved with and how it could take him closer to that street corner.
Taylor then proceeded to explain that he couldn't play with his cousin because he was always at football practice, and the best way to be around someone she trusted was for him to play football.
"I was just the fastest guy out there," Taylor says. "You know, when you're playing midget football, they give it to the fastest guy and tell him to run that way. Usually, he's outrunning everyone else."
Don't believe it, Justice says: Not only was Taylor the fastest, he also "was better than anyone on that field. You could tell from the first day."
It all finally began to click prior to his senior season when Taylor showed up at The Opening, a Nike-run camp for elite high school players. He weighed in at 200 pounds and ran a 4.4 40-yard dash. By the end of his senior season, he had rushed for more than 2,800 yards and was headed to Wisconsin.
He was passed over by all of the sport's bluebloods, just another small-school player dominating against small-school competition. But after he had made his decision to attend Wisconsin, Alabama—which has had more All-American tailbacks than anyone in the last decade—came calling.
If he wasn't going to Harvard for academics, he certainly wasn't going to Alabama just for football. Six months later, this virtual unknown from southern New Jersey showed up in Madison and changed everything.
"He's a great player, but he is one unique guy off the field," says Badgers star offensive guard Beau Benzschawel. "You talk to him, and it's like you're talking to a 30-year-old."
Taylor won't turn 19 until January.
He visited Harvard three times before making his final decision. The first time, he says, he was in awe—and walked around campus taking pictures on his cellphone. The second time, he gathered information and learned more about what the university had to offer.
"Like I didn't already know," he says with a laugh.
The third time, he said he had to be able to mentally picture himself as a Harvard student and a football player. He wants to play in the NFL, and he wants to be an astrophysicist.
"We all told him, man, if you get a chance to go to Harvard, you have to go," says Justice, his cousin who is redshirting this season as a linebacker at Division II Kutztown. "How many guys from Salem ever get that opportunity?"
James researched both Harvard and Wisconsin and showed his son how many Wisconsin running backs have gone on to play in the NFL, and how many Harvard running backs have played in the league.
Guess which university won that contest?
James then showed his son Wisconsin's rich academic history. Seven months later, James is sitting on his couch watching his son play in the Badgers' season opener against Utah State.
A week after that, Taylor runs for 223 yards and three touchdowns against Florida Atlantic, and the story of the season in Madison has begun.
"I'm sitting on the couch and my wife walks up to me and asks, 'Are you crying?' There were tears rolling down my face," James says. "Everything we told him paid off. Every time we looked him in the eye and told him there's nothing good for you on that street corner, it all sunk in."
Years from now, long after his time at Wisconsin and after what he hopes will be a lengthy career in the NFL, Taylor plans to go to Harvard to earn a master's degree. He'll stroll through Harvard Yard, those pristine grounds eight former presidents walked, look in the sky and maybe start to figure out what's up there. And how it works.
"Me playing football is a way to get a free education," Taylor says. "And I have to work to keep up my end of the bargain."