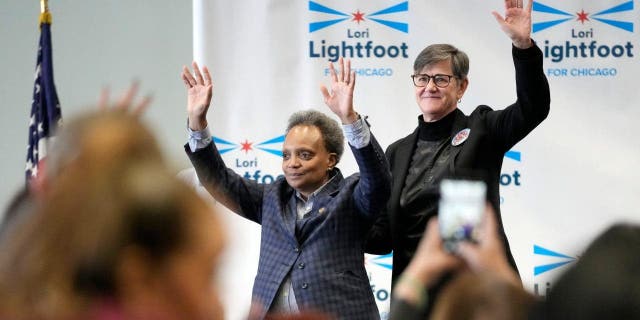 Chicago Mayor Lori Lightfoot and her spouse Amy Eshleman wave to supporters during a Women for Lori rally in Chicago, Saturday, Feb. 25, 2023. (AP Photo/Nam Y. Huh) – Soooo…. Beetlejuice finally has enough fame, fortune and power to land a woman.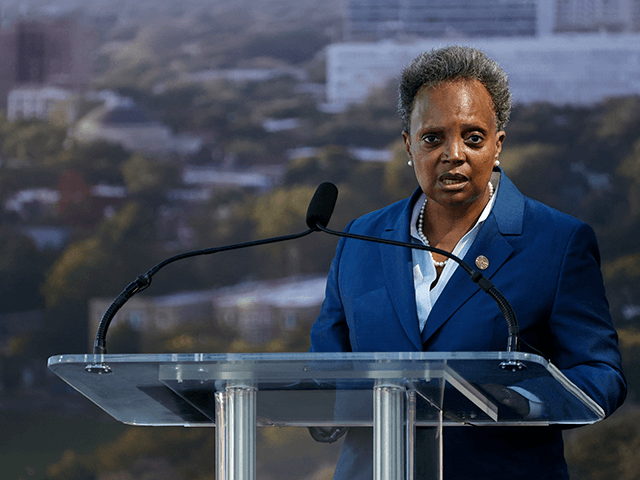 by AWR HAWKINS – 3 Oct 2021 – for Breitbart.news
Over 1,600 people were shot June 2021 through August 2021 in Mayor Lori Lightfoot's (D) Chicago.
CNN reported 1,606 were shot, with 261 of the shooting victims dying from their wounds.
They noted 770 people were killed in Chicago throughout all of 2020 and the city is on track to surpass that number.
John Lausch, U.S. Attorney for the North District of Illinois noted that one of the reasons for the shootings is that offenders do not fear consequences.
Lausch said, "People are emboldened, our violent offenders are, they're not afraid of getting caught and they're not afraid of the consequences of when they're caught."
CNN points out black victims are predominant, "As of mid-June, the homicide rate for Black Chicagoans was nine times higher than for any other demographic."
HeyJackass.com notes 2991 people have been shot and wounded in Lightfoot's Chicago this year, and another 622 have been shot and killed.
Over 90 people were shot and killed in Chicago during the month of September.
Chicago recently placed "Bleeding Control Kits" in certain places in the city, giving gunshot victims "a tourniquet, gauze, shears, gloves and an instruction manual on how to best use," the Hill reported.
AWR Hawkins is an award-winning Second Amendment columnist for Breitbart News and the writer/curator of Down Range with AWR Hawkins, a weekly newsletter focused on all things Second Amendment, also for Breitbart News. He is the political analyst for Armed American Radio.
Readers' comments:
Obama and Lebron could save millions of lives. . .
. . .if they tweeted this daily. . .
"Hey Kids!
Form families
Learn to read
Do lawful work
Do no harm to yourself or others.
JOIN CIVILIZATION. RAISE YOUR SONS!"
This is the path to human thriving.
(Lebron's and Obama's silence is violence.)
They don't give a crap about Black Lives. The violence is all black on black and their is no way they can exploit it for political gain though a racist ideology. I cannot imagine this number of Murders/shootings in a place like Williamsburg Brooklyn with an all white population. If there was one shooting of a kid in a white NY Neighborhood it would be front and center news. All these shootings are buried by the media.
They bury the stories, but cannot wash the blood from their hands. They are as much to blame as the satanic dems who inflict this on those they have ensnared. Devils work.
How are those gun free zones working out in Chiraq? Chicago is a laboratory for radical leftist failed policies. It's full of race hustlers, like community organizer Obama, gangs, drugs, and death. They're pretty much on the same level as the Taliban, regarding violence.
This is Biden's America. They want our entire country to look like this.
LIGHTWEIGHT'S Shooting for a Record
Let this be a lesson to us all. Never elect a frog woman to office.
But the new crisis councilors are working out so well that we haven't heard a word about them since Biden authorized funding for the program.
Chicago has been that way since the days of gangsters like Al Capone. It's been mafia controlled for years. Read the history about The Daley Family and The Madigans.Big democrats, of course. They're both big Mafioso Families. Plus, that idiot Pritzker just makes the situation a million times worse, as does Lightfoot. You couldn't pay me to live there.
They need the poor to be dependent on them. It's what gives them power.
Chicago citizens were nothing but useful idiots for Obama