By JIM GERAGHTY – August 16, 2021 9:45 AM – for National Review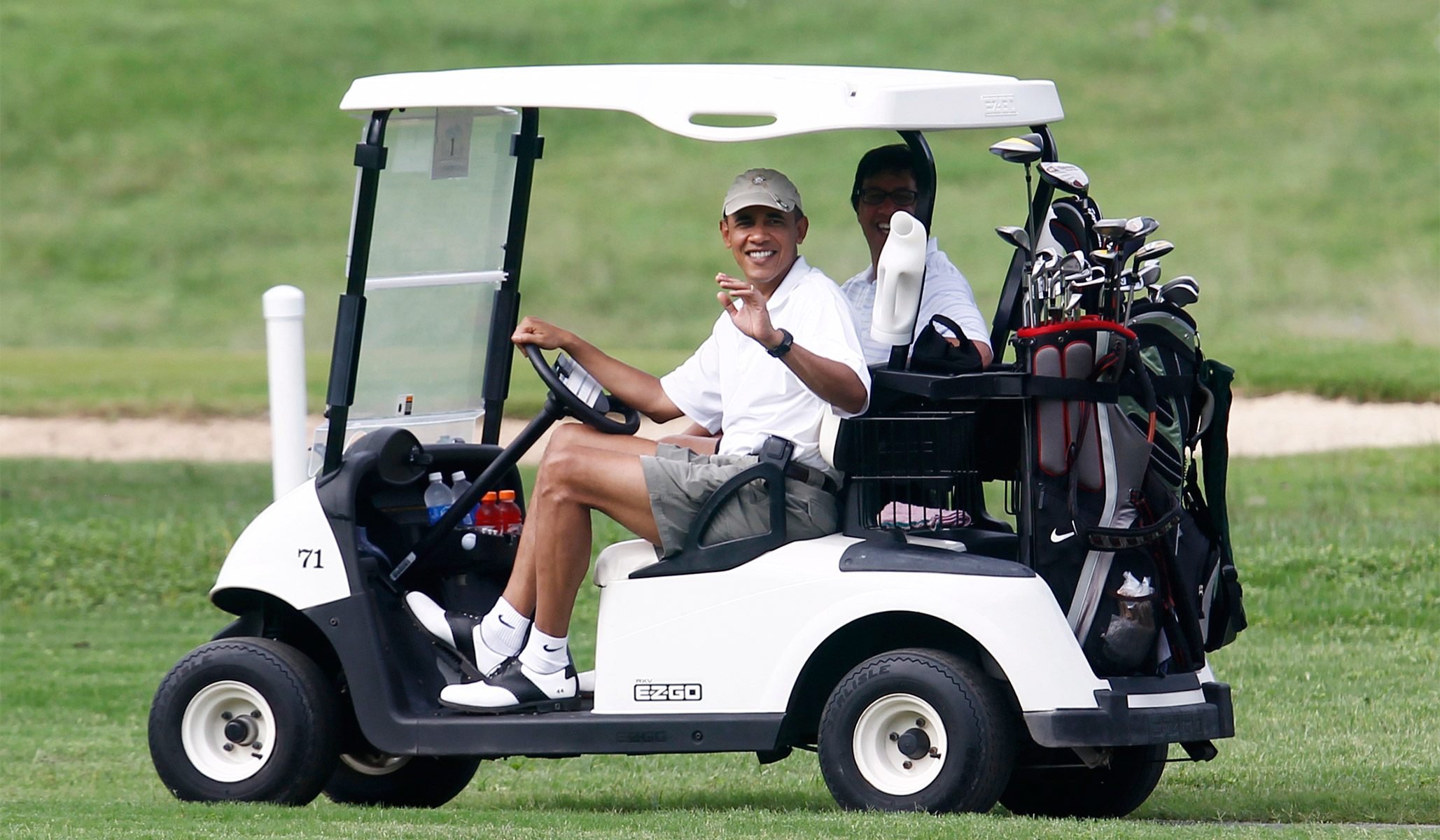 My cmnt: B.O. was the worst president since Carter and has only been surpassed in ineptitude by Biden. B.O. loved the links and by all accounts was a terrible golfer. He took elaborate and expensive vacations to Hawaii under the excuse that he had lived there as a boy and to top it off Michelle and the girls often travelled separately with her own huge entourage that rivaled the one Barack traveled with. I will admit that few could read a teleprompter better than Barack (our current faux president can't even do that) but when Barack did not have that crutch he stuttered and hemmed and hawed around often saying something stupid or merely repeating the obvious. And, as with all democrats in power, the press and MSM covered for him.
Last week, our Charlie Cooke spotlighted an MSNBC commentator insisting Florida governor Ron DeSantis is "more dangerous than Trump" and accurately dissected how Democrats talk about Republican officials in and out of office.
This is simply how Democrats begin to talk about Republican candidates whom they believe are capable of winning a national election. When such candidates reach office, they're Hitler. When they've left office, they're bad, but not as bad as the ones in office. And when they're dead, they're the sort of Republicans whom the living ones should be more like — yes, even if, when they were alive, they, too, were deemed to be Hitler.
There's an inverse relationship with Democratic party lawmakers. The more time that passes since a particular Democrat was in elected office, the easier it gets for his fellow Democrats to acknowledge glaring flaws that they previously ignored or downplayed. Six years after Ted Kennedy died, it was safe to make a movie about Chappaquiddick – and lay out the facts that Kennedy left a young woman to drown. In 2017, nearly 17 years after Bill Clinton left office and when it was clear his wife would not become president someday, Matt Yglesias and Senator Kirsten Gillibrand could safely acknowledge that Clinton's affair with an intern should have forced his resignation.
And now this appears to be the moment when Democrats feel comfortable publicly ripping into Barack Obama. There were moments during the 2020 Democratic presidential primary where candidates and factions within the party grappled with their disappointment and recognized that if Obama was as terrific a president as they insisted, the American people would not have elected Donald Trump.
Different Democrats will give Obama different grades, but many would acknowledge that on some level they were disappointed by the outcome of his presidency — if for no other reason, the gradual decimation of the Democratic party at the local, state, and national levels from 2009 to 2016. George Soros called Barack Obama "my greatest disappointment."

Matt Stoller contends Obama was far too cozy with big corporations and backed bailouts. The Affordable Care Act turned out to be a much more mixed bag than Democrats expected. As Michael Brendan Dougherty observed, last night ten Democrats discussed health care at length and never mentioned Obamacare.
But what we're seeing with criticism of Obama's big birthday bash – particularly in Maureen Dowd's column – is different; the focus is not merely policy disappointments, but an acknowledgement that Obama is being a narcissistic, self-absorbed, tone-deaf jerk.
"I think the nouveaux riches Obamas are seriously tone-deaf," said the authority on opulence, André Leon Talley. "We all love Beyoncé. But people have so many things to worry about with Covid, voting rights, climate warming. People are afraid of being evicted from their homes. And the Obamas are in Marie Antoinette, tacky, let-them-eat-cake mode. They need to remember their humble roots."

Obama was a cool cat as a candidate in 2008, but after he won, he grew increasingly lofty. Now he's so far above the ground, he doesn't know what's cool. You can't be cool if you diss the people who took risks for you when you were a junior senator — only a few years out from paying off your student loans — taking on the fearsome Clinton machine.
The theme of Dowd's column is that Obama has changed, that he was once this humble, relatable, loyal and all-around good guy, but the riches and leisure of post-presidential life have corrupted him.
But… is today's Barack Obama really all that different than the guy who took American politics by storm more than a decade ago?
You may recall the McCain campaign scoring a rare hit on Obama in the summer of 2008, with an ad calling Obama a celebrity, interspersing images of Britney Spears and Paris Hilton. Once Obama was sworn in, "a burst of entertaining took hold of the iconic, white-columned home of America's head of state," as the recession continued, with the Obamas threw parties serving "Maryland crab, Wagyu beef, Nantucket scallops and citrus salad," in between party fundraisers with "quail egg with caviar and salmon ceviche." It may not have derailed his presidency, but his critics saw a vulnerability there, with Mitt Romney declaring of wasteful spending in 2012, "I think the example starts at the top. People have to see that the president is not taking elaborate vacations and spending in a way that is inconsistent with the state of the overall economy and the state of the American family."
Throughout his presidency, Obama rarely turned down an opportunity to make a cameo in some television show. Obama appeared on The Tonight Show with Jay Leno and The Late Show with David Letterman, slow-jammed the news on Late Night with Jimmy Fallon, taped a question-and-answer promoting Conan O'Brien's transition to The Tonight Show, taped a promotion for George Lopez, taped a video for The Colbert Report, taped a prime-time special with Oprah, grilled with Food Network star Bobby Flay, popped up in commercials during Thanksgiving football, and filled out his NCAA basketball tournament picks on ESPN every year, and of course, American Idol. (More than once.) He appeared on The View in fall 2012, and made his second appearance as president on Jon Stewart's Daily Show that fall as well. He sat down for an interview with comedic actor Zach Galifianakis.
By 2014, Obama announced that ISIS had beheaded journalist James Foley, and then went straight to the golf course – on Martha's Vineyard, of course.
Obama has always loved hanging out with celebrities, and always enjoyed the luxuries that come with being the most powerful person in the world. (His presidential portrait features him wearing a $15,000 Rolex.)
Should we be surprised that Sotheby's is selling "President Barack Obama Player Exclusive deadstock Nike Hyperdunks for $25,000" now? The nearly $12 million estate on Martha's Vineyard? (Say, wasn't climate change and rising sea levels going to make Martha's Vineyard waterfront property a risky investment?) The property in Hawaii, where he's exploiting a loophole to keep a seawall in place, in opposition to environmental guidelines?
Obama accumulated all this, while lecturing the world's rich: "There's only so much you can eat. There's only so big a house you can have. There's only so many nice trips you can take. I mean, it's enough."
Obama has always been this guy. The only thing that really changed is that now it's safe for other Democrats to talk about it.