Tuesday, March 24, 2015 – at news.okstate.edu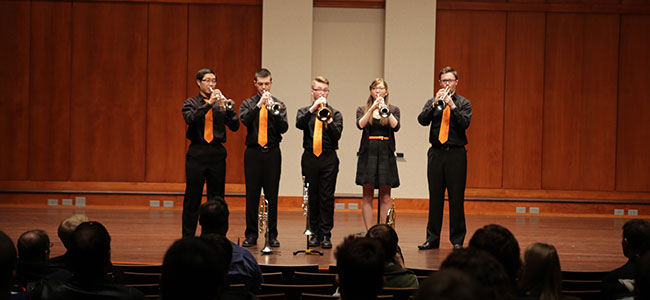 My cmnt: I include this post because I took up the trumpet in Oct of 2020, after 46 yrs of playing the flute, and appreciate the magnitude of their accomplishment. Follow this link to hear them play on youtube. You will be amazed.
For the second consecutive year, the Oklahoma State University Small Trumpet Ensemble is national champions, beating 63 other programs at the 2015 National Trumpet Competition. OSU also placed third in the Large Trumpet Ensemble Division.
"Winning the National Trumpet Competition for the second consecutive year is truly inspiring and a testament to the students' talent and strong work ethic," OSU assistant professor of trumpet Ryan Gardner said. "I am so proud of these students, who played with such heart and musicality."
In total, 15 OSU students competed, including six in various solo competitions.  Making up the Small Ensemble were: Cleon Chai (Moore,  music education), Nick Doutrich (Moore, music performance), Benjamin Miles (Stillwater, music performance), Tyler Murray (Checotah, music education), and Natalie Upton (Prosper, Texas, music education and business management).