By David Aaro | Fox News – May 24, 2021 – for Fox News online
At least nine people have been killed and dozens more injured in shootings across Chicago this past weekend, police confirmed.
In all, 36 separate shooting incidents unfolded across the city from Friday evening through Sunday, police said, adding that 47 people were shot, of whom nine died.
Dajon Gater, 15, was killed on the city's West Side Friday night. Gater was standing on a front porch when two males approached him and fired, striking him in the head, FOX 32 Chicago reported. He was pronounced dead at a local hospital, police said.
At least two other people were shot and killed Friday, following an incident at an East Garfield Park convenience store.
Police said a male was in an argument with a woman, 23, when he started shooting at her and an 18-year-old man who was with her. The woman, identified as Destiny Nunez, suffered a gunshot wound to the torso and was pronounced dead at a local hospital, officials said.
The other victim, Adrian Navarro, was struck multiple times in the torso and leg. Navarro was transported to Stroger Hospital where he was pronounced dead, the Chicago Sun-Times reported.
Early Saturday morning, two people were shot and killed in the city's West Garfield Park. The men were standing outside about 2 a.m. when someone approached on foot and fired shots in their direction, police said.
Haniff Collins, 24, was pronounced dead at a local hospital after suffering gunshot wounds to the head, neck, chest, and leg, police said. The second man, Derrick McCampbell, was hit in the chest, torso, and arm, according to the paper. He was pronounced dead at Stroger Hospital.
Hours earlier, a man, 27, was fatally shot on the Eisenhower Expressway on the city's West Side, FOX 32 reported.
On Saturday night, a man was killed and two others were wounded in a shooting in Washington Park.
CHICAGO COPS ISSUE NO-CONFIDENCE VOTE FOR MAYOR LORI LIGHTFOOT, CITING 'SLAP IN THE FACE'
The trio was standing on the sidewalk around 7:30 p.m when people inside a gray Jeep and blue Acura opened fire.
Johnnie Williams, 46, was pronounced dead at an area hospital after being shot in the back. Another man, 30, was in critical condition after being shot in the head. A third man, 50, was struck in the arm. He was taken to a hospital in good condition.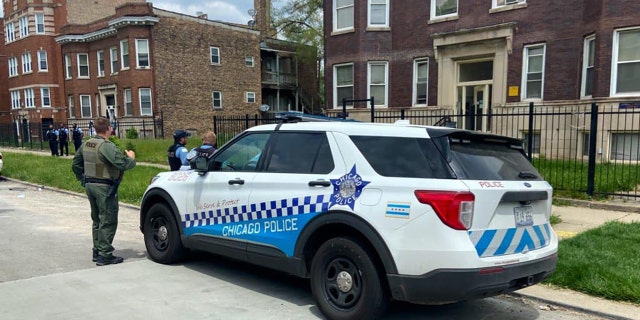 On Sunday, a man was killed in a shooting in West Garfield Park.
The man, 49, was standing outside around 12:15 a.m. when a suspect exited a silver sedan and began firing shots, police said, according to the Sun-Times. The victim, who has yet to be identified, was produced dead at the scene after being shot in the face and body, according to authorities.
The shootings occurred as the Chicago Police Department, beginning at midnight Friday, took more than 76 illegally possessed firearms off the streets of Chicago.
"Each of those firearms represents a potential deadly encounter," the department wrote on Twitter.
At least 48 people were shot in Chicago last weekend, including a 2-year-old girl, a 13-year-old boy, and two Chicago police officers, reports said.
Fox News' Jennifer Girdon in Chicago contributed to this report.
Readers' comments:
Theoretically speaking, if there were a racial group with a much higher violent crime rate than all the others, would it make sense for other people to take extra precautions in their presence? Things like locking doors, keeping firearms and other defensive weapons more accessible, maneuvering strategically to maintain distance, keeping them in sight or on camera, etc.. Or perhaps making efforts to avoid the presence of this relatively dangerous demographic group altogether? Would it make sense if perhaps some people might prefer to live in places where that extra violent demographic group would be absent?
1,778,953 people in illinois are on food stamps. 6.1 million people from illinois voted in the 2020 election. dems are buying voters with welfare. dangerous Illinois has a higher percentage of its citizens enrolled in the Supplemental Nutritional Assistance Program, or SNAP, than any other state in the region. In April, 13.6% of Illinois residents received SNAP benefits, commonly known as food stamps, that are worth an average of $130 per person per month. That's a higher share than any neighboring states. For single-and two-parent households in Illinois, there is a significant welfare "cliff" where the household may become worse off financially as they work more hours or as their wages increase. That is because the available welfare benefits decline by a greater amount than the increase in earned income. the incentive is not to work. to engage in illegal activity. just an observation
The problem isn't the guns, the problem is their culture. Case in point, I live in Manor, Texas, and here seeing a person open carrying is common as seeing a bird in the sky, yet we don't have any gun violence. The inner cities of America don't need any more prison or police reform, what it need is for the people there to reform their culture.
Easier said than done though … especially when their culture is based on rap music .. just listen for a minute and you can understand what wrong with the culture.
We all know what the problem is, but dems and liberals are too scared and spineless to admit it and lay the blame where it belongs – namely black Americans. They get less outcry and pushback , and it's just easier to blame police and "white privilege" then to tackle the issue head on and risk offending the BLM bandwagon
The key sentence here; "The shootings occurred as the Chicago Police Department, beginning at midnight Friday, took more than 76 illegally possessed firearms off the streets of Chicago. So why does anyone think more gun laws in a city where the toughest guns laws are already on the books, will stop shootings? Criminals will not give up their guns, no matter what laws are put on the books. A firearm is stolen every 7 seconds in the U.S.
Why not commercialize these gang fights? Every weekend just use Wrigley Field as the venue and have the equivalent of the gladiator fights at the Roman Colosseum. Empress Lightfoot could crown the victors.
Now it really is time for real and practical Critical Race Theory, as in: It's Critical to determine which Race is the most dangerous in society. It's Critical to know which Race to cross the street from. It's Critical to know which Race is most likely to fly planes into buildings. It's Critical to know which Race will always rely on government benefits. It's Critical to know which Race will always hate America. That's a Critical Race Theory I think most Americans would support.