Lilah Sturges Releases Lumberjanes Graphic Novel
Latest in the series insists emotional vulnerability is cool now
BY RAY EMERSON, 7:00AM, WED. OCT. 17, 2018
For the Austin Chronicle
My cmnt: Matt Sturges is a creative writer. Being able to imagine what it would be like to present yourself to the world as a woman takes a lot of imagination for a man. The best writers write what they know and the even better ones write well on what they cannot personally know. The best actors can put themselves so completely into the character they portray on stage or screen as to become that entity. Heath Ledger did this as the Joker in "The Dark Knight". His transformation was so complete that he said that he had to stay in character throughout the filming – and it may have contributed to his insomnia, drugs and sleeping pills abuse that led to a lethal combination that killed him (see articles below).
My cmnt: Insanity, mental illness, personality disorders, derangement cannot be cured by having everyone around you – friends, family, coworkers, health professionals and 'the experts' – tell you you're fine. But hey, I'm not a doctor, so I'm not supposed to say anything about medical matters. And when doctors and other health professionals completely contradict each other we must accept official government medical pronouncements because, after all, they are never biased nor hold politically correct positions to keep their jobs.
My cmnt: Men can pretend they are women and even use modern therapies and surgeries to make themselves appear to be women. They still are not women. They have never had the life-long experiences of real female humans that make girls into women. They will never experience the wild hormone induced mood swings from having a period or enduring a pregnancy and giving birth. Their brains are still male brains shaped by male hormones and not female ones. A person can believe with all their heart that they are a dolphin or an alien from another planet or a black woman in a white woman's body but that will never make it so.
My cmnt: My intent here is NOT to add to the misery that gender dysphoria obviously causes in real people. My intent is to stop the madness of forcing everyone, from medical professionals to common people, to pretend someone with gender dysphoria is NOT mentally ill and instead needs gender reassignment surgery and hormone therapy.
Sometimes we just want a cute, queer graphic novel where no one dies tragically, and now we're in luck thanks to Austin's own Lilah Sturges.
Her latest work Lumberjanes: The Infernal Compass – the first graphic novel in the Eisner Award-winning Lumberjanes comic series created by Shannon Watters, Grace Ellis, Noelle Stevenson, and Brooklyn A. Allen – hits comic book stores on Wednesday, Oct. 17.Lilah Sturges (Photo provided by Lilah Sturges)
Sturges has written for all manner of properties, including House of Mystery, Thor: Season One, and Jack of Fables, for which she earned an Eisner nomination. However, her most recent endeavor may be the most remarkable yet. After coming out as a transgender woman in 2016, her newfound dedication to writing queer narratives has come to fruition with The Infernal Compass. The series follows the adventures of five Lumberjane Scouts attending Miss Qiunzella Thiskwin Penniquiqul Thistle Crumpet's Camp for Hardcore Lady Types (so you know things get pretty silly). In The Infernal Compass, the scouts wrestle with the eponymous artifact, young love, and a mysterious explorer's host of automaton butlers. But in a world of supernatural mysteries, "normalcy" looks awfully different. Mermaids, shapeshifters, and magical kittens? Normal. A gay preteen romance? Of course. Trans people? You betcha!
Sturges explains her new approach to writing as such: "If I were 13, what's the book I would have needed, that would have unlocked some things in my mind? And that's the book I really wanted to write," she says. In such a fantastical setting, the series realizes the dream of many LGBTQ readers by representing their identities with astounding normalcy. And, as it turns out, writing graphic novels can facilitate empowerment and self-realization just as reading them can. The self-affirmation Sturges feels from seeing her name on the finished product represents a milestone in her career: "It feels like the first book that's totally Lilah," she says happily.
Today, Sturges is hopeful when discussing the rising number of writers depicting queer characters from a queer perspective. "Queerness is so expansive, it's so rich, it's diverse. There is no one story that's going to tell the story of queerness, and that's beautiful," she says with a smile. On the page and off, Sturges recognizes the vastness of human experience and the challenges faced by humans trying to connect with one another. The Infernal Compass deals with the inelegance of communication between awkward teens, but with "none of the typical prejudices we strive against when we're writing queer stories," Sturges promises.
Though she's participated in larger creative teams throughout her career, The Infernal Compass is a solo writing project, illustrated by Austria-based cartoonist polterink. But Sturges enjoys writing alone just as much as sharing the credit. "The beauty of [co-writing] is that you always have someone to bounce your ideas off of, and you have someone else to bolster you in places where you might not be as strong," she says. Sturges praises her frequent collaborator Dave Justus (The Wolf Among Us, Everafter) for his dialogue, as she considers story structure to be her strong suit. "But [co-writing] also prevents you from projecting your own identity into the story. The beauty of working alone is that you can throw yourself in headfirst and see yourself on the page, and that's really powerful."
One reason story structure comes easily to Sturges is that she conceptualizes a plot based on the emotions she wants to convey. "A really good story makes you feel something," she says. "So my first thought is, 'What is this story trying to make me feel?'" After determining emotional tone, she then crafts the plot, throwing in the requisite twists and turns. "More and more, I think we find, even in genre fiction, the emotional content is what draws people in and keeps them coming back."
The emotional appeal also draws in unfamiliar readers. Heartfelt young adult comics written by women are often more accessible than long-running superhero comics, whose multi-universe lore can present a barrier for new fans. "I wrote for DC for 10 years and don't know who Robin is right now," Sturges laughs. The more accepting environment cultivated by some women creators can also ease fan alienation and prejudice. Sturges points to the successes of Eisner Award winner Raina Telgemeier and bestselling cartoonist Jen Wang as evidence of women writers gaining traction. And personally, she considers the Lumberjanes experience "a really warm, loving environment to create in," thanks to its LGBTQ and women collaborators. Sturges is thriving in this vibrant community and already has several projects lined up next. "My experience is at least some small testament that coming out as trans can really make your life amazing."Cover art by Alexa Sharpe
---
Austinites are invited to pick up a copy of The Infernal Compass – and get it signed by Sturges – Sun., Oct. 21, 2-3pm, at Austin Books and Comics, 5002 N. Lamar. And don't be tricked by the "young adult" classification: Lumberjanes is an all-ages read and just as heartening for grown-ups as it is for kids.
Heath Ledger died due to depression after playing Joker in The Dark Knight? Here's the real story
Heath Ledger, in an interview with New York Times, said that playing Joker in The Dark Knight was 'physically and mentally draining' for him.

India TV Entertainment Desk New Delhi Updated on: June 15, 2020 12:02 IST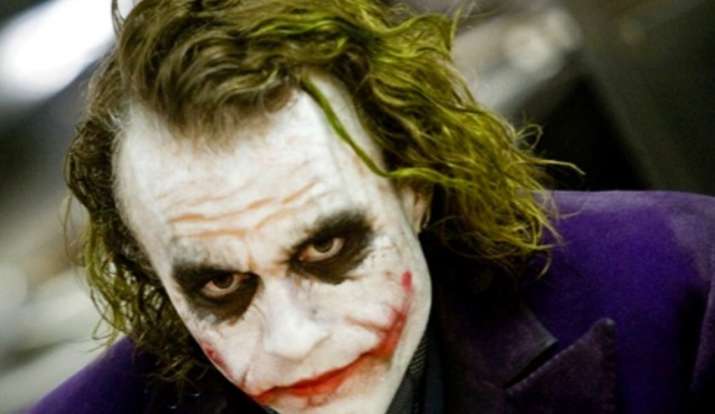 My cmnt: The author quotes Ledger's sister as dispelling this rumor. However the rest of this article seems to be confirming it.
Heath Ledger died due to accidental drug overdose. Reports even suggested that the actor was depressed after playing Joker in The Dark Knight. The character took a toll on his mentally and physically, so much so, that he suffered from insomnia. However, this rumour was dispelled in a documentary about the actor.
Speaking at the premiere, sister Kate Ledger refuted such reports. Addressing the audience at the Tribeca Film Festival event, she said, "I was really shocked because that was him having fun. Every report was coming out that he was depressed and that [the role] was taking this toll on him, and we're going, honestly, it was the absolute opposite. It couldn't be more wrong. He had an amazing sense of humour, and I guess maybe only his family and friends knew that, but he was having fun. He wasn't depressed about the Joker."
The actor, in an interview with New York Times, said that playing Joker was 'physically and mentally draining' for him. In an interview published on 4 November 2007, Heath Ledger had said,"Last week I probably slept an average of two hours a night. … I couldn't stop thinking. My body was exhausted, and my mind was still going."
Reports say that Ledger locked himself away in a hotel room to prep for the role. In 2007, he told Empire, "It's a combination of reading all the comic books I could that were relevant to the script and then just closing my eyes and meditating on it. I sat around in a hotel room in London for about a month, locked myself away, formed a little diary and experimented with voices — it was important to try to find a somewhat iconic voice and laugh. I ended up landing more in the realm of a psychopath — someone with very little to no conscience towards his acts. He's just an absolute sociopath, a cold-blooded, mass-murdering clown."
The documentary also featured his father Kim. He revealed the notes the actor made in his diary which includes images of hyenas and pictures of the character Alex DeLarge from the movie A Clockwork Orange. The last page of the diary had 'bye bye' written in large letters. "It was hard to read that," said his father. "He galvanized the upcoming character. That was typical of Heath. He would do that. He liked to dive into his characters, but this time he really took it up a notch," Ledger's father said.
Heath Ledger was found unconscious on his bed on 22 January 2008 by his housekeeper.
On 6 February 2008, the Office of the Chief Medical Examiner of New York in the report said, "We have concluded that the manner of death is an accident, resulting from the abuse of prescribed medications".
For the unversed, The Dark Knight grossed over $1 billion at the box office with Ledger bagging Best Supporting Actor Oscar posthumously.
Heath Ledger Talked To His Sister Before His Death, And What He Said Foreshadowed His Tragic Fate
By Michael Gordon – Boredom Therapy Staff –
My cmnt: This article is fairly complete. It restates Ledger's sister's opinion that playing the Joker had nothing to do with his drug dependency. There apparently were a number of factors that contributed to his health decline and death. Ledger overworked himself and playing the Joker certainly contributed to his ongoing insomnia problems which led to a lot of other issues. Read it for yourself and see what you think. I think that actors immersing themselves deeply into disturbing roles through method acting produces the messed up people that inhabit Hollywood who become mentally ill, knee-jerk Leftists.
Back in January 2008, the world was left reeling from the news that Heath Ledger – one of the most promising actors of his generation – had tragically passed away from an accidental overdose. It was a heartbreaking end for a man who had displayed talent in spades during his all-too-brief Hollywood career. That was clear from his chilling performance as Joker in The Dark Knight. But Heath wouldn't live to accept his Oscar for that role. And during the star's last phone call with his sister, his haunting words had hinted at his ultimate fate.
In the years preceding his untimely death, Heath's career had hit incredible heights. In 2005 he played Ennis Del Mar in Brokeback Mountain, a landmark movie in regard to gay representation in cinema. Both Heath and his co-star Jake Gyllenhaal were highly acclaimed for their performances. Fittingly, both men landed Academy Award nominations: Best Actor and Best Supporting Actor respectively.
Ledger followed this success up with performances in Casanova and I'm Not There, Todd Haynes' unique Bob Dylan biopic. A star turn in drug addiction drama Candy won him significant acclaim in his native Australia. Indeed, he was nominated for Best Actor in a Leading Role at the Australian Film Institute Awards.
The antipodean actor then moved on to the biggest role of his career in terms of mainstream recognition. Ledger was chosen by director Christopher Nolan to play Joker in The Dark Knight, the sequel to 2005's dark franchise reboot Batman Begins. The actor wasn't the obvious choice to play the Clown Prince Of Crime, and there was some pushback from fans at first.
This reaction seems silly nowadays, given how electrifying his performance would turn out to be. It quickly became clear to fans that Ledger was the right man for the job when the first trailer hit, and he gave interviews in which he discussed his take on the character. On that note, he spoke to newspaper The New York Times in November 2007 about the role.
He described his Joker as a "psychopathic, mass-murdering schizophrenic clown with zero empathy" and said that the role was physically and mentally taxing enough that he wasn't sleeping well. "Last week I probably slept an average of two hours a night," he admitted, adding, "I couldn't stop thinking. My body was exhausted, and my mind was still going."
Ledger also spoke to Empire magazine about his interpretation of the iconic comic book villain. "I definitely feared it," he said, admitting to some reservations about taking on a part that had been previously played by Jack Nicholson in Tim Burton's 1989 Batman film. "Although anything that makes me afraid, I guess excites me at the same time."
He went on to say, "I don't know if I was fearless, but I certainly had to put on a brave face and believe that I have something up my sleeve. Something different." Setting his version of the character apart from previous ones was certainly something into which Ledger put incredible effort. First, he did his research, and then he thought about the character deeply.
Ledger told Empire, "It's a combination of reading all the comic books I could that were relevant to the script and then just closing my eyes and meditating on it." He sequestered himself away "in a hotel room in London for about a month,". And he described his routine during this time, saying, "[I] formed a little diary and experimented with voices – it was important to try to find a somewhat iconic voice and laugh."
The Aussie actor's interpretation was much more vicious and nihilistic than that of Nicholson's killer clown. "I ended up landing more in the realm of a psychopath," Ledger said, "someone with very little to no conscience towards his acts." It helped that director Nolan gave Heath "free rein" with the character, which the star appreciated.
In the interview with Empire, Ledger spoke further about his take on Joker. He said, "There are no real boundaries to what the Joker would say or do. Nothing intimidates him, and everything is a big joke." And the actor and director were very much on the same page regarding the character. Nolan said they "talked a lot about Alex in A Clockwork Orange" and how they wanted their Joker to be "the guy who would actually frighten an audience."
While Heath's time as Joker was extremely creatively fulfilling, it was also a factor in the steady decline of his health. In the aforementioned The New York Times interview, he'd spoken of an occasion when he'd taken two pills to help himself sleep. He'd told the reporter that the first one had been ineffective, and the second only gave him an hour's respite before he woke again, his mind still "racing."
Following The Dark Knight, Ledger moved on to The Imaginarium Of Doctor Parnassus and was in the midst of filming it when he died. Friends and co-stars described him as suffering from "walking pneumonia" while shooting that movie. By all accounts, he was taking a dangerous mix of sleeping pills and other prescription drugs in order to get some sleep.
Gary Grennell, Ledger's dialect coach on the movie and a close friend, lived with him during the shooting of the movie. He told PEOPLE magazine that the star was "exhausted, emotionally and physically." He said he would wake up in the middle of the night, hearing the actor "wandering around the apartment" restless and unwell.
Grennell told PEOPLE in 2017, "I'd get up and say, 'Come on, man, get back to bed, you have to work tomorrow.'". But it was no use. Ledger would reply, "I can't sleep, man." Grennell could see that the actor was, "desperately unhappy, desperately sad"; the voice coach believed he was missing his ex, Michelle Williams, and his daughter Matilda.
Grennell said that Ledger knew things were spiraling out of control for him, but he couldn't stop himself from taking the cocktail of drugs. "He said, 'I got to stop, it's not helping, I'm not well, it's making me feel more upset,'" revealed Grennell. "It wasn't helping with the relationship issues, it wasn't helping with missing his kid, it wasn't helping his sleeping – and he knew that."
It has been reported that, somewhere during this period, Williams broke off their relationship and Ledger left their home in Brooklyn. She has never publicly given a reason for their break-up, but it's been widely speculated that she'd reached the end of her tether with her partner's drug dependency and lifestyle. The Aussie actor moved into an apartment in Manhattan, and this was where he died.
On that fateful day, Ledger's masseuse Diana Wolozin arrived at his Manhattan apartment at 2:45 p.m. He didn't emerge from his bedroom, so she placed a call to his cell phone. He didn't answer that, so she entered the bedroom and found him lying face down in bed. She set up the massage table, not realizing anything was amiss, and tried to shake him awake.
Unfortunately, he didn't respond to her shaking and it was then that she knew something was terribly wrong. Wolozin used the speed dial on Ledger's phone to call the woman he had reportedly been seeing for a few months, actress Mary-Kate Olsen. She said she would call security in New York for assistance, but then Wolozin called back, saying she'd contact 911 herself.
Wolozin finally called 911 shortly before 3:30 p.m. They told her to perform CPR on Ledger but, again, he was unresponsive. Paramedics then arrived simultaneously with the security agency that Olsen had called, roughly seven minutes after the 911 call was placed. Heath's official cause of death was subsequently determined by the New York Chief Medical Examiner's office.
The death was ruled as a "fatal combination of prescription drugs, including oxycodone, hydrocodone, diazepam, and others." Several other drugs were found in Ledger's apartment and the D.E.A. (Drug Enforcement Administration) agents investigating the matter wanted to speak with Olsen. She, however, wanted immunity from prosecution before she would cooperate.
It was thought that she may have had knowledge about where or from whom Ledger had been getting his medication. She vehemently denied this accusation through a statement from her lawyer. When it was all said and done, the DEA closed their investigation without questioning her. Olsen has never spoken publicly about her short relationship with Heath.
In July 2015 Kim Ledger, the actor's father, spoke candidly to media network ABC News about a phone call that took place between Ledger and his sister Kate the night before he died. The Aussie star was in New York, where it was night-time, and Kate was back in their native Perth, in the daytime. Ledger hadn't been sleeping well and was complaining to his sister about this.
Kim said Ledger had been agitated, saying, "He was busy, he was meeting Steven Spielberg the next morning, he really needed to be bright and shiny." He was also suffering from a chest cold or a chest infection at the time, and this was preventing him from sleeping. The actor told his sister that he was going to take some sleeping pills.
Kim continued, "So Kate was saying to him, 'Well Heath, you can't take, you know, sleeping tablets on top of prescription medication, you know it's not a good mixture." This prompted Ledger to play down her warning. Kim recounted, "He sort of said, 'Katie, Katie, look… it'll be fine, you know, I just need to get some sleep."
A devastated Kim then confirmed that this was the Ledger family's final contact with their son and brother. "Well, they are really the last words we ever heard from Heath. Or, at least, the last words that Kate heard. So, it was a terrible shock to us. I mean, he literally went to sleep."
A year later in August 2016 Kim spoke to the Daily Mail and opened up even further about his son's death. He refuted the notion that blame could be placed on anyone except Heath himself. "It was totally his fault. It was no one else's – he reached for them. He put them in his system," he said, referring to the cocktail of drugs Heath had taken.
"You can't blame anyone else in that situation," Kim said. "That's hard to accept because I loved him so much and was so proud of him." He then referred again to Kate's phone call with Ledger, in which she told him "not to take the prescription medications with the sleeping tablets. He said, 'Katie, Katie, I'm fine. I know what I'm doing.' He would have had no idea."After his son's death, Kim became involved in raising awareness about the growing amount of Australians who are addicted to painkillers. He now leads a not-for-profit organization named ScriptWise. It found that almost half of all Australians would be too afraid of being judged by society to ever admit to an addiction.
After his son's death, Kim became involved in raising awareness about the growing amount of Australians who are addicted to painkillers. He now leads a not-for-profit organization named ScriptWise. It found that almost half of all Australians would be too afraid of being judged by society to ever admit to an addiction.
A survey was conducted that revealed a quarter of the country took painkillers at least once a month. Few would admit to an addiction, but experts saw that a number of people had a growing reliance on them for pain relief and pleasure. Kim believed that the people most at risk were busy professionals with intense schedules to maintain – individuals such as his son.
Kim explained, "There's so much pressure on them to perform so even though your body is telling you that it's not good and needs time. It's like, 'Just take these painkillers and keep going.'" The bereaved father believed this is what happened with Ledger during the filming of The Imaginarium Of Doctor Parnassus, saying, "He had to be back on set to finish."
"They were doing night shoots in the freezing cold and he had a weak chest anyway," said Kim. "He'd caught this [cough] and just couldn't shake it, but he thought he had to because he wanted to get the movie done." The father also believed that his son's fame made it easier for him to obtain the drugs his body was craving.
Kim told Daily Mail Australia, "Because he was traveling a lot, he would pop into a doctor. In the case of someone with a higher profile it's often a case of, 'What do you want?' instead of, 'What do you need?'" The father stressed, however, that addiction can affect anyone in society. "It's just completely across the board," he said, adding that victims could be "younger people, older people: it doesn't matter where they come from."
Ledger became a cautionary tale about the dangers of the drugs many of us take day-to-day in order to cope with our busy lives. But he also became a Hollywood legend: a hugely talented actor who had just reached the peak of his young career when his life was tragically cut short. His performances as Ennis Del Mar and as Joker are indelibly etched in the public consciousness.
Heath posthumously won the Best Supporting Actor Academy Award in 2009 for his performance as Joker. His family attended the ceremony and accepted the statuette on his behalf. After discussion with the Academy, it was ruled that the Oscar should belong to his next of kin, daughter Matilda. Until she turns 18, her mother Michelle Williams will keep the trophy.
For her part, Williams has struggled over the years to make sense of her daughter's father being taken away. "In a strange way, I miss that year, because all those possibilities that existed then are gone," she told Vanity Fair magazine in 2018. "I've found meanings around the circumstance, but the actual event itself doesn't…I can't find a meaning for it."
Over the years, rumors spread that playing the part of Joker killed Ledger. His illness and insomnia became worse during the filming of The Dark Knight, and over time the narrative became that playing such an unhinged, evil character took a terrible mental toll. His sisters, Kate and Ashleigh Bell, both said this reading of events was completely false, however.
Speaking at the Tribeca Film Festival premiere of the documentary I Am Heath Ledger in 2017, Kate let her feelings be known. She said, "Honestly, it was the complete opposite. He had an amazing sense of humor, and I guess only his close friends and family knew that. But he was having fun. He wasn't depressed about the Joker."
Bell confirmed that the rumors had simply left her confused. "It was coming out that he was depressed, and it was taking a toll, and we were going, 'What?'" Kate summed it up best when she talked about her brother's exhilarating and terrifying rendition of the villain. She said, "I was really shocked because that was him having fun."