JOSHUA CAPLAN – 9 Mar 2021 – for Breitbart.news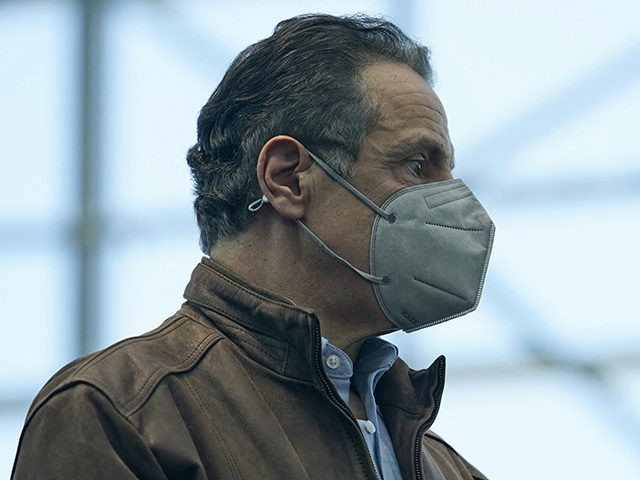 From the Daily Mail:
The leader of New York's state senate says Andrew Cuomo should resign if one more person accuses the governor of sexual harassment in addition to the three who have come forward so far.
Andrea Stewart-Cousins, the Democratic majority leader in the New York Senate, told Spectrum News that if there are 'any further people coming forward, I think it would be time to resign'.
'Quite honestly, I am so, so disappointed that here we are in 2021 and we are having these conversations on the heels of Me Too,' she said.
She added that she might also call for Cuomo to quit if the investigation led by New York's attorney general Letitia James delivers a damning verdict.
————————————————————————————————————————–
My cmnt: Well, Andrea said that if one more (it was ONLY three at the time) comes forward Cuomo should resign. Of course democrats in positions of great power (i.e., Clinton, Cuomo, et al.) never resign for any reason. Killing 13,000 nursing home residences and then lying about it didn't do it, why should sexually abusing 6 (or 10 or 20) young women in subordinate rolls cause him to?
A sixth woman has brought forth allegations of sexual harassment against Gov. Andrew Cuomo (D), claiming that the governor inappropriately touched her last year at the governor's mansion, according to a Tuesday report.
The Times-Union reported:
An official close to the matter on Tuesday confirmed to the Times Union that the new allegation had been made. The governor's office learned of the matter on Monday, an aide said. […] The complaint was reported to the governor's counsel by other employees in the Executive Chamber. The information also was relayed by the governor's office to the attorney general's office, which is coordinating an investigation into multiple allegations of sexual harassment that have been made against the governor.
The Times-Union said that the alleged victim, whose identity has been withheld by the newspaper, is an Executive Chamber staff member. Their are no additional details known about the allegation at this time.
The development comes after New York Attorney General Letitia James (D) appointed independent lawyers to review allegations against Cuomo. Joon Kim, former acting U.S. attorney for the Southern District of New York, and employment lawyer Anne Clark will undertake the investigation.
James said in a Monday statement: "There is no question that they both have the knowledge and background necessary to lead this investigation and provide New Yorkers with the answers they deserve."
Cuomo has said that he is "so sorry" about the allegations, but denied touching anyone "inappropriately."
The appointments came as New York lawmakers were privately debating whether to join calls for Cuomo to resign, or urge patience while the investigation plays out.
A group of 21 women in the state Assembly released a statement Monday asking that James be given time to complete her probe.
The group included the the no. 2 Democrat in the Assembly, Majority Leader Crystal People-Stokes. The lawmakers began working on the statement Sunday night after the Senate's top leader, Andrea Stewart-Cousins, called on Cuomo to resign.
The Associated Press contribution to this report.
Readers' comments:
How many accusers does it take for the women to be believed? If the accused has a (D) after their name the correct answer is infinity.
Look at Stinky Fingers Joe….
Well…it was really meant more as a guide-line than a limit….But hey! They got rid of Pepe LePew!?!? That's gotta count for something?!?!
Democrats, is this enough or do you need 5 more?
That must be a stock photo of Cuomo wearing the covid mask by Trojan.
Andy the grandma slayer is a serial killer and a sexual predator. There will be many more who come forward and accuse the Don of crimes. Of course the 'pound me too' nazis are silent because andy is a neo communist. They only prey on conservatives.
Many said there would be big trouble for Cuomo if there were four accusers.
Very fortunately for Cuomo that didn't happen. He has six accusers.
It's all good.
They're trying desperately to draw attention away from the elderly nursing home deaths–that Cuomo caused…. AND other governors. He was NOT the only one
Time for the predator to resign.
Between the sexual allegations and the coverup for needless COVID deaths Cuomo has proven beyond any doubt he is unfit to serve.
#me, #metoo, #methree, #mefour, #mefive, #mesix….Do I hear a me seven. Me seven going once, going twice….