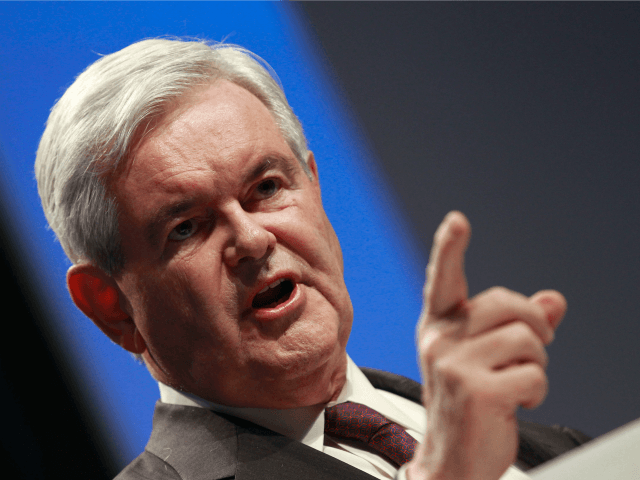 HANNAH BLEAU – 28 Nov 2020 – for Breitbart.news
Newt Gingrich believes the 2020 election may be the "biggest presidential theft" since 1824 and is urging state legislatures to "demand recounts."
"The more data comes out on vote anomalies that clearly are not legitimate the more it looks like 2020 may be the biggest Presidential theft since Adams and Clay robbed Andrew Jackson in 1824," the former House speaker said in a Friday tweet:
On Saturday morning, Gingrich encouraged Republican state legislators to read an analysis from Patrick Basham, founding Director of the Democracy Institute and senior fellow of the Cato Institute. Basham lists ten "peculiarities" which he believes lack "compelling explanations," including swing states halting their ballot counts on election night and removing observers, statistically abnormal vote counts, and "historically low absentee ballot rejection rates."
"Basham makes clear the election was almost certainly stolen in 5 states. Every American should be worried by the theft," he added:
President Trump and his team have vowed to press on in their fight for election integrity despite the critics. His team outlined their case in a press conference last week, which Trump lawyer Jenna Ellis framed as their "opening statement." During the presser, Trump's lawyers — well as Sidney Powell, who is not part of Trump's formal team — presented highlights in building their respective cases, as Breitbart News detailed. Rudy Giuliani detailed affidavits alleging nefarious behavior and blasted the media for continuing to claim that the campaign has not presented evidence.
"It's your job to read these things and not falsely report that there's no evidence. Do you know how many affidavits we have in the Michigan case? Two hundred twenty affidavits," he said.
"They're not all public, but eight of them are," he added.
Trump's lawyers are expected to participate in a hearing on election integrity with Arizona legislators on Monday, Ellis announced on Friday:
Readers' comments:
FamousJamous Walter • 5 hours ago
Robert Barnes and Patrick Basham, respected election analyst, observed that in Milwaukee, Detroit, Atlanta and Philadelphia, big cities in swing states run by Democrats, the 2020 vote exceeded the number of registered voters.
That's not just improbable, it's impossible. Fraud is the only explanation. Democrats used the covid virus to change election rules, to add mail in voting, and extend voting periods long before and after the designated election date of Nov 3. In the early morning hours of Nov 4, Trump had comfortable leads in WI, MI, PA, and GA. But all four of these Democrat political jurisdictions stopped counting for several hours. When they resumed, Biden was ahead in all four states. During those hours, Democrats added hundreds of thousands of Biden votes, removed Trump votes, and switched totals in the Dominion voting system. They produced more votes than voters!
Thats how they stole the election of 2020. The 62 Electoral votes of these four states should be disqualified. The election should go to the House, as the Constitution provides.
magatrackerdotcom • 13 hours ago • edited
Joe Biden tells voters "I don't need you to get me elected."
https://youtu.be/v3mv6XOUBdM
Joe Biden: "We have put together I think the most extensive and inclusive voter fraud organization in the history of American politics."
https://magatracker.com/med…272  
Finley  Vera1812 • 11 hours ago Our team has created the most extensive and inclusive voter fraud organization in the history of American politics. I'd like to especially thank Dominion Voter Systems whose help in the wee hours of the morning helped change the results in my favor. And special thanks to those voters living and dead and most especially thanks to the supporters who voted for me numerous times. —Joe Biden