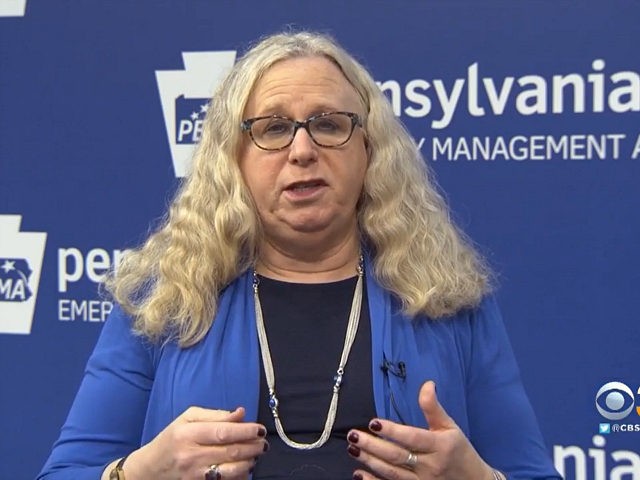 By HANNAH BLEAU 18 Nov 2020 – for Breitbart News
My cmnt: Not only is this guy an example of how far off the rails the Left has gotten but his policies are insane and oppressive. Mask wearing has become the cause célèbre of the democrats and worldwide Leftists. It is a form of manipulation and control and serves the purpose of conditioning the people to accept absurdity and arbitrary demands as a normal part of life. Again, masks do not work.
Pennsylvania officials are tightening mask requirements in the Keystone State, requiring masks in instances where individuals who are not members of the same household are "present in the same space" indoors, including private residences.
Dr. Rachel Levine, Pennsylvania's transgender health secretary, detailed the requirements in an updated order Tuesday, explaining that the virus "continues to spread" despite the mitigation efforts implemented earlier in the year. As a result, Levine is looking to universal masking as the first line of defense, claiming that "universal face coverings, even when not clinical-level masks, have been an effective mitigation strategy to prevent and control the spread of disease."
His letter lists eight instances where a mask is required. The list essentially requires individuals to wear a mask in most instances, unless he or she is within their own household along with members who also reside there.
Per the order, a mask is required "indoors or in an enclosed space, where another person or persons who are not members of the individual's household are present in the same space, irrespective of physical distance."
The order does not explicitly provide an exception for gatherings at private residences. The AP also acknowledged that the order applies to private homes but added that the health secretary "acknowledged that officials are relying on voluntary compliance rather than on enforcement."
"Pennsylvania is making people wear masks inside their homes. Ohio is making people be home by 10:00 p.m. Vermont won't even let you have friends over. What's next?" Rep. Jim Jordan (R-OH) asked.
Levine's order also requires those two years and older to wear a mask when they are outdoors with individuals who are not members of the same household and "unable to maintain sustained physical distance."
Other instances a mask is required, per the order:
As permitted in my Order Directing Mitigation Measures, dated July 15, 2020, as amended, for participation in an indoor or outdoor event, gathering, or group setting where another person or persons, who are not members of the individual's household are present.
Participating in indoor physical activity in a gym, fitness center or group fitness classes, where another person or persons who are not members of the individual's household are present in the same space, irrespective of physical distance.
Waiting in a public area for, riding on, driving or operating public transportation or paratransit or while in a taxi, private car service or ride-sharing vehicle, irrespective of physical distance.
Obtaining services for themselves or another person or a pet from the health care sector in settings including, but not limited to, a hospital, pharmacy, medical clinic, laboratory, physician or dental office, veterinary clinic, or blood bank.
When working in any space where food is prepared, packaged for sale, or prepared for distribution to others. I. Certain facilities—including hospitals, shelters, long-term care facilities, residential treatment facilities, and correctional facilities—may also require visitors and residents, patients, or inmates to wear face coverings even when in a living unit.
There are few exceptions. The order exempts those with certain disabilities or conditions. The order also specifies that an individual does not have to wear a mask when they are in solitude.
"All alternatives to wearing a face covering, including the use of a face shield, should be exhausted before an individual is excepted from this Order," Levine's update states.
Levine's order comes as Democrat leaders across the country retighten coronavirus restrictions ahead of the holiday season, even imposing limits on gatherings in private homes. New York Gov. Andrew Cuomo (D) has limited gatherings in private homes to ten and has urged local governments to enforce his order.
"The rules are only as good as the enforcement. Local governments are in charge of enforcement. There are only two fundamental truths in this situation: it's individual discipline and it's government enforcement. Period. End of sentence," he said.
"I need the local governments to enforce this," he pleaded.
Chicago Mayor Lori Lightfoot (D) has also recommended Chicagoans "avoid all gatherings in private residences."
"Furthermore, CDPH Health Orders require that indoor gatherings within private residences be limited to six non-household members. The City has the authority to fine individuals for breaking this requirement and hosting large social gatherings in their private residences," a November 12 press release detailing the "Protect Chicago" strategy states.
Joe Biden (D), citing "health experts" during a Monday press conference," suggested that Americans limit their Thanksgiving gatherings to "maximum ten people, socially distanced, wearing masks."
Readers' comments:
Welcome to the Democrats plans:
Continue to cause crisis on crisis; induce fear, exhaustion, terror;
next masks mandated even within families.
Anything to get people used to forced compliance of Government Knows Best.
The democrat communists and their allies in the marxist media 
are a clear and present threat to the future of America.
Dump the face diaper America!!!
get off your knees!!!!!
This virus is just an excuse for their GLOBAL TYRANNY!
Well as long as everyone quacks in their boots this will continue. Politicians have no fear of the citizens so you have tyrany.
Unmask America and live free not scared like biden and enjoy Thanksgiving without masks
I've never quacked in my boots, but the liberals better turducken and run like birds of a feather, before they awaken the sleeping giant (apparently, still snoozin'), and get fricasseed.
Is that like the religious sect, the Quackers?
RELEASE THE QUACKEN!!
This "health secretary" tho 🤮🤣
Dude don't look like a lady.
-apologies to Aerosmith
My goodness! Doesn't that guy have a mirror???!!!!
Sheesh, he probably likes what he sees and that's scary!
He could benefit from a mask
The reason masks were invented!
Before masks, he would have been a 2-bagger.
don't forget to use the twist ties.
Why Stop there Rachel is a TRIPLE Bagger for sure.
Two for him/her and one for me!
There are not enough bags for that 'thing'.
Those are saved for actual females!
Beat me to it…but upon further reflection maybe a 6 bagger. Just to on the safe side.
We could benefit if he wore a mask permanently.
The Dude reminds me of cousin IT from the Addams Family!!!
Nah,,,,,, cousin It was cute, this mentally stunted old guy playing dress-up in his mothers clothes and jewelry reminds me of the mother in Psycho.
"Mother!
No one must know about her, or what she's done"!
– Norman Bates
Maybe Gov. Wolf got his idea to appoint it to his cabinet from the Psycho movies.
Could be.
Uncle Fester with a wig.
Ugly IT is.
Rachael Levine is what you get when much learning makes you mad. Even nature's binary gender plan is put in question.
Gov. Tom Wolf, an MIT "educated" man, proves my point beyond a doubt. His appointment of Levine shows his effort to make the great Commonwealth of PA more inline with reprobate MA.
This is obviously a mental health issue. And what a farce to put a mental health patient over healthcare
What's with the friggen hair?
every time I see him/she/it I think he really needs a red rubber nose to complete his ensemble
It scored 60% off at Big Lots during their "cover your baldness" wig sale.
Cheap.
Very cheap.
Is it a he or a she? I am seriously not sure. How do refer to this person?
I know its a transgender but which way? Its hard to tell. And the true irony of this individual talking about health!
He was born Richard and became Rachel, a pediatrician turned health secretary.
He looks like "Newman" from Seinfeld dressed in drag. Whatever the case, he is clearly mentally ill and should be removed from any position of authority. I'm guessing he was appointed by the ghoul, Governor Wolf. Only a sociopath, like Wolf, would have a complete freak like this in his cabinet.
He's the guy who pulled his mom out of a nursing home just prior to forcing them to take Chinavirus positive patients that end up killing thousands of Pennsylvania senior citizens. But the Soviet media refuses to acknowledge it.
Is this really Jerry Nadler in drag?