Districts are announcing indefinite closings over pandemic but data shows children 5- to 14-years-old constitute just 0.012% of COVID-19 deaths.
By Daniel Payne for Just the News – Updated: July 23, 2020 – 10:55pm
The Centers for Disease Control and Prevention revealed this week that school-age children constitute a tiny fraction of total COVID-19 deaths across the country, news that comes even as teachers, school staff, parents and public officials throughout the United States are demanding indefinite closures of classrooms.
The CDC's latest provisional COVID-19 death count, updated on Wednesday, reports that as of July 11 just 16 American children in the key 5-14-years-old school-age bracket had died from COVID-19. Those fatalities constitute just 0.012% of the 130,250 deaths total at the time the dataset was compiled earlier this month.
The strikingly low number comes even as education officials and teachers are demanding open-ended shutdowns of local school systems, claiming that reopening school buildings for instruction in the fall would be placing undue risks on students and staff. Huge school districts such as those of Los Angeles and Fairfax County, Va., have pledged to continue virtual learning when the fall semester begins; countless other smaller districts have also vowed to keep school buildings closed in August.
Risks appear universally low for school-aged children
Bolstering the CDC's report this week, data throughout much of the world indicate that few school-age children get seriously ill from COVID-19 while even fewer die from the disease.
Many authorities both in the U.S. and elsewhere have urged schools to reopen. CDC director Robert Redfield said earlier this month that "having the schools actually closed is a greater public health threat to the children than having the schools reopen." A major Canadian pediatric hospital, meanwhile, said last month that schools should reopen with minimal restrictions and regulations.
Though officials have argued that schools should stay closed in part to protect children, some have claimed that the risk of children spreading the disease to vulnerable populations should also be taken into account.
"A 10-year-old student might have a 30-year-old teacher, a 50-year-old bus driver or live with a 70-year-old grandmother," Los Angeles Unified School District Superintendent Austin Beutner said earlier this month. "All need to be protected."
Yet a study out of Australia earlier this year found that COVID-19 spreads in schools "considerably less" than influenza. A report earlier this month in the medical journal of the American Academy of Pediatrics, meanwhile, states that "children are not significant drivers of the COVID-19 pandemic" and that children "most frequently acquire COVID-19 from adults, rather than transmitting it to them."
Amid calls for school shutdowns, U.K. scientist says student-teacher infections 'incredibly rare'
It's 'extremely difficult' to find examples of pupil-to-teacher infection, epidemiologist says.
By Daniel Payne for Just the News – Updated: July 22, 2020 – 5:30pm
Amid calls from U.S. teachers, their unions and others to shut down schools amid the coronavirus, a noted U.K. epidemiologist says it is "incredibly rare" to find any examples of students infecting teachers in classrooms.
Mark Woolhouse, an epidemiologist at Edinburgh University, says student-to-teacher coronavirus infections are "incredibly rare," and that scientists worldwide have struggled to find even a few such cases after eight months of the pandemic.
Woolhouse, who was made an officer of the British Empire for his contributions to the study of infectious diseases, this week told The New York Times that schoolchildren "are minimally involved in the epidemiology of this virus."
"There is increasing evidence that they rarely transmit," he also said. "For example, it is extremely difficult to find any instance anywhere in the world a single example of a child transmitting to a teacher in school. There may have been one in Australia but it is incredibly rare."
Numerous countries including Canada, Denmark, Germany, Sweden and the United Kingdom have reopened schools with little evidence that much coronavirus transmission is taking place in there.
"Most governments in Europe now recognize that stopping children playing outside was not needed," Woolhouse told The Times, "and most governments will probably now say that going to school as normal is safe."
"We can use that information in the future," he argued.
CDC Director: 'Critically Important for Public Health to Open Schools This Fall'
Dr. Susan Berry for Breitbart News – 24 Jul 2020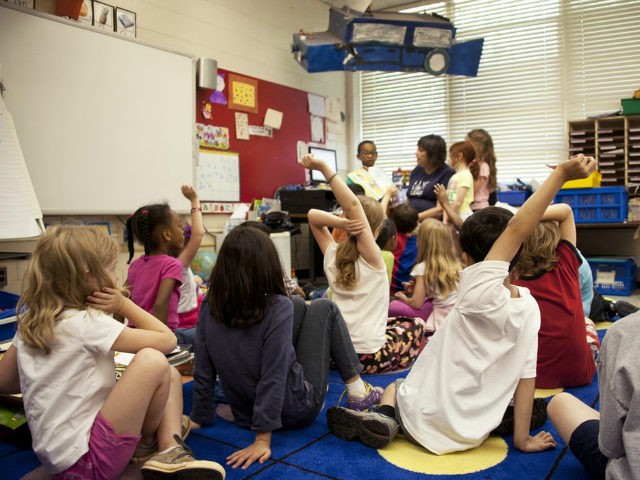 The director of the Centers for Disease Control and Prevention (CDC) tweeted Friday that it is "critically important for public health to open schools this fall."
It is critically important for our public health to open schools this fall. CDC resources will help parents, teachers and administrators make practical, safety-focused decisions as this school year begins. https://t.co/QSCGa85yT2 pic.twitter.com/hyajzvIgET

— Dr. Robert R. Redfield (@CDCDirector) July 24, 2020
Dr. Robert R. Redfield also posted a warning to parents that "school closures have disrupted normal ways of life for you and your children and they have had negative health consequences on our youth":
Parents: School closures have disrupted normal ways of life for you and your children and they have had negative health consequences on our youth. See CDC resources on safely reopening schools: https://t.co/rKLn9kLKZt pic.twitter.com/1WrmIT3nQ8

— Dr. Robert R. Redfield (@CDCDirector) July 24, 2020
In an updated advisory Thursday, the CDC emphasized the importance of children returning to school this fall for their educational and social development.
At the same time, the U.S. health agency stressed to concerned parents that "the best available evidence indicates that COVID-19 poses relatively low risks to school-aged children."
The CDC stated:
Children appear to be at lower risk for contracting COVID-19 compared to adults. To put this in perspective, according to the Centers for Disease Control and Prevention (CDC), as of July 17, 2020, the United States reported that children and adolescents under 18 years old account for under 7 percent of COVID-19 cases and less than 0.1 percent of COVID-19-related deaths. Although relatively rare, flu-related deaths in children occur every year. From 2004-2005 to 2018-2019, flu-related deaths in children reported to CDC during regular flu seasons ranged from 37 to 187 deaths. During the H1N1pandemic (April 15, 2009 to October 2, 2010), 358 pediatric deaths were reported to CDC. So far in this pandemic, deaths of children are less than in each of the last five flu seasons, with only 64.
The CDC also stated that studies suggest "COVID-19 transmission among children in schools may be low."
"Based on current data, the rate of infection among younger school children, and from students to teachers, has been low, especially if proper precautions are followed," the CDC continued. "There have also been few reports of children being the primary source of COVID-19 transmission among family members."
The agency observed that extended school closures are harmful to many children who may suffer "severe learning loss" without in-person instruction:
Disparities in educational outcomes caused by school closures are a particular concern for low-income and minority students and students with disabilities. Many low-income families do not have the capacity to facilitate distance learning (e.g. limited or no computer access, limited or no internet access), and may have to rely on school-based services that support their child's academic success.
The CDC observed that in-person instruction in schools also "provides children with access to a variety of mental health and social services, including speech language therapy, and physical or occupational therapy to help the physical, psychological, and academic well-being of the child."
On Wednesday, Redfield told ABC's Good Morning America that he would "absolutely" send his grandchildren back to school in the fall despite concerns about the coronavirus:
.@ABC NEWS EXCLUSIVE: @CDCDirector Dr. Robert Redfield on how bad the COVID-19 crisis could get. "It is very hard to predict."https://t.co/aQQ6s3kY6z pic.twitter.com/PbiMPVNNHQ

— Good Morning America (@GMA) July 22, 2020
"It's not public health versus opening the school versus reopening schools and the economy," he said. "It's public health versus public health."
The CDC continued in its latest advisory:
Schools are an important part of the infrastructure of our communities, as they provide safe, supportive learning environments for students, employ teachers and other staff, and enable parents, guardians, and caregivers to work. Schools also provide critical services that help meet the needs of children and families, especially those who are disadvantaged, through supporting the development of social and emotional skills, creating a safe environment for learning, identifying and addressing neglect and abuse, fulfilling nutritional needs, and facilitating physical activity. School closure disrupts the delivery of in-person instruction and critical services to children and families, which has negative individual and societal ramifications.
The CDC recommends schools model and encourage preventive behaviors, including social distancing, wearing of face coverings, handwashing hygiene, and frequent disinfection of surfaces:
Together, we can open schools safely. This fall, school may look different in some communities b/c of #COVID19 – as face masks, distancing, & hand hygiene meet bookbags & homework. New CDC tools will help us make decisions for the upcoming school year. https://t.co/efgarAsMeq pic.twitter.com/jf284y1XGZ

— Dr. Robert R. Redfield (@CDCDirector) July 23, 2020
"The best available evidence from countries that have opened schools indicates that COVID-19 poses low risks to school-aged children, at least in areas with low community transmission, and suggests that children are unlikely to be major drivers of the spread of the virus," the health agency stated.
According to a recent report at Science, more than 20 countries affected by the coronavirus pandemic sent their children back to school by early June.
Countries such as Taiwan, Nicaragua, and Sweden never even closed their schools, the report noted.
The CDC advisory comes one week after presumptive Democrat 2020 nominee Joe Biden warned Americans that it is "just plain dangerous" for children to return to school this fall, despite statements by many physicians to the contrary.
Important update for LPS Families – 2020 Pandemic Plan and Procedures
July 21, 2020 – LPS
My cmnt: the articles (above and on this site) show that grade school children are not at risk and need to be in school without idiotic masks and social distancing. Kids cannot be expected to wear masks all day and at play and to not be close to each other. Only commie-Lib-democrats would even talk such nonsense. Masks don't stop the spread of C-19 and are for show and conformity to Lib-authority.
LPS Families,
Today, Lincoln Public Schools is providing more details on its Pandemic Plans and Procedures for the 2020-21 school year. First details of the plan for the 2020-21 school year were released to the public on June 16. This email provides details about our plan, and you can find more information on our website: lps.org/coronavirus. At the bottom of this post is a reminder about our required annual Online Verification process that starts today and the Remote Learning Request Form.
LPS staff continues to work collaboratively with the Lincoln-Lancaster County Health Department (LLCHD). The process includes gathering information from various sources for discussion with LLCHD as it tackles every topic and question related to operating the school district. The joint team meets routinely and communicates constantly by sharing documents, questions and clarifications between meetings. LLCHD gives feedback and LPS adjusts plans throughout the process. This work will be ongoing as new research emerges and LLCHD has further guidance to provide LPS.
We are grateful to Interim Health Director Pat Lopez and her team for their continued support and guidance. In creating this comprehensive school reopening plan, we have grounded our decisions in research and best practices while balancing the importance of the social and emotional needs of our 42,000-plus students and meeting our community's high expectations for quality education.
LLCHD and LPS believe there are four main actions that are proven to reduce the spread of COVID-19:
Self-Screening – Staff and students are expected to conduct a self-screen for COVID-19 symptoms every day prior to entering an LPS building or program. People with COVID-19 self-isolating at home will reduce the spread.
Face Coverings – Staff and students are required to wear a multilayer face covering in the school setting. Face coverings are the strategy to accommodate the school setting where six feet of physical distance is not practical.
Hand Hygiene – Washing your hands or using sanitizer, along with cleaning and disinfecting surfaces frequently touched, will reduce the spread of COVID-19.
Physical Distancing – Maintaining at least three to six feet from others whenever possible makes a difference. Spacing out as far as you can, where and when you can, will reduce the spread of COVID-19.
If a staff member or student tests positive for COVID-19, the health department will lead all contact tracing while working closely with LPS staff. Those students and staff with direct exposure who need to self-isolate will be contacted directly. All families and staff of the school where there is a positive case will be notified and given instructions for next steps as directed by the LLCHD. It will be vital that all families update their contact information with their child's school.
Families can update their student's information, including contact information, by completing the online verification process starting July 21. This is a process families are required to complete every school year. Families can log-on to ParentVue and select the Online Registration button in the upper right corner. Any parent or guardian who needs help accessing their ParentVue account should contact their school. More information can be found on the LPS website (lps.org) by clicking on the red "Enroll or Verify" button.
LPS will conduct classes and operate within the framework of the four risk color statuses of the COVID-19 Risk Dial as designated by LLCHD and the City of Lincoln.
If the risk dial is Yellow or Orange, students in grades kindergarten through 12 can participate either in-person at school, or by utilizing remote learning via Zoom. More information about school procedures in the Yellow and Orange can be found on the LPS website – lps.org/coronavirus. When the risk status is Red – Severe COVID-19 Risk, all LPS buildings will be closed and all students will participate in remote learning from home. When the risk status is Green – Low COVID-19 Risk, all students in grades pre-kindergarten through 12 will attend school in person. There may be some modification based on recommendations by the LLCHD.